Los Angeles Dodgers Voice Vin Scully Rips San Francisco Giants Hitting
May 9, 2012

Stephen Dunn/Getty Images
When the San Francisco Giants play the Los Angeles Dodgers and I watch the games on MLB.TV here at home in Thailand, I have a choice of what broadcast to listen to. As much as I love Kruk and Kuip, I always opt for the Dodger broadcast so I can listen to the greatest play-by-play man in baseball history, Vin Scully. 
Scully is a rare treasure at the age of 83. I got to know Vin a bit when I worked for the Giants in my youth. Not only is he truly one of the nicest people on God's earth, he is by far the best ever. Too bad he had to work for the Dodgers. Vin grew up a Giants fan in Brooklyn, if you didn't know.  
It's a privilege to continue to be able to listen to him for as long as possible. Being a former broadcaster, I can truly appreciate not only the quality of the broadcast, but the true impartial nature of his commentary.
He is strictly old school, with no homerism going on. He tells it like it is, just like Howard Cosell used to say. 
During Monday night's debacle, early on, Scully was discussing the Giants' hitting woes. And while what he said sounded critical, it was extremely factual in true Scully style. 
Vin pointed out these facts; 
1) The Giants do not run 
2) The Giants do not bunt
3) The Giants do not hit and run
4) The Giants do not hit with runners on base
Andy Lyons/Getty Images
5) The Giants do not hit with runners in scoring position
6) The Giant hitters are impatient and do not take many pitches
7) The Giants don't have much power 
8) The Giants are not a good hitting team, period 
Now, granted, I knew all of these things, but Scully crystalized these facts for me, putting them together in a way that only he could. 
And it got me thinking, why is all of the above true? 
Well, not having much power is hard to control.  But the rest is. 
Why does this team continue to be right at the bottom of the league every year in pitches seen? 
Why doesn't this team bunt more? 
Why don't they hit and run more? 
Well, if you look at things objectively, if the Giants were more patient at the plate, they would score more runs. They would be likely to get in better hitter's counts and hit for more power.
The same holds true for hitting with runners on base and in scoring position. 
Running (especially with more team speed now) would help the Giants score more often. The same holds true with hitting and running.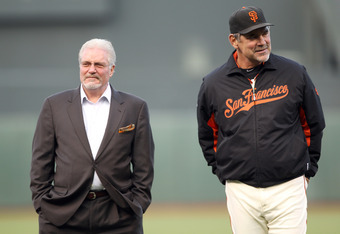 Ezra Shaw/Getty Images
Here's the problem and it's a big one. Bruce Bochy is a station-to-station type of manager, who plays for the home run. Here's a memo Boch, the Giants are 24th this year in home runs. Last year, they were 29th out of 30 teams. Only the Seattle Mariners had less big flies. 
Here's another memo, Boch: AT&T Park is LAST in the majors in allowing home runs, that's right LAST! Do you know where it ranked in 2011? LAST. I think you get the idea. 
Bruce Bochy hates to bunt. Bruce Bochy seems to have an aversion to the hit and run. Bruce Bochy gets sick to the stomach when he considers the squeeze bunt (if he ever does). Bruce Bochy hardly sends the runners at all, as a matter of fact.
Despite an infusion of team speed in the offseason in Angel Pagan, Melky Cabrera and Gregor Blanco, the Giants rank 18th in stolen bases.
Emmanuel Burris is another speedster who is being ignored. Nate Schierholtz can fly. Joaquin Arias is fast, as is Brandon Crawford and even the giraffe, Brandon Belt. 
During the Cactus League, the Giants ran, they hit and ran, and they bunted. They also took better at bats. But when they went north for the regular season, it's like Bochy and the rest of the team forgot all of that and went back to their old ways. 
Also, it seems like General Manager Brian Sabean and Bochy are on different pages. Sabean brings in all of these speed guys and Bochy forgets how to use them!  
The San Francisco Giants cannot score runs with any consistency depending on the home run ball. They have to run to be successful. They also have to learn to be more patient at the plate.  
If things continue the way they are, the first step is to fire Hensley Meulens the hitting coach. If he's preaching patience and the players aren't listening, then it's obvious his message is going on deaf ears.
Last year you could cut Meulens some slack, with all of the injuries. This year you cannot. Even with Pablo Sandoval out, the Giants can still put a good team on the field. 
And Bochy needs to stay the course and get more aggressive. If he doesn't and the Giants remain in their hitting funk (which is likely, based on what I said above) then he is the next one that has to go. 
This Giants team has the potential to be a very good hitting club. With their stellar starting pitching and a mostly solid bullpen, they could win their second World Series in three years.
But changes need to be made or the second division is not only possible, but likely for the Giants in 2012.