The 25 Most Overrated Pittsburgh Steelers in Franchise History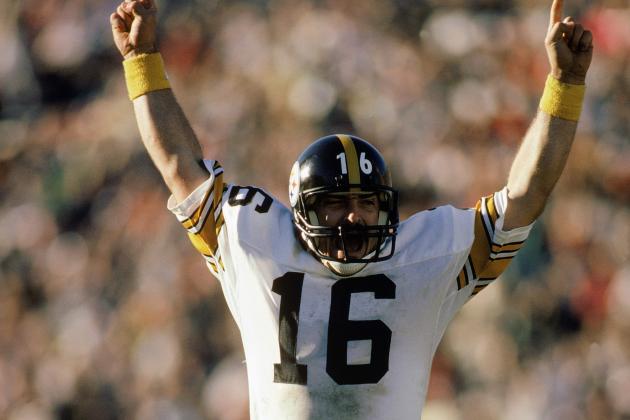 Rick Stewart/Getty Images

The Pittsburgh Steelers have been credited for great drafts, great signings and great business practices through the team's long history. That doesn't excuse them from having their fair share of duds over the years.
There are two ways a player can be overrated. He can be drafted too high (or at all) by a team or he can end up being considered a better NFL player than he really ever was while playing.
Here's a look at the 25 most overrated Pittsburgh Steelers of all time.
Begin Slideshow

»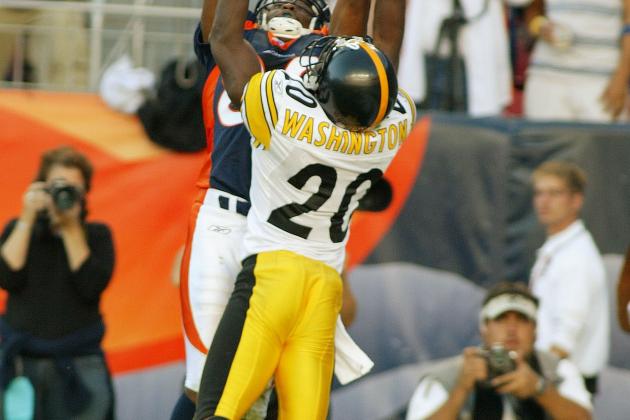 Michael Martin/Getty Images

This might be reaching a bit for the start, but this is a tough list for a team that hasn't had many truly bad players that I'm able to rate properly with video and personal experience.
Consider this with Washington. He started for Pittsburgh for six seasons. Despite the Steelers constantly being ripped as having issues at corner, it took more than half a decade for the team to make a move here.
Corner has always been a problem. Washington isn't alone on this list, but he's a big part of the issue. The Steelers went through draft after draft and valued him enough to not spend a high pick on a corner to replace him. That's tough to look past and that's what makes him overrated here.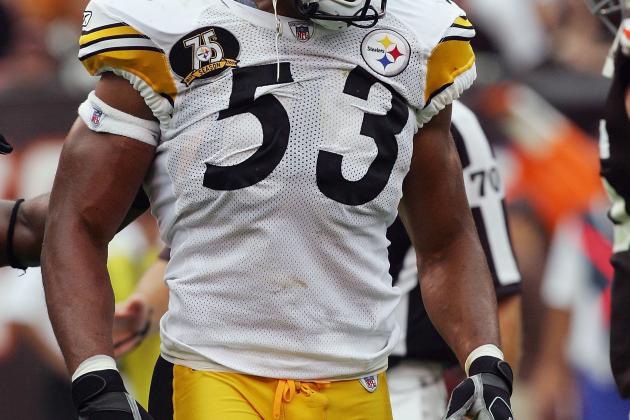 Jim McIsaac/Getty Images

Pretty tough list when you're putting a guy like Haggans on it. He was a solid contributor during his time in Pittsburgh, but in eight years he did less than LaMarr Woodley has done in only five at the same spot in the same defense.
Haggans, before Woodley, was considered a great compliment to Joey Porter and James Harrison. Now that we see Woodley in that role, you have to wonder what would have happened if the Steelers had ever been able to find a linebacker in Bruce Davis or Alonzo Jackson.
While Haggans was solid, he isn't a guy you'd have expected to be a starter for so long on one of the league's best defenses. His success was part of the system, not part of his overall talent.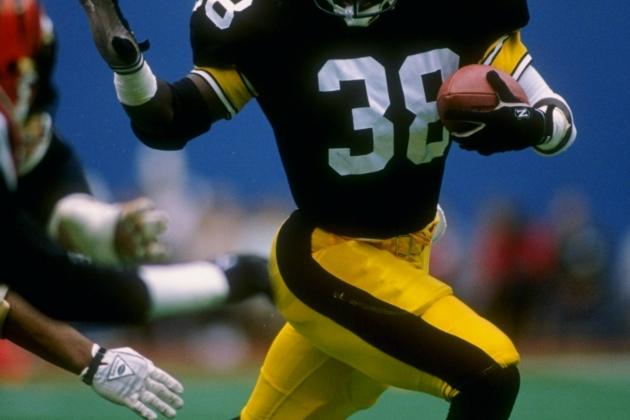 Rick Stewart/Getty Images

I thought about putting him a lot higher. As a draft bust, Worley ranks up at the top of the list. But it's hard to say he didn't have the talent to be a huge success. Unfortunately, he ruined his own career.
Worley was a good back when he was on the field. He did have some ball control issues, but you have to wonder if that could have eventually been coached out the way it was with Rashard Mendenhall. He had talent, but he had no brains.
Worley is a tragic and cautionary tale for young football players. He is on this list because he was still drafted too high and because the Steelers gave him a couple too many chances, but overall he's not nearly as bad as some on this list.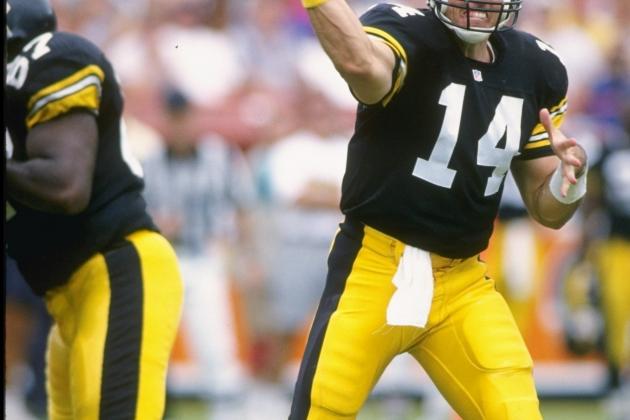 Stephen Dunn/Getty Images

Looking back now, nobody would say O'Donnell was overrated. They'd say he was a loser. There are enough angry O'Donnell haters to fill a stadium and with good reason. He cost the Steelers their first Super Bowl loss.
But the guy was valued at one time. The Steelers thought highly of him and gave him the starting job over Bubby Brister, their previous starter. That's not much either, but the Steelers thought he was their quarterback of the future.
O'Donnell solidified his overrated status when he cashed in big after 1995. He signed a huge deal with the Jets and proceeded to make the Super Bowl look like one of his better moments. He swiftly found his way to the bench.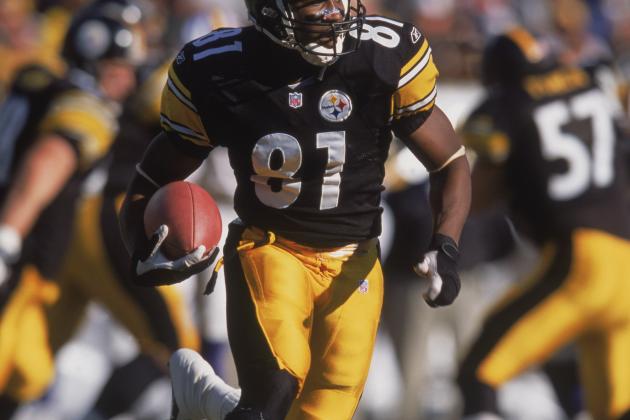 Ezra Shaw/Getty Images

The Steelers don't miss too often in the first round. The 1980s were bad, but they were the worst of it. The Bill Cowher era was one of draft excellence. The Steelers hardly missed. They did on Edwards, however. Drafted to be a big-time target, he never made it that far.
I remember vividly every year being "the year" for Edwards. He was going to break out. He was going to justify his draft status as a first-round pick. He was going to go to the Pro Bowl.
He did nothing. He was almost as bad as the next guy on this list. The difference was that the Steelers knew when they'd had enough and almost immediately they began trying to replace him.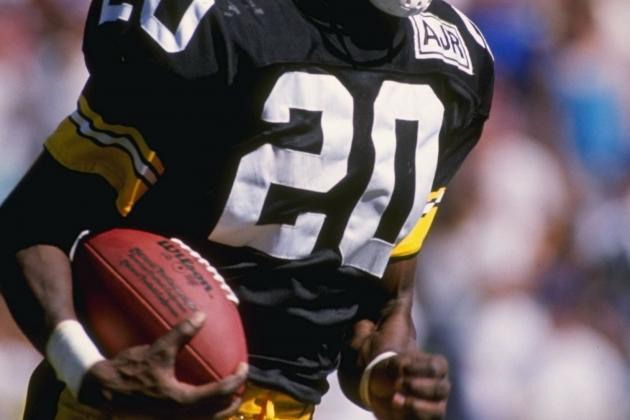 Tim DeFrisco/Getty Images

How bad were the last years of Chuck Noll's tenure? This guy was a starting wide receiver. Yes. You read that right. People that don't remember Stone might be trying to actively forget him.
The story about Stone I've heard most frequently from friends and family that were old enough to see him play (I was not) was that he ran out of bounds with no one standing around him.
The Steelers valued Stone enough to keep him from 1987 until 1994. During that period, he did almost nothing as a receiver or returner. That's pretty sad for a guy who had an extensive career. It's another case where you're left wondering how they couldn't have found anyone to replace him.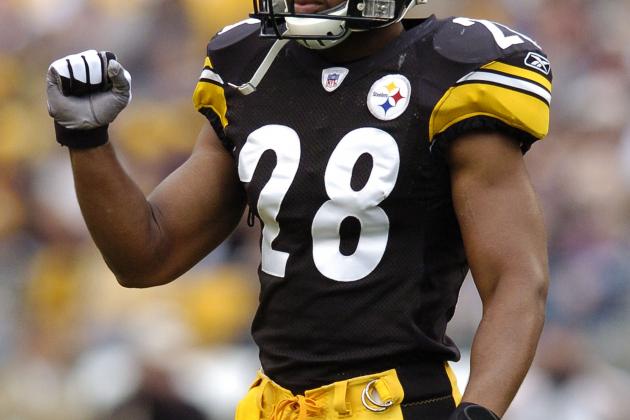 David Maxwell/Getty Images

I remember when Hope left, people actually were upset. They talked about how his relationship with Troy Polamalu was great and that the two of them were a team. They were, but Hope was the weaker end of that tandem.
Hope has been solid in Tennessee and was solid in Pittsburgh, but he was never the player that many thought. He made plays because Polamalu terrorized people. He was the forgotten man out of necessity.
Unfortunately, Hope's impact faded when Ryan Clark took the team's free safety spot to a new level a couple years later. He's evened things up and he makes plays even if Polamalu cannot be on the field with him. That's a special player.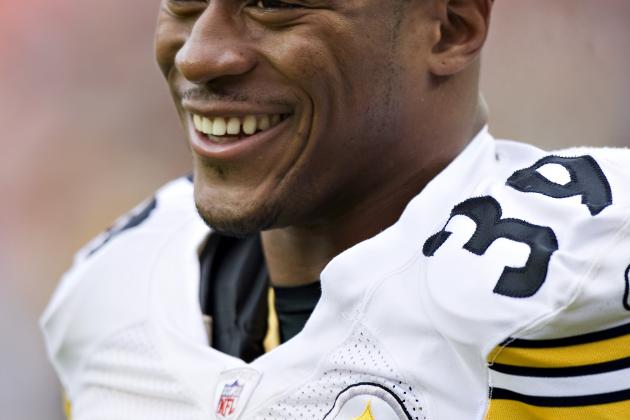 Wesley Hitt/Getty Images

It's hard to call any undrafted player who ends up starting in the NFL overrated, but Parker became overrated after his early successes. Parker was never meant to be a stand-alone back for an NFL team, but the Steelers continually valued him this way.
Mike Tomlin ran Parker until he could run no more during his first season in Pittsburgh. Parker was a horse, but he never really was a star running back in the way that Jerome Bettis had been.
Parker was a good back with great speed, but he wasn't the kind of player that could stand on his own. When the offensive line weakened, he faltered a bit. When teams stopped letting him turn the corner, he faltered a bit. Overall, he had a nice run, but he's not someone to put on an all-decade team.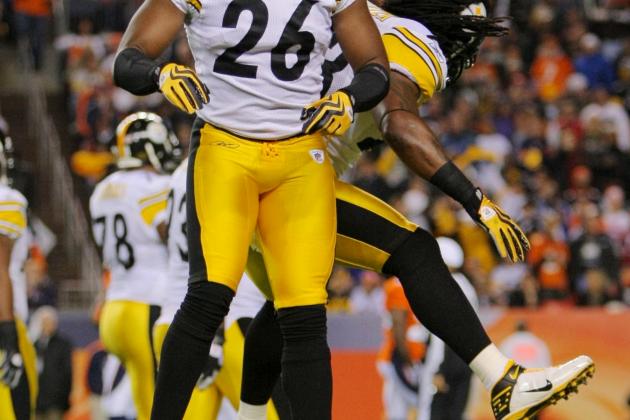 Doug Pensinger/Getty Images

I liked Deshea Townsend a lot as a player, but the fact that he played in Pittsburgh for over a decade almost defies explanation.
Think about this. The Steelers were routinely knocked for having a weak secondary that badly needed upgrades at corner. Instead of drafting someone (besides Ike Taylor) to really take over the position, the Steelers continued to bring back Townsend as their fallback plan.
Townsend ended up being productive but he never warranted the lack of attention the Steelers paid to the corner position. He was a mediocre player who ended up having a longer career than anyone would've guessed.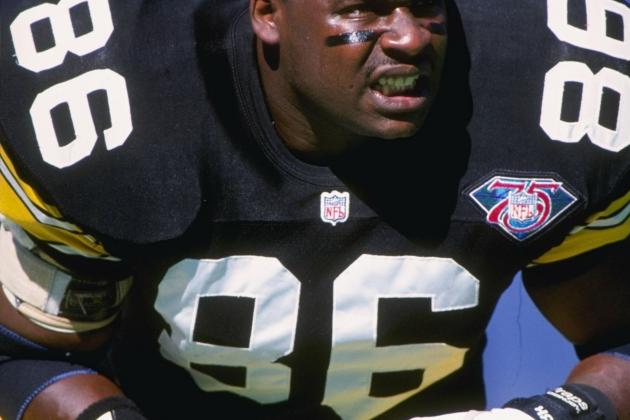 Doug Pensinger/Getty Images

This is, thankfully, a mistake that the Steelers avoided making. The Dolphins managed to make this mistake, but Green was overrated during his tenure in Pittsburgh by himself and his agent.
Green had a public holdout in 1994 before the season and went so far as to claim the Steelers didn't want to pay him the money he deserved. He'd had a Pro Bowl year in 1993 (and another on the way in 1994), but in a situation eerily similar to Mike Wallace today, he was prepared to take limited success and push for the money.
The Steelers got him to sign for 1994 and then he played great and left for Miami. He signed a six-year deal with them and only played a year. His work ethic, attitude and performance were horrid. They bid him farewell in 1996.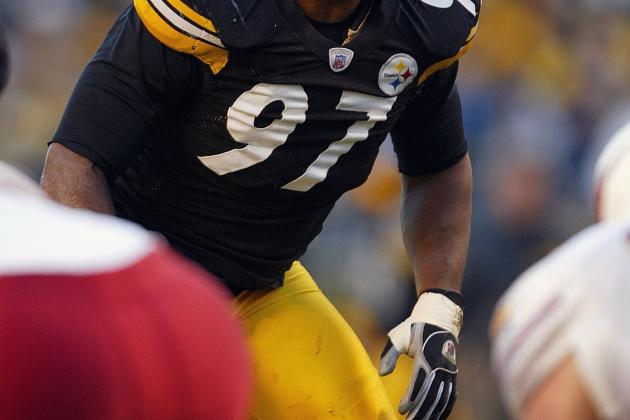 Doug Pensinger/Getty Images

This guy won the Defensive Rookie of the Year award in 2001 after a stunning rookie campaign that many Steelers fans would love to see from one of the team's draft picks this year. Then he fell apart.
I remember Bell's rookie year. People were buzzing around town and saying that he was going to be the next link in the chain of success for Steelers linebackers. I heard Greg Lloyd comparisons.
Bell put those to rest. A hamstring injury helped. He never was the same after that first season and eventually became one of their few early draft misses under Bill Cowher. He was let go after a short stint and went to Kansas City. He was unspectacular there, too.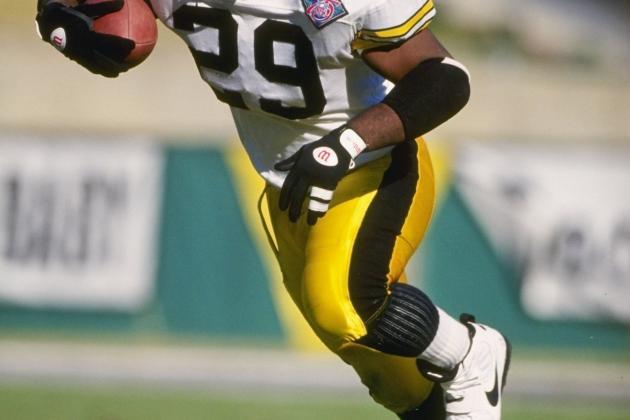 Mike Powell/Getty Images

Barry Foster had a brief flash of brilliance and many people fondly remember him as one of the team's great running backs who had a career that was just too short. But Foster's career wasn't ended by injury or by some accident. It ended with retirement at the age of 26.
Foster played in the perfect offense for any running back. Bill Cowher came to town in 1992 and favored a smash-mouth style that was tailored to the skills Foster had.
Perhaps the best indication that he was overrated during his brief career is that the Steelers saw fit to let him walk in 1995 rather than give him a big payday when he was at an age when most running backs are starting to peak.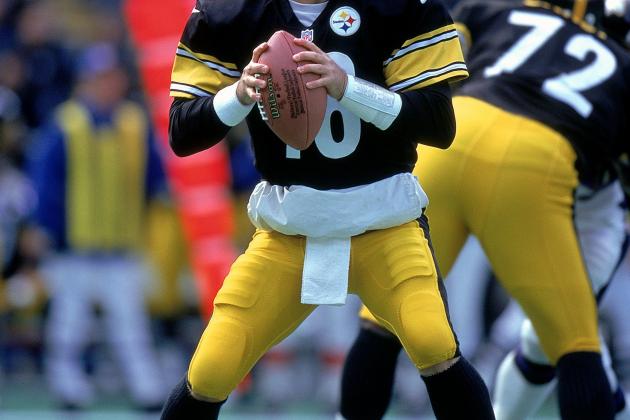 Jamie Squire/Getty Images

The biggest surprise I can think of with Tomczak is that the Steelers actually thought he could be their starter after Neil O'Donnell left in 1996. While Tomczak was the starter for only one full season (1996), he was kept around after that.
He started four games in 1997 before Kordell Stewart beat him out (what does that tell you!) to start. Tomczak had a 76.1 rating during his tenure in Pittsburgh. That's pretty awful.
This is a case of the Steelers overvaluing a guy at a position where they had a major need. The better thing to do would have been to draft or sign a better starter. They could have capitalized on a talented supporting cast and maybe made it to the Super Bowl again. Instead, they rode a mediocre quarterback into oblivion.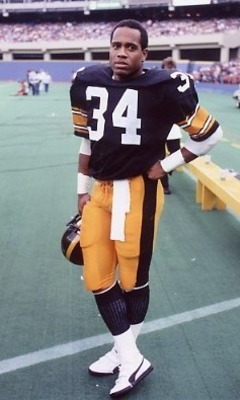 The Steelers once drafted Walter Abercrombie with the idea that he'd replace Franco Harris. Instead, he made people miss Harris terribly. He was prone to getting hurt and making mistakes. He had ball control problems and didn't put up impressive numbers in a rushing offense.
The Steelers made a lot of poor choices in the twilight years of Chuck Noll's tenure as head coach. One of them was taking Abercrombie. He was highly regarded, but looking back there was nothing particularly spectacular about him.
One of the many whiffs at the running back position for this team, he'll always be remembered for following a legend with a big dud.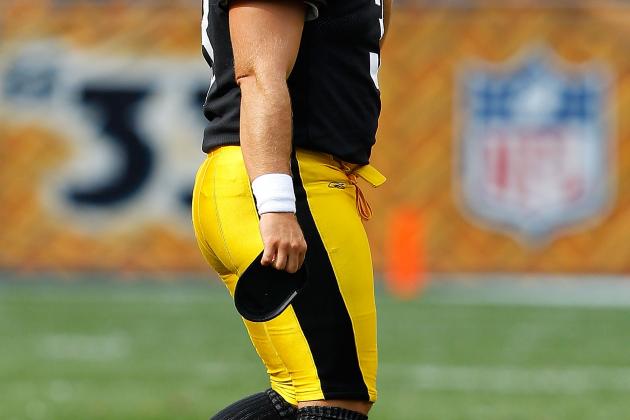 Jared Wickerham/Getty Images

Using the franchise tag on a kicker is one thing if the kicker is Adam Vinatieri. When it's a guy like Jeff Reed, the Steelers should've passed on it. Reed overvalued himself in every way and, despite being one of the team's most colorful and hilarious players in recent memory, was never the indispensable commodity that people thought.
The Steelers have done okay with Shaun Suisham and really have never seemed to miss Reed. During his tenure, Reed was a good, clutch kicker for the Steelers. He was never, however, spectacular. He didn't do anything that made him stand out except that he was pretty good at Heinz Field.
The Heinz Field kicking mystery has been solved by more and more opposing kickers in recent years, so that diminishes things a bit. That bit of mystique took Reed further than any kick he made.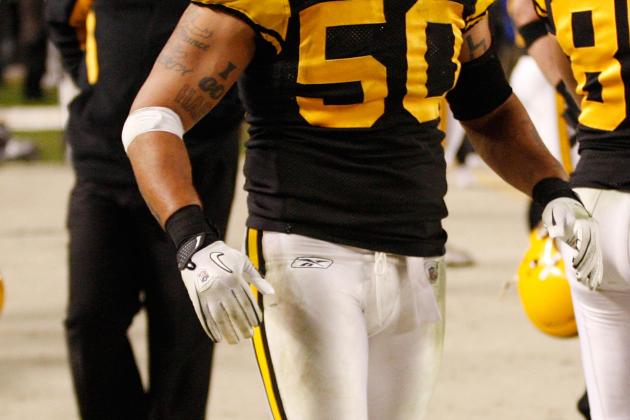 Jared Wickerham/Getty Images

There is a lot to like about Foote. He's been a steady player during his career and was a fine starter for the Steelers during his first run with the team. Now he's a backup who is showing the effects of age, but he had a nice run.
The problem is that Foote was never a Pro Bowl linebacker in a defense that created so many over the years. He was always a contributor. Unlike Aaron Smith or the guys on the defensive line, however, he wasn't unheralded. He just wasn't that spectacular.
Foote made timely plays. There's something to be said for that, but I don't think he's anyone who earned near the money the Steelers gave him when they brought him back for another run with the team in 2010.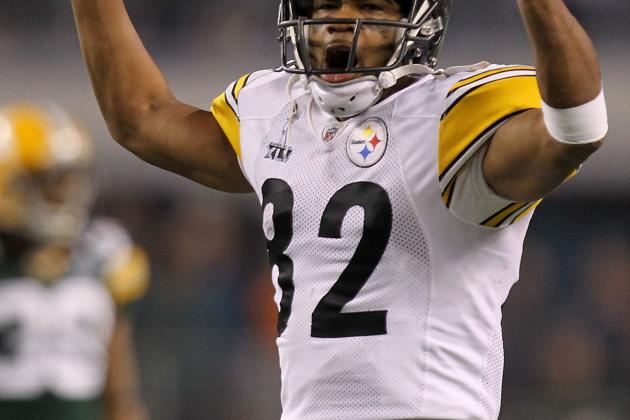 Ronald Martinez/Getty Images

Best known for being the first wide receiver to throw a touchdown pass in the Super Bowl, Randle El's career was comprised of big gadget plays and not much else.
The perfect evidence of why this guy was so overrated by the Steelers comes from what happened when he left. The Steelers offense continued to thrive even without that gadget play ability. Randle El went to Washington and mostly disappeared.
I remember Randle El for running east and west on returns and for being a mediocre wide receiver at best. His best attribute was his ability to surprise. That's not what makes a great career. He was a fun player to watch at times, but he never really deserved a return engagement with the Steelers.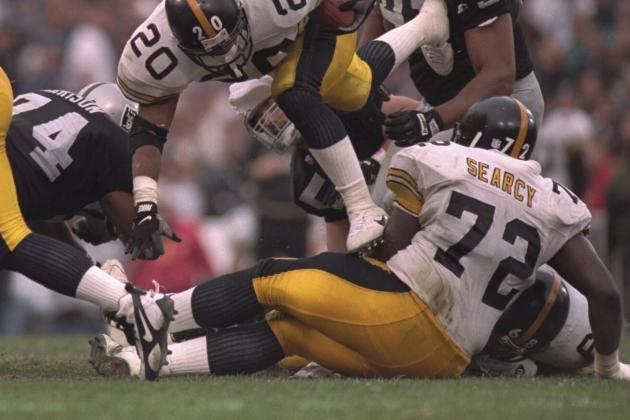 Otto Greule Jr/Getty Images

Another big draft bust was Leon Searcy. The Steelers drafted him with the hope that he'd be a problem solver at offensive tackle for the Steelers. In four years with the team, Searcy was disappointing. Maybe the No. 72 is just cursed for offensive tackles. Jonathan Scott wears the same number.
Searcy was a classic case of the team reaching in the draft. That's become a non-issue under Kevin Colbert, but this was a long time before he was in charge of the team's draft efforts.
Searcy isn't the team's worst or most overrated offensive lineman, but he's definitely up there on the list.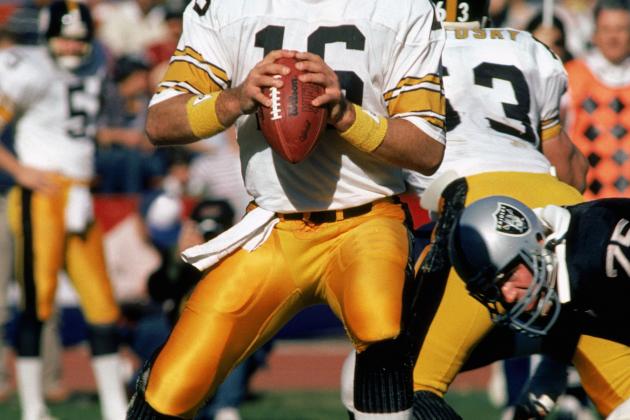 Tony Duffy/Getty Images

I've heard the arguments that you can't consider Malone overrated because he never was thought of as any good. Obviously that isn't the case. The Steelers thought enough of him to take him in the first round of the draft. That means they thought he was special.
The problem was that, if you remember Malone's career, he was most famous for looking like Tom Selleck. That doesn't inspire much confidence. The numbers aren't pretty and Malone was later dropped in favor of Bubby Brister. We already discussed him.
Malone didn't really do much for Pittsburgh, so the best thing to do is chalk it up to poor drafting, a theme of the Steelers in the 1980s as we've already noted.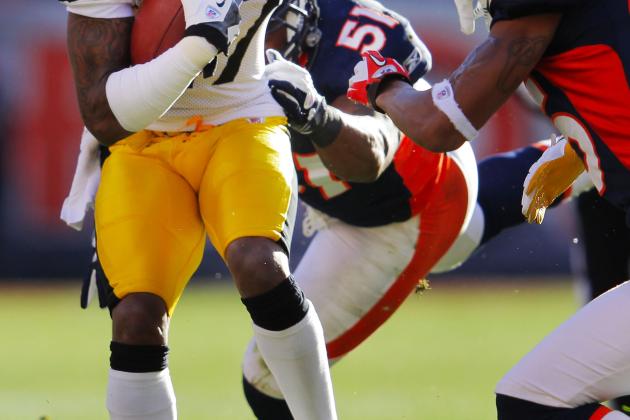 Doug Pensinger/Getty Images

Is this going too far? Wallace is a talented receiver. I don't ever want to diminish that, but the guy isn't the versatile threat that he's trying to get paid for being. Antonio Brown is the more valuable Pittsburgh receiver right now.
Mike Wallace is a good receiver for a team that likes to go deep. That makes him valuable to any team that has a quarterback (sorry, Cleveland). Unfortunately, that's where Wallace's main value ends. He runs a good bubble screen, but that's not a high-percentage play.
He doesn't go over the middle. He doesn't return punts and kicks. He doesn't do as well in short to intermediate range. He's just a one-trick pony. Unfortunately, that makes him overrated.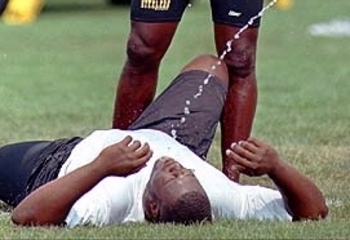 In the case of Stephens, who might be the worst draft pick the team has ever made, the fault lies entirely with the Steelers for even selecting him in the draft.
Let's go back. He had serious questions attached when he came out of college. He wasn't a big effort guy, he wasn't usually in good shape and there were questions about whether or not he could adapt to the professional level and be a successful player.
He didn't even play for Pittsburgh. Bill Cowher cut him the first day of camp after he flopped to the ground during a run test and couldn't continue. This ranks as the biggest mistake they've ever made and there wasn't even anything coming out of school to justify it.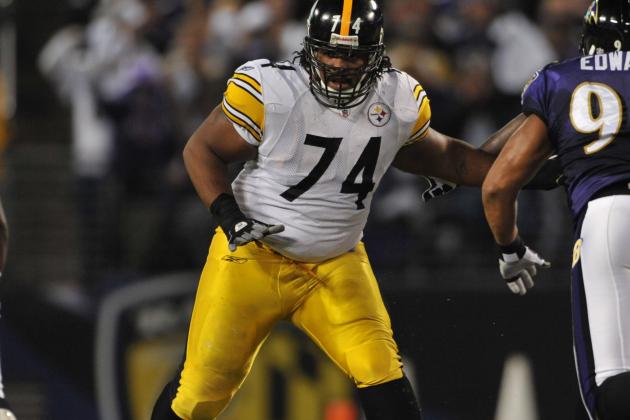 Larry French/Getty Images

This one is easy. The Steelers keep painting Colon as a starting tackle that teams would give a lot up to get their hands on. They signed him to a huge deal that so far has given them exactly nothing. Colon has barely played a game since he signed the deal.
This is a big issue right now. The Steelers will once again rely on Colon to be the right tackle in 2012. The depth behind him is okay, but they are still asking a guy who has had two consecutive lost seasons to come back and be great.
Colon has never been great. He makes dumb mistakes and commits bad penalties at bad times. Unless those things have suddenly changed, he'll be right back here the next time this list comes out.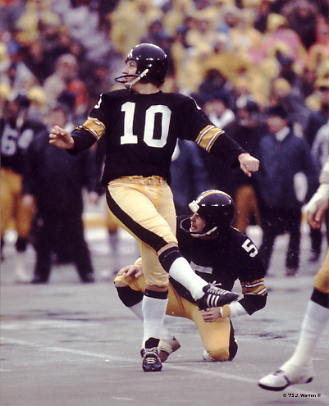 You hear a lot about Roy Gerela when the teams from the 1970s are brought up. He kicked for three Super Bowl champions in Pittsburgh and is generally thought of as one of the top kickers the team has had.
Unfortunately the numbers don't really bear it out at all. In fact, Gerela makes Shaun Suisham look like a star. The three rings make him look a lot better than he was. His career in Pittsburgh, however, comes with a field-goal percentage below 70.
So Gerela makes this list because, while he may be remembered for having three rings and some big Super Bowl kicks, overall his career here was lackluster.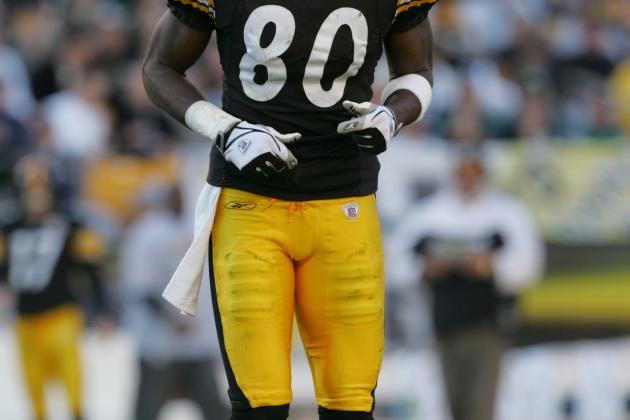 Harry How/Getty Images

I thought a lot of people out of the 2000 draft were overrated. Burress was one of the many in that case. Coming out of college he was a good player with a ton of potential.
Despite the successes he had in Pittsburgh, there was a reason he was allowed to leave just as Ben Roethlisberger, who had a great rapport with him, was coming into his own as a passer. The simple truth was that Burress was not really that special.
He had some discipline problems on the field and he struggled to consistently make big plays regularly. He has never had a consistent career regardless of where he played, but I think the Steelers made a big mistake taking him in the first round.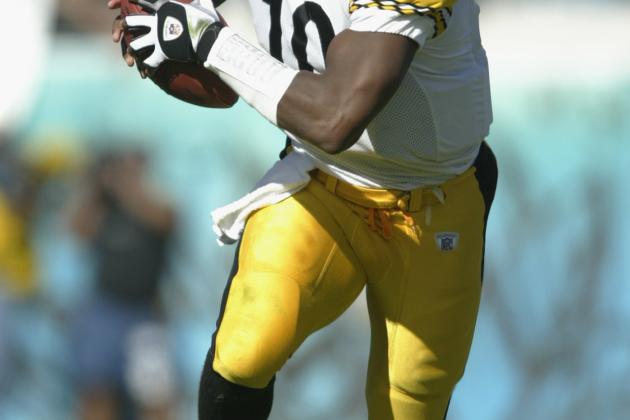 Andy Lyons/Getty Images

Surprised to see him at the top? For me, Stewart falls into both categories of being overrated that we discussed in the introduction. He's not only overrated in team history (even if he was largely reviled by fans), he was vastly overrated coming out of college.
Today, a player with Stewart's college career would have probably either been undrafted or been taken very late. In 1995, athletic quarterbacks were still a relative novelty and the Steelers liked his athleticism and versatility enough to make him a higher pick.
Stewart had his moments, but he almost always got the team to the playoffs thanks to a staunch rushing attack led by Jerome Bettis. He had one truly good season as a quarterback in 2001. Beyond that, he wouldn't be considered starter material.