Golden State Warriors: Best and Worst Case 2012 NBA Draft Scenarios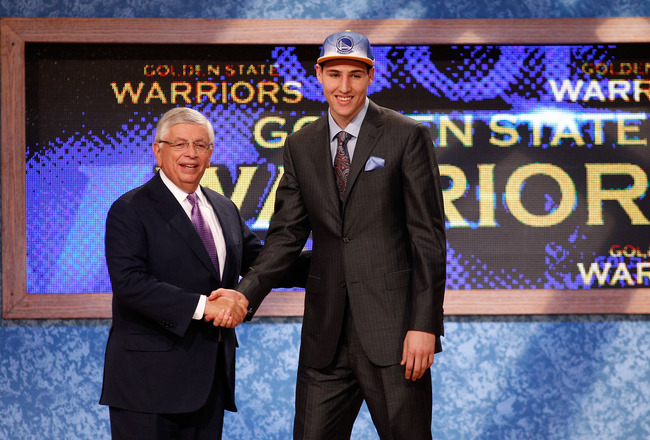 Mike Stobe/Getty Images
NBA teams good enough to still be in the playoffs are focusing their attention towards hoisting the Larry O'Brien trophy. But for the rest of the NBA teams, this time of year is about focusing on the upcoming NBA draft, which is scheduled to start on June 28.
After finishing 23-43, the Golden State Warriors are out of the playoffs and focusing on the draft. Due to their underwhelming record, the Warriors have a good shot at getting a top pick in this year's draft. But throwing a curveball into the mix is the fact that if the Warriors don't get a top-seven selection in the draft, then they have to give up their first pick to the Utah Jazz.
Obviously, the Warriors are hoping to get a high enough selection to be able to keep their pick, but that won't be determined until the draft lottery takes place on May 30. Going into the lottery, the Warriors have a 72.4 percent chance of being drawn in the top seven, or put more simply, they have a 72.4 percent chance of keeping their pick.
As you can imagine, May 30 is a huge day for the Warriors franchise. If they get a top-seven pick, they can get an elite prospect in the draft. If they don't, then they'll likely be selecting at No. 30 (the Warriors own San Antonio's first-round pick).
Another possibility is the Warriors could put their two second-round picks together with San Antonio's pick to move up higher than No. 30, but that would require a lot of maneuvering, and they probably couldn't move up too far by trading picks alone.
With a lot yet to be determined, there are many best-case and worst-case scenarios for Golden State come draft day.
Best Case: Warriors Draft Anthony Davis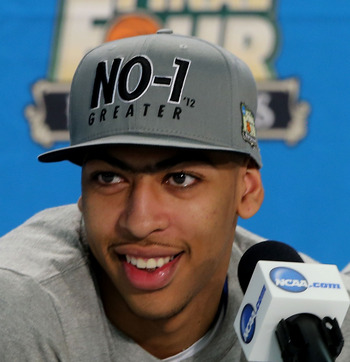 Jeff Gross/Getty Images
All of the talent evaluators seem to agree that the 2012 NBA Draft is absolutely stacked. They also seem to be in agreement that the top prospect is Kentucky freshman Anthony Davis. So with Davis being the top prospect in the draft, the ultimate scenario for the Warriors would be to find themselves in a situation to draft Davis.
There are two potential ways this can pan out; although, only one way seems realistic. First, the Warriors could win the draft lottery and get the first pick in the draft. While the odds of that happening are only 3.6 percent, this seems the likeliest way the Warriors could get Davis.
The second scenario in which they could acquire Davis is through some sort of trade.
The only way I could see it shaking out is if the Warriors still end up with a top-seven pick through the lottery, which they could package with their other first-round pick (No. 30) and two second-round picks. A top-seven pick, plus the late first-round pick and the two second-round picks might be enough to trade for the No. 1 overall choice, but it's unlikely.
With Davis being regarded as a once-in-a-generation talent, I can't see any scenario where the team with the No. 1 overall pick is willing to trade their right to draft Davis.
Best Case: Warriors Draft Michael Kidd-Gilchrist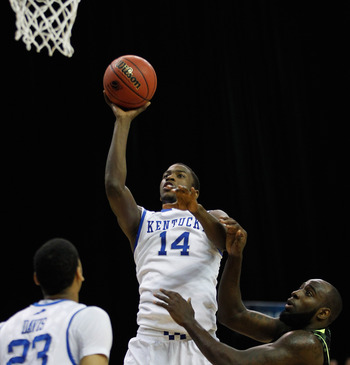 Streeter Lecka/Getty Images
Kidd-Gilchrist is the No. 2 player on ESPN NBA Insider Chad Ford's big board. With Steph Curry (if he can stay healthy) and Klay Thompson in the backcourt, the Warriors are set there. The Warriors also have a power forward and center in David Lee and Andrew Bogut. Their most glaring hole is at small forward, which is where Kidd-Gilchrist plays.
Just as with Davis, there are the same two scenarios to acquiring Kidd-Gilchrist. The most likely scenario is by getting the second pick in the draft through the lottery. If that fails, the Warriors could try and couple their picks together to move up high enough in the draft to select Kidd-Gilchrist. But that scenario involves giving up multiple picks and a trade partner who would be willing to part with their top selection.
Best Case: Draft Harrison Barnes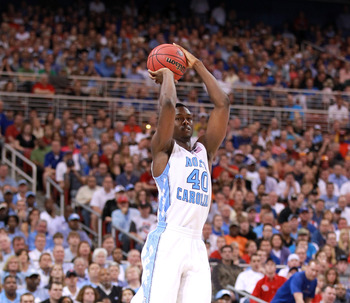 Andy Lyons/Getty Images
Drafting Barnes is not only a good proposition for the Warriors, but it's also more likely than the team finding itself in a position to draft Davis or Kidd-Gilchrist. Barnes is slated to go somewhere between No. 5 and No. 10, according to most mock drafts. Based on their season record, the Warriors are most likely to pick at No. 7, and they have a 72.4 percent chance of selecting somewhere in the top seven.
Barnes, like Kidd-Gilchrist is a small forward. As such, not only would the Warriors be getting a player at a need position, but they would also be getting one of the top talents in the draft.
Barnes would provide the Warriors with a player who's ready to score immediately. The knock on Barnes is that he can't create his own shot. But with a good slashing point guard like Curry, Barnes could excel by knocking down shots when the defense collapses on Curry.
For a more comprehensive view on Harrison Barnes, take a look at this article by B/R's Paul Grossinger. He breaks down Barnes' strengths and areas for improvement.
Best Case: Trade for an Established Veteran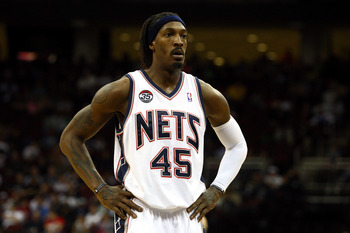 Chris Chambers/Getty Images
The Warriors need two get one of two things in this draft. The first being an impact prospect, the type of player that can change their franchise. But if they don't get a pick high enough to get an impact prospect, then they'd be better off trading their picks to acquire an established veteran.
It's tough to say what sort of veteran players will be on the trading block come draft night. A couple of potential fits who come to mind are Wilson Chandler, Gerald Wallace (if he agrees not to use his early termination option) and Trevor Ariza. None of these players are bona fide stars in the league, but they're all established contributors.
Whether or not the Warriors could acquire one of these players remains to be seen. But if Golden State ends up relinquishing their pick to the Jazz, then they might be able to package some of their remaining picks to get one of these players.
Worst Case: Lose Pick to Utah and Stand Pat with Their Remaining Picks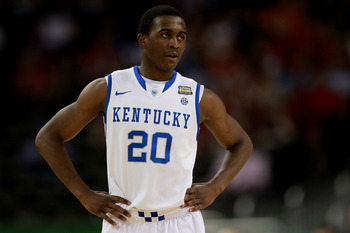 Ronald Martinez/Getty Images
One bad scenario for the Warriors would be to lose out on the top-seven pick to Utah, then proceed through the draft with their remaining selections. In this scenario, the Warriors would have pick No. 30 and two second-round picks.
Golden State could add three young players to its roster in this scenario. But in all likelihood, none of those players would have much of an impact in the first year or two, given where they would go in the draft.
New owner Joe Lacob has repeatedly (and ignorantly, in some respects) talked about the Warriors competing for a championship from the get-go. But in order to start heading that direction, the Warriors either need an impact prospect or an established veteran. This scenario would leave them without either one.
Instead, what they would be getting are a few mid-level prospects like Doron Lamb, Jeff Taylor or Tyshawn Taylor.
Worst Case: Lose Pick to Utah and Trade Up with Remaining Draft Picks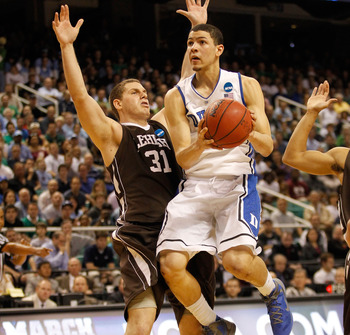 Streeter Lecka/Getty Images
The Warriors could lose out on their pick to Utah in the lottery, then package all of their remaining picks to move up in the first round. With pick No. 30 and two second-round picks, the Warriors probably couldn't move up too far.
Even if they were somehow able to move up into the top 10-15 range, which is unlikely, the Warriors still wouldn't be able to get the sort of impact player they'd need. Players like Austin Rivers, Damian Lillard and Tyler Zeller are projected to go in that range. Those players should be good contributors, but they aren't likely to be impact players from the start.
This scenario would likely put the Warriors out of the postseason again next year. Given all the noise that Joe Lacob and Mark Jackson have made about the playoffs, that's certainly less than ideal.
Keep Reading

Golden State Warriors: Like this team?