Kobe Bryant's Selfish Refusal to Share Ball with Andrew Bynum Will Doom Lakers
May 8, 2012

Harry How/Getty Images
For all the accolades Kobe Bryant has received on account of averaging nearly 28 points per game at 33 years of age, he's also dealt with his fair share of criticism for taking shots that All-Star center Andrew Bynum might be better off taking.
The pleas for Kobe to pass the ball are nothing new, to be sure—they're just a bit louder and more frequent in a season when the legend shot just 43 percent.
Of course, it's not as if Bryant never passes the ball. He's not stranger to setting Bynum up at the right times, just as he did late in Sunday night's game between his Los Angeles Lakers and the Denver Nuggets:
Kobe makes the right play, drawing Gallo away from Bynum, & feeding 'Drew for an and-1 dunk. FT coming, lead at 6, 2:15 left.

— Mike Trudell (@LakersReporter) May 2, 2012
Despite the occasional heroics, there's still little doubt that Bynum should be a more integral component of Los Angeles' offense.
In the first four games against Denver, Bynum has only taken more than 12 field goal attempts once despite making 60 percent of his shots in the series. There's something quite obviously wrong with a system that lets that happen.
And there's something downright baffling about it happening in a series where Bryant has never taken fewer than 23 shots despite shooting just 42.6 percent.
Sure, assessing the numbers alone never tells the full story.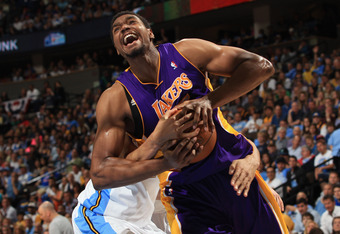 Doug Pensinger/Getty Images
The Lakers depend on Bryant to score in desperate situations, and he's always up for the challenge. There's also the risk that funneling the ball to Bynum too regularly would lead to some ill-advised shots and counteract the big man's efficiency.
Nevertheless, life won't get any easier for Bryant as a scorer in this postseason.
He'll face better defense and longer stoppers in Oklahoma City and San Antonio's wing personnel, along with a far more disciplined commitment to team defense than anything the Nuggets can muster. Kobe might be able pass all these tests and more, but this isn't really about Kobe.
After all, he could probably drop 50 points every night, but the Lakers would still be better off getting points in the paint.
It worked when Shaquille O'Neal was around, and it will work with Bynum.
The seven-footer is simply too big and too strong for most interior defenders, and his refined post moves help him accomplish whatever his physical tools cannot.
Establishing an even more imposing inside game would also create opportunities for guys like Ramon Sessions, Steve Blake and Matt Barnes. Coaches will reluctantly agree to double-team Bynum, but only if Mike Brown milks him for everything he's worth.
The 24-year-old may still be a long way from becoming the next Shaq, but it's not too soon to start trying. After a few games against Kevin Durant, Russell Westbrook and James Harden, it might even be too late.