Andre Drummond: Highlights, Analysis and Pro Projections
June 6, 2012

Jim McIsaac/Getty Images
Andre Drummond has more upside than any other prospect in the 2012 NBA Draft. The 6'10" man-child out of UConn had a disappointing freshman season by some accounts. It was a microcosm of what was an underachieving year for the Huskies' program overall.
They limped into the tournament with a 20-14 record, and they were dropped in the first round by Iowa State.
In his freshman season, Drummond averaged 10 points, 7.6 rebounds and 2.7 blocked shots per game. 
He made himself eligible for the NBA draft on April 13. If this were the preps-to-pro era, Drummond would have been a candidate to make that jump. Instead he attended UConn for one year showing flashes of his ridiculous potential.
Drummond had originally decided to attend a Massachusetts prep school this past year, but he chose to go to UConn instead.
UConn's ban from the NCAA tournament couldn't have helped the Huskies' case for retaining Drummond one more year. 
Most draft experts have him in the top five of their mock drafts, but none that I've seen have him as the top overall selection.   
I contend, if teams are looking for the player with the best shot at being a dominant force, Drummond is the one.
Here is a scouting report on Drummond that highlights his strengths and weaknesses.
(Height, weight and stats per statsheet.com)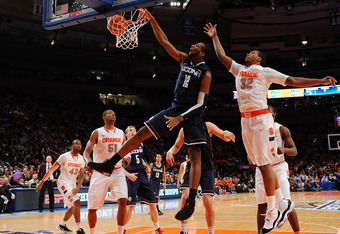 Michael Heiman/Getty Images
Profile:
Height: 6'10" 
Weight: 270 pounds 
School: Connecticut
Date of Birth: August 10, 1993
Best NBA Position: Power Forward or Center
College Stats: (Key Stats Underlined) 10 PPG, 28.4 MPG, 53.8 FG%, 0 3FG%, 29.5 FT%, 0.4 APG, 7.6 RPG, 2.7 BPG, 0.8 SPG
Skill Grades:
Athleticism - A+
Size - A
Intangibles - B-
Rebounding - A-
Ball Handling - A-
Defense - A-
Shooting - C
Passing - B-
Post Game - B+
Basketball IQ - B+
Upside - A+
Strengths:
Drummond's combination of size and athleticism is extremely rare. At 270 pounds he has explosive hops and great strength near the basket.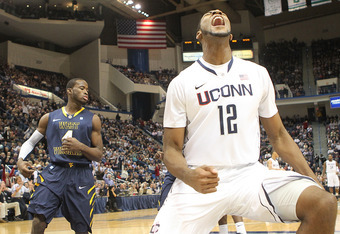 Jim Rogash/Getty Images
Take a look at Drummond beasting the competition here:
He also has good court vision, and he's a decent passer out of the post. Drummond possesses the foot speed to beat most bigs—and some wing players—down the floor in transition.
His athleticism is his by far his best quality at this point, but he also has great timing as a shot-blocker. Had Drummond played more minutes in 2011-2012, his numbers would have been gaudier.
I have been impressed with Drummond's preliminary footwork in the post, and he has shown a nice touch around the basket. This leads you to believe that there is some finesse to go with the raw power and athleticism. 
Weaknesses:
Drummond has been called lazy and a few other less than desirable adjectives this past season. Most of his issues can be attributed to a slow acclimation to the college game.
He is an absolutely horrible free-throw shooter at 29.5 percent. There is no excuse for that, as he doesn't have horrible shooting form. He must work to improve that area of his game so he isn't a liability at crunch time. 
Drummond was foul prone early, and that partially explains his decreased playing time. He averaged only 2.2 fouls per game, but his desire to block every shot and to fall for pump fakes, made him an undisciplined defender at times.
He was used to being the focal point of an offense after dominating in high school, and at times he didn't show the effort he needed to work himself into the flow of the game.
He did improve in this area as the season progressed, but this hampered his overall production. 
Drummond's immaturity led to his less than stellar freshman year. This is the reason most experts are down on him.
NBA Player Comparison: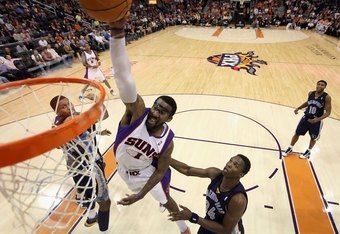 Christian Petersen/Getty Images
More Defensive Minded Amar'e Stoudemire
Drummond can be a superstar, the only thing he has to do is put in the work. His athletic ability is on par with a pre-injury Stoudemire. He may even be stronger physically than Stat.
Stoudemire has been criticized throughout his career for his rebounding and defense; Drummond is already a solid shot-blocker and shows more willingness to defend than Amar'e.
Critics must remember, Drummond isn't even 19 years old yet. He isn't who he will ultimately be mentally. If he matures, as I believe he will, he'll be the most dominant player from this draft.
He has passion for the game, and that is paramount in my opinion.
Hopefully his experience at UConn has taught him how hard he'll have to work, to maximize his potential.
Draft Projection:
Top Five
Follow Brian Mazique and Franchiseplay.net for reactions, analysis and news from the world of sports and sports Video Games