NL Worst of the Night: D-Backs' Joe Saunders Gets Crushed by Cardinals
May 8, 2012

Ralph Freso/Getty Images
Highlighting a bad performance from the previous night in baseball might seem like a harsh way to start the morning, but look at it this way: If you had a rough night or bad day, here's someone who may have had it worse.
Last week, I listed the Arizona Diamondbacks' Joe Saunders among my National League Cy Young Award candidates. That standing was based on his 2-1 record and a 1.24 ERA that was the second-best in the majors.
However, I acknowledged that Saunders' numbers had been built up against some of the weaker lineups in the NL. In his first five starts, he faced the Pirates, Padres, Marlins and Nationals. None of those lineups are among the highest-scoring in the league. 
So what would happen when Saunders faced a powerful lineup? Granted, the NL doesn't have many. But the St. Louis Cardinals have been one of the most productive offenses in baseball this season, and would provide a good test for Saunders.
It didn't go so well for him Monday night.
The Cards jumped on Saunders right away, as Rafael Furcal led off the game with a home run. Saunders recovered to get the next two batters out, but he couldn't get through the middle of the St. Louis batting order unscathed.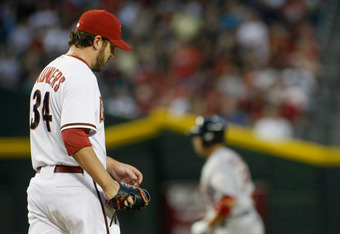 Ralph Freso/Getty Images
Saunders gave up three consecutive hits, resulting in two more runs scoring, putting the D-Backs behind 3-0 before their lineup even came to the plate.
Two innings later, Saunders served up back-to-back homers to Carlos Beltran and Matt Holliday, resulting in a 5-0 lead for the Cards.
Watch all of the Cardinals' home runs here. 
In the fourth, the first three St. Louis batters reached base, helped by a throwing error by catcher Miguel Montero. An RBI single from Furcal boosted the Cards' lead to 6-0. Saunders eventually walked Holliday to load the bases, and that was the end of his night.
What happens when Saunders pitches against a formidable lineup like the Cardinals? Seven runs (six earned), nine hits, three of which were home runs. It wasn't pretty. 
Follow @iancass on Twitter