NL Cy Young Award Rankings: Ted Lilly, Lance Lynn Among Early Season Surprises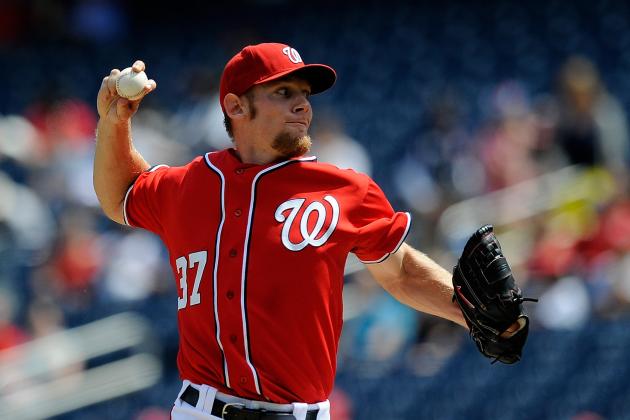 Patrick McDermott/Getty Images
The Nationals' starting rotation has been outstanding, led by young ace Stephen Strasburg.
Where are the aces?
That could be the first question that comes to mind when looking at the leader boards of National League pitchers.
Last year's NL Cy Young Award winner, the Los Angeles Dodgers' Clayton Kershaw, is pretty far down the list. You have to scroll a long way down to find Roy Halladay's name. Same goes for his teammate, Cliff Lee.
At the top of the list instead are names like Joe Saunders, Jake Westbrook and Barry Zito. Yes, Barry Zito.
Are these guys really Cy Young Award candidates? Probably not. One month into the season, we don't really know how good or bad these pitchers will turn out to be. Customary aces will likely rise back toward the top, while early-season breakouts will find their true level.
That doesn't mean that we aren't seeing the emergence of a few new pitching stars. But this list of candidates will likely look far different than it does now.
In the meantime, here are five current Cy Young Award contenders.
Begin Slideshow

»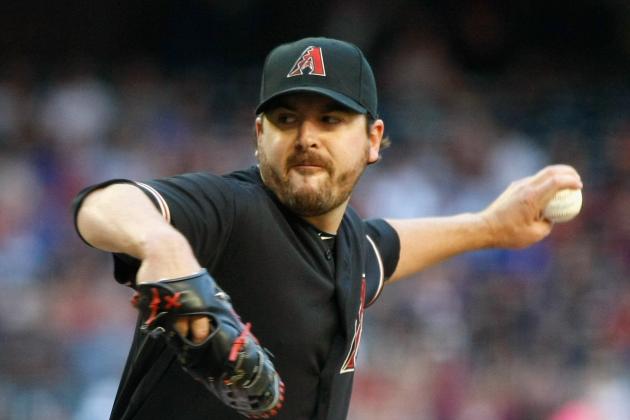 Ralph Freso/Getty Images
Luck be a lefty? Check back later to see if Joe Saunders is still one of the best pitchers in the NL.
If you're surprised to see Joe Saunders on this list, try to imagine how it felt typing out that name.
Saunders is no one's idea of an ace, though he's a solid innings-eating starter who doesn't walk many batters. But he just doesn't strike out enough batters to be considered a dominant pitcher.
Yet there Saunders is with a 2-1 record and 1.24 ERA after his first five starts. That ERA is the second-best number in the majors among starting pitchers.
However, Saunders hasn't exactly compiled those stats against the top lineups in the NL. In his five starts, he's faced the Padres, Pirates, Marlins and Nationals. None are among the top run-scoring teams in the league.
But Saunders did hold the Braves, who have scored the second-most runs in the NL, to two earned runs when he faced them. And other than the Cardinals, is there really another powerhouse lineup he has to worry about?
Maybe he can keep this up.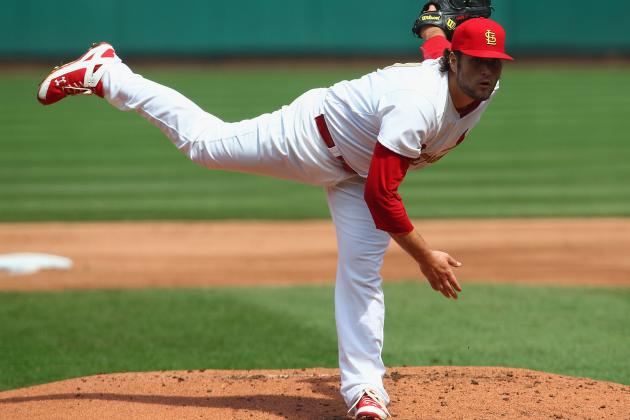 Dilip Vishwanat/Getty Images
Can you believe Lance Lynn was going to be a reliever for the Cardinals this season?
Who's that Chris Carpenter guy again?
OK, Carpenter would obviously make the St. Louis Cardinals' starting rotation better if and when he recovers from nerve damage in his pitching shoulder. But his replacement has surely pitched better than the Cardinals imagined.
After Wednesday night's win over the Pittsburgh Pirates, Lance Lynn has a 5-0 record, 1.60 ERA and 30 strikeouts in 33.1 innings. Is any other staff getting that level of performance from their No. 5 starter?
Lynn also enjoys the added benefit of not having to face his own lineup, which is the best in the NL. So there won't be any "What happens if he faces the Cardinals?" questions from the likes of me.
Teammates Kyle Lohse and Jake Westbrook also look like Cy Young Award candidates based on their numbers, but neither of them throws the strikeout stuff Lynn does, which is what gives him the edge on this list.
If and when Carpenter returns, Cards manager Mike Matheny could have an interesting decision to make about his rotation.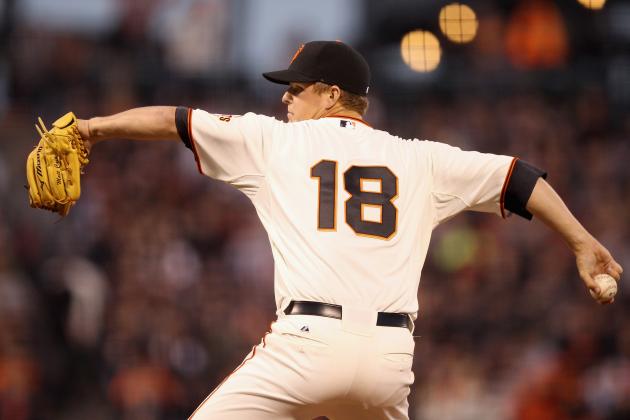 Ezra Shaw/Getty Images
With Tim Lincecum struggling, Matt Cain has been the Giants' ace.
Is this a little high on the list for Matt Cain?
That argument could be made, given that his 2.35 ERA currently ranks 15th in the NL. (By the way, is there a better demonstration of just how good NL pitching has been than that?)
But Cain gets a nod for the number of innings he's thrown. Among NL pitchers, only Roy Halladay has pitched more than Cain's 38.1 innings so far this season.
He's also pitched two of the most memorable games of 2012, throwing two consecutive nine-inning outings.
Cain only received credit for one complete game, a shutout of the Pittsburgh Pirates on Apr. 13 in which he struck out 11 batters. But he did pitch nine full innings in the Giants' extra-inning win over the Phillies on Apr. 18. (That was overshadowed by Cliff Lee one-upping him by going 10 innings.)
Just imagine if Cain got some run support from his lineup. In his past three starts, the Giants have scored only four total runs for him.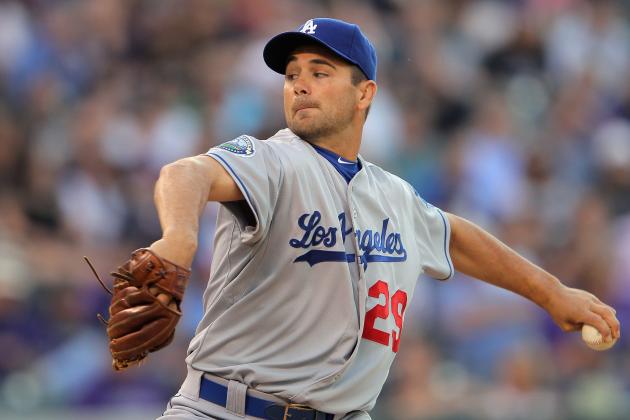 Doug Pensinger/Getty Images
In his first four starts this season, Ted Lilly has given up four runs overall.
The Los Angeles Dodgers have a pitcher on this list and it's not reigning NL Cy Young Award winner Clayton Kershaw?
Well, not yet. Ted Lilly has been the standout in the Dodgers' starting rotation after his first four appearances. He's given up the fewest hits (15) among his fellow starters while allowing only four earned runs in total.
To be fair, Lilly has also pitched the fewest innings among the Dodgers' starting five, with 26. And his 15 strikeouts are 10 fewer than either of his fellow starters. (Reliever Kenley Jansen has 10 more Ks in 10 fewer innings. Javy Guerra has 14 in 11.1.)
But Lilly has also shut down two of the more imposing lineups in the NL, holding the Braves and Rockies to a combined three runs and seven hits in 13 innings. He's not just doing this against the Padres and Pirates.
Lilly is the Dodgers' fifth starter. He certainly wouldn't start Game 1 of a playoff series—he might not even start any games in the postseason. He's not going to be on this list much longer.
But after his first four starts, he's been one of the best pitchers in the National League.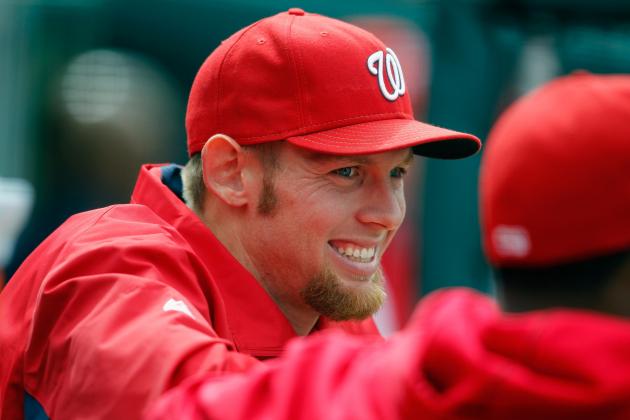 Rob Carr/Getty Images
Wouldn't you smile if you could throw a baseball like Stephen Strasburg?
This is more like it. Now we're talking.
Here's a bona fide ace who will likely be on this list throughout the season, if not at the very top of it.
The Washington Nationals hold first place in the NL East almost entirely on the strength of their starting pitching. They have no other way to win games, due to a lineup that's so poor at scoring runs that the team had to push the Bryce Harper button far sooner than anyone expected.
The Nats' starting rotation leads the majors with a 2.06 ERA. And that rotation is anchored by Stephen Strasburg, whose 1.13 ERA is also the best in the big leagues.
If there were any doubts as to whether D.C. still had an ace in Strasburg's first full season back after Tommy John surgery, he's quieted those questions.
Only two other starting pitchers have more strikeouts so far than Strasburg's 34. And neither of them have fewer than his six walks.
Every fifth day during baseball season is still "Strasmas" in D.C., whether Nats fans come out to celebrate the occasion at Nationals Park or not.
The only thing that might hold Strasburg back from a truly memorable season is his team. General manager Mike Rizzo and manager Davey Johnson have been clear about their intention to hold Strasburg to an innings limit. While they won't put a number on it, the limit is understood to be 150-160 innings.
Strasburg hasn't pitched a full year in the majors and never exceeded more than 123 for a total season. Pushing him to his limits could be dangerous for his future, and the Nats are smart to keep that under heavy consideration.
But if the Nats stay in the playoff race, it's difficult to believe that the team won't do something to try and make Strasburg available for the stretch drive. And the postseason, if the Nats make it that far.
Though that decision could cost Strasburg a Cy Young Award this year, it's reasonable to presume that he'll be in the running for several years to come.
Follow @iancass on Twitter