Why Utah Jazz Must Trade Paul Millsap to Clear Path for Derrick Favors
May 8, 2012

Harry How/Getty Images

After suffering a sound thrashing at the hands of the San Antonio Spurs, the Utah Jazz will soon feel the bitterness and disappointment of an unceremonious and swift playoff-exit fade away, replaced by a budding optimism stemming from the surprisingly stellar play of their young players. 

Twenty-year-old Derrick Favors causes an especially large amount of giddiness within the Jazz front office and has rapidly morphed from an ultra-raw athletic specimen to a defensive nightmare with an unstoppable motor and always-improving offensive game. 

Therein lies the problem. 

The Jazz already have two veteran frontcourt stalwarts in Al Jefferson and Jazz lifer Paul Millsap. 
Millsap is one of the hardest workers in the NBA bar none, and Al Jefferson can be unstoppable down low when he's on his game.

Bringing any of these three low-post studs off the bench seems silly, and likely, wouldn't exactly be welcomed by either of the vets.  With Favors' performances of late screaming for starter's minutes, there is but one option for Utah Jazz GM Kevin O'Connor.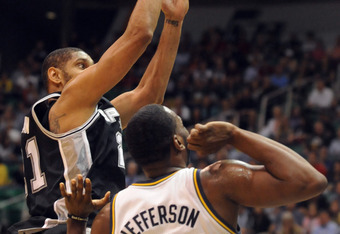 Steve Dykes/Getty Images

The Jazz need to trade Paul Millsap. 

It seems neither fair nor right, but separating raw emotion and any sense of loyalty from the equation and focusing strictly on the business aspect, it's really the only option that makes sense. 

Though Jazz coach Ty Corbin stated he believed Millsap was never on the trading block, the chatter surrounding Paul and the potential deals to be made involving him will surpass their pre-trade deadline levels as the 2012 NBA draft draws near. 

There are certainly also rumblings of moving Al Jefferson and keeping Utah's homegrown player instead.  Jefferson's poor pick-and-roll defense was never exactly a secret, but it was mercilessly exploited by Tony Parker and the rest of the San Antonio offense. Big Al is also not the ideal fit for Utah's more pass-oriented offensive sets as he can be quite the ball-stopper at times. 
So why not Jettison Big Al?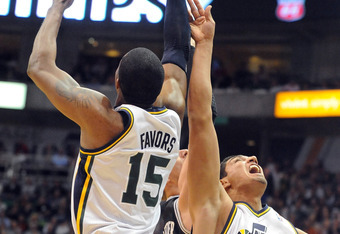 Steve Dykes/Getty Images

Money, to put it bluntly. 

Jefferson is owed approximately $14 million next year. Though his contract is not cap-crippling due
to only having one year left, it's still almost twice as big as Millsap's contract, which is for the same length of time. 

Jefferson's offensive style will also scare away a significant amount of NBA teams before a contract number even enters their heads. Jefferson would woefully underperform on any uptempo team and would need to be paired with a Tyson Chandler or Dwight Howard for the frontcourt of the acquiring team not to be an immediate weakness. 
For Al to be truly worth his contract, he needs to go to precisely the right offense in precisely the right phase of development. This significantly complicates trading Al and getting anything close to 100 cents on the dollar for him.

Millsap, on the other hand, has a very reasonable $8 million left next year and has a much more malleable style that could fit in to a variety of offense types. Millsap has the athleticism and motor to get up and down the court with the best of them and could be a great power forward in a run-and-gun offense but also can play bigger than his body and has tremendous rebounding prowess that would make him an asset to any half-court team. 

Millsap is also much more likely to return more value to the Jazz in a deal. Looking at it from another team's point of view, wouldn't you rather have a player who costs just over half as much as Jefferson, has played in fewer NBA games and doesn't have a torn ACL on his medical report? 

The really mind-boggling aspect of Utah's frontcourt situation is that it's not completely out of the question that neither Millsap nor Jefferson will be in Utah when the 2012 season rolls around. Besides Favors, Utah spent the third pick in the 2011 draft on the raw but immensely talented Enes Kanter, who unbelievably has only been playing basketball (not professional basketball, basketball PERIOD) for five years. 2012 slam dunk champion Jeremy Evans is also waiting in the wings and has shown some very good things in very limited minutes. 

More than likely, Utah will be hanging on to at least one of their veteran big men. But Kevin O'Connor
has never been gun shy when it comes to pulling a trigger on a big trade that he feels makes the team better, as was evidenced by the Deron Williams blockbuster of last year. 

If I may be so bold, I'm predicting that the Utah Jazz will dramatically shake up draft night by dealing at least one of their big men for a package including a draft pick this year. 

If it's Millsap that's being shipped out, I'll be sad. 

I'll be disappointed.

But I won't be surprised. 

I'll understand. It's the only logical thing to do.