Toronto Blue Jays: Analyzing the Holes That Need to Be Filled for the Playoffs
May 7, 2012

Stephen Dunn/Getty Images
The Blue Jays have been a pleasant surprise so far this season, with a 16-13 record after finishing their series with the Los Angeles Angels. If the season ended today, they would make the playoffs, beating out such teams as the New York Yankees, Detroit Tigers and Boston Red Sox for the second Wild Card Spot. However, to put that into perspective, the Baltimore Orioles would finish with the best record in baseball. Not to take anything away from Baltimore's stellar play, but needless to say, this season is far from over.
However, that doesn't mean that the Blue Jays will not make the playoffs. Their team has looked very strong this year, and should be considered one of the major contenders for a playoff spot this year. What makes their start even more impressive is that the reigning AL Hank Aaron Award Winner (given to the top offensive player in the league) Jose Bautista, has been in a season long funk. Once he snaps out of the cold-streak (and he will), the Blue Jays will only get better.
To focus on the good, there are three things that I think have carried the Blue Jays thus far this year. To begin, their starting rotation has been among the best in the majors. Their lack of experience has not fazed the young pitchers, and each starter seems to head to the mound every day with the confidence that they have the ability to succeed.
Next off, the team defense has been simply amazing. Players like Adam Lind and Colby Rasmus have not let their offensive performances affect their play in the field. Johnson and Escobar have continued to grow the chemistry that they started to gain last year, while Brett Lawrie has proved that he can be one of the best third basemen in the league on both sides of the ball.
Finally, the offense has thrived this year. While the team average of .239, ranked 11th in the AL, has left much to be desired, the team still ranks fourth in the AL in runs scored. Timely hitting and composure at the plate have been evident in the Blue Jay's at-bats so far this year. Unlikely players have stepped up to carry the offense of this team in Bautista's "absence", with players like Kelly Johnson, Edwin Encarnacion and Brett Lawrie the top offensive contributors to the team.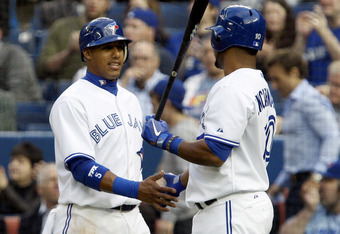 Abelimages/Getty Images
The team's chemistry and dynamic nature have been evident this year. The Blue Jays could stand to become more consistent, especially from their bullpen, but based on the track records of the Jays' relievers, I believe the bullpen will right itself soon.
Here are some moves that I think could be made that would really help out the areas in which they are struggling.
Acquire a 5th Starter:
As I stated before, a lot of the Jays' early success has been due to their starting rotation. Ricky Romero and Brandon Morrow have continued their ascent to becoming one of the best 1-2 pitcher duos in baseball. However, not to be outdone, Henderson Alvarez and Kyle Drabek are trying to turn that top pitching duo into the top pitching staff.
Headed into Spring training, Romero and Morrow were the only two pitchers guaranteed spots in the rotation for this season, with Alvarez and Drabek stuck fighting for spots. When all was said and done, the two pitchers sat 3-4 in Toronto's rotation. With the way they have been pitching early on in this season, I feel that it is safe to say that John Farrell made the right decision regarding the young pitchers.
Here are some of the stats that the starters have accumulated after their first 6 starts, with their AL rank in parenthesis.
| | | | | |
| --- | --- | --- | --- | --- |
| Pitcher | ERA | Innings | WHIP | Average |
| Romero | 3.64(26) | 42(9) | 1.07(14) | .195(7) |
| Morrow | 2.38(7) | 41.2(10) | .091(4) | .204(10) |
| Alvarez | 2.83(15) | 41.1(11) | 1.04(11) | .217(13) |
| Drabek | 3.38(22) | 35(34) | 1.46(38) | .242(24) |
While a relatively small sample size, it is easy to see that Toronto's top four have been exceptional this year. However, a rotation requires five pitchers, and unfortunately, the Jays have received very poor performances from their five pitchers this year. This is no means a knock on young starters Joel Carreno or Drew Hutchinson's pitching abilities or effort; they both will be MLB players one day. However, simply put, they are not ready. Both need more seasoning in the minor leagues to help improve upon their stamina and consistency.
Dustin McGowan, who was expected to win a spot in Toronto's rotation out of Spring training, still seems to be a while away from returning from his injury, and his effectiveness and consistency will be in question when he does finally return.
All in all, there does not seem to be a pitcher on the Blue Jays roster or in the minor leagues that I would be comfortable with Farrell sending out every fifth day. I feel that the best option would be to use the deep farm system Anthopolos has accumulated and attempt to trade for a number-two-or-three starter.
When analyzing the current market for starting pitching, there doesn't seem to be much available. Most teams are trying to determine if they will be available to contend for the playoffs this year, and will not trade away their starting pitching until they know for sure.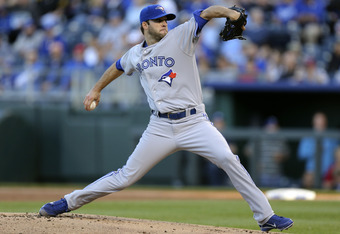 Ed Zurga/Getty Images
One option that I believe may be both available and desirable is Houston Astros' starting pitcher Wandy Rodriguez.  This season, Rodriguez has pitched to the tune of a 1.64 ERA, 1.10 WHIP, and a .221 average allowed, as well as accumulating a 3-2 record on a relatively weak Astros' team. While it is in no way the AL East, his division does boast some well-hitting teams, including the Reds, Cardinals and Brewers, but Rodriguez has held his own against them, pitching to the tune of a 3.31 ERA since the start of the 2008 season.
He could prove to be very effective against AL batters, as the majority of them have not faced him for more than a handful of at-bats. While he does not have a lot of postseason experience, Rodriguez is a seasoned veteran who could help the young Toronto pitching staff.
While his value is higher than normal currently, I believe that he could be had for a reasonable price. The Astros would likely want a high-ceiling pitching prospect to be involved in the deal, but the Jays should have no problem with that given their farm system. An interesting option would be to include 1B David Cooper, given that Houston has some question marks at first base for next season, when Carlos Lee becomes a free agent. While Jonathan Singleton is expected to make the jump, there is not guarantee that he will be ready.
Another option would be to include one of LF Eric Thames or LF/RF Travis Snider, as Houston's OF depth took a big hit with the losses of Hunter Pence and Michael Bourne last year. Brian Bogusevic has done nothing to prove that he will be anything more than an average MLB player, and Houston may be interested in a new infusion of talent and youth in the outfield. Toronto can afford to give one of the two up, as they have Rajai Davis and Ben Francisco waiting on the bench, as well as Anthony Gose ready to make the jump to the big leagues very soon.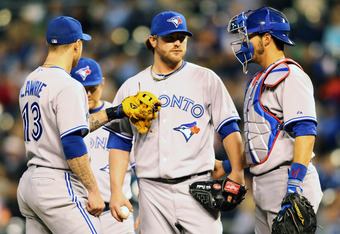 Tim Umphrey/Getty Images
Get Some Hitting for the Premier Hitting Position:
At the beginning of last season, Adam Lind became the Toronto Blue Jays' starting first baseman. It was thought that moving him from DH to the field would allow him to keep his head in the game, thus improving his offense. Defensively, he hit the ground running, making many spectacular plays that made many assume he had been playing the position for years. However, the hope that it was going to kick-start the former Silver Slugger was soon forgotten.
While Lind has managed to hit 49 home runs, 48 doubles and 159 RBI the past two seasons combined—not poor stats by any count—they are a far cry from his 35 home run, 46 double, 114 RBI season in 2009. Add in the fact that he has hit .243 the past two years, compared to .305 in 2009, and you understand the frustration that many Jays fans feel when they talk about the first-base position.
Now, it isn't impossible for Lind to return to his previous, Silver Slugging form. However, with the Jays in the playoff race this season, they need a first baseman they can count on. Carlos Pena, Mark Teixeira and Adrian Gonzales are the first basemen for the Rays, Yankees and Red Sox, respectively, and the Jays need a first baseman of that caliber if they are to pass the AL East powerhouses. The thought was that Lind could be that player for the Jays. The real question is, do they still have confidence in him?
If the answer is yes, then as fans, all we can do is sit and hope that Lind figures it out. However, if they make the decision to go in another direction, I believe that their best option is to try to promote from within, or more specifically, David Cooper.
The AAA first baseman has continued to hit for average with Las Vegas, with a .333 average through 28 games after hitting .364 last year. While his home run power has not developed as some might like (9 in 2011), he makes up for it in doubles, with 51 of the two-baggers in 2011. In addition, he did hit 20 home runs in 2010, suggesting that he does have a bit more power than seen last season. Regardless of his home run power, he does not have any issues driving in runs, as Cooper had 96 last year and has 27 in 28 games so far this season. 
Cooper's uncanny ability to get on-base (.439 last year), which is largely due to his excellent eye at the plate(43:67 Strikeout:Walk Ratio last season) , should warrant him at least a chance to prove to the Blue Jay brass that he has what it takes. With the Jays suffering at the first-base position, I hope that his opportunity comes sooner rather than later.