Blackburn vs. Wigan: Rovers Relegated Amid Protests as Wigan Complete Escape Act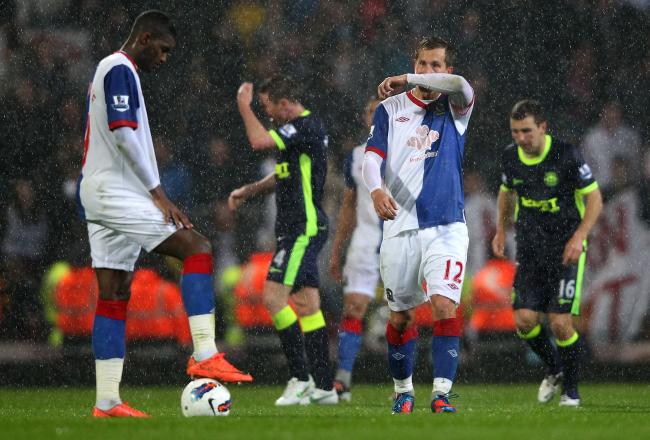 Clive Brunskill/Getty Images
After the Ewood Chicken, the rest was always going to be downhill.
And after their relegation-confirming loss to Wigan Athletic on Monday, the end point of Blackburn Rovers' slide down English football's high-stakes pyramid might be anyone's guess.
Blackburn fell 1-0 to Wigan at a soggy Ewood Park on Monday night in their final English Premier League home match of the season. Wigan's Antolin Alcaraz scored the game's only goal, powering home a bullet header from a corner in the 87th minute.
The result confirmed Rovers' relegation after 11 seasons in the top flight, and before, throughout and after the match, the home supporters teetered and rocked all over the edge of open rebellion.
And that's a shame, really, because instead of talking about pitch invasions, organized fan protests and uncertain (or absentee) ownership at Blackburn, we should be talking about one of the great turnarounds in recent English football history.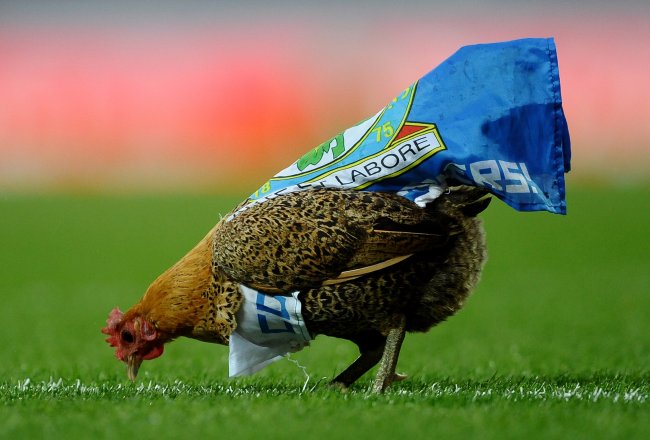 Laurence Griffiths/Getty Images
The turnaround, of course, belongs to Wigan, who with Monday's victory officially secured their Premiership status for another season. But on this day, turnarounds and feel-good stories have nothing on mutiny and discord.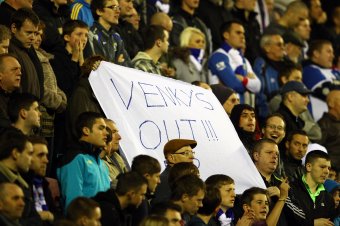 Richard Heathcote/Getty Images
Before kickoff, the mood at Blackburn was already wobbling near the edge. The Rovers and their and manager Steve Kean had been put on the defensive by widespread criticism following their inept showing against Tottenham—no shots at all, either on target or off—their last time out.
But fair or unfair, the situation only became more restive, and farcical, from there.
Moments after kickoff, a chicken invaded the pitch in full Blackburn regalia, working its way through Wigan's penalty box and into the visitors' net. That's when the chants began.
Chants galore...."We're only here for the chicken", "there's only one Jack Walker" "Venky's out". Btw the chicken was in the back of the net

— Henry Winter (@henrywinter) May 7, 2012
As protests go, this was one of the more effective. Rovers, as you'll remember, are owned by Venky's, an Indian chicken-processing company that steered the club to an £18.6 million loss during the year that ended June 30, 2011.
Wearing the club's crest, complete with the words Arte et Labore—Latin for "by skill and hard work"—the chicken thus served as an appropriate symbol of the fans' frustration with their current lot in life.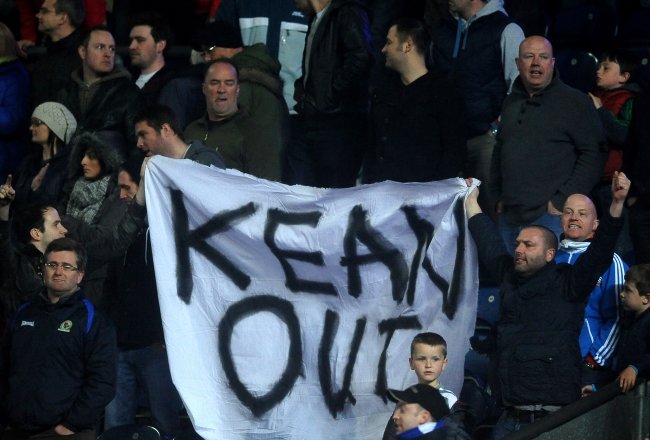 Laurence Griffiths/Getty Images
Nor was it surprising to hear the home crowd voicing nostalgia for the ownership of Jack Walker, the steel magnate who pumped enough cash into his lifelong club to win the 1994-95 Premiership title. But those days are gone, and considering the club's current financial situation, it's unclear when they might reappear in the top flight.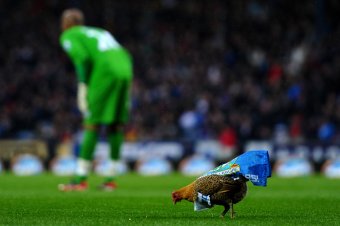 Laurence Griffiths/Getty Images
As the rain continued to thicken, the atmosphere continued to sour, with one fan throwing his season ticket in the general vicinity of Kean (nice timing, with zero home matches left after today, right?), another refusing, momentarily at least, to give back the ball after it had gone out for a corner, and finally thousands chanting, "Do you know we need to win?"
Kean knew that, of course, and he demonstrated it by refusing to show fear in the face of the home fans' pitch invasion after the final whistle. But that show of courage was one of the few positive things Kean has done in weeks.
Blackburn, it has to be said, ran out of confidence sometime last month, and even though they were mathematically alive for survival until the second-to-last game of the season, Rovers' fate was all but sealed some time ago.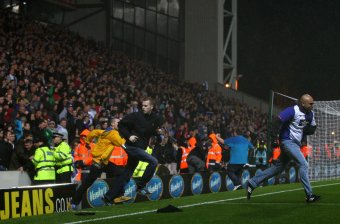 Clive Brunskill/Getty Images
Long gone are the thrilling (and heart-stopping) performances against Manchester United away and Arsenal at home. Even farther, now almost in the realm of the mythical past, are the days of Walker and Shearer and Dalglish.
In the present, it's seven losses out of eight, relegation from the lucrative Premier League and ownership with seemingly little regard for either the bottom line or the product on the pitch. Only Kean will might think he's still the man for the job, and after seeing this latest evidence, even he is probably not certain.
On Monday, in the biggest game of their season—if not even bigger for some of these guys—the Rovers were flat, insipid and passionless, seemingly more interested in fighting with each other than fighting against the drop.
For a team that needed victory in order to avoid relegation, the Rovers produced shockingly little, offered almost nothing positive and depended on the other team to carry nearly all of the game.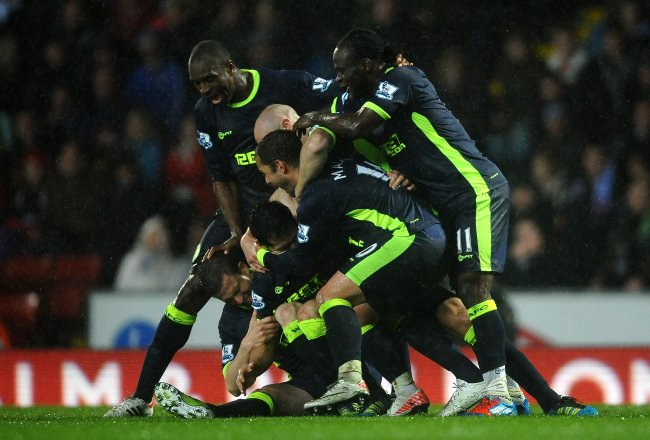 Laurence Griffiths/Getty Images
Wigan obliged, showing once again the slick football that's earned them plaudits during their exceptional escape act this spring. Until Alcaraz's 87th-minute winner, the only thing really wrong with Wigan was their sub-standard finishing.
Before Monday, Wigan had secured victories over Liverpool, Manchester United, Arsenal and, most impressively, Newcastle (who they led 4-0 at halftime) in their last seven matches. And since changing formations a dozen or so matches back, Wigan have rivaled the league's biggest names at the top of the form table.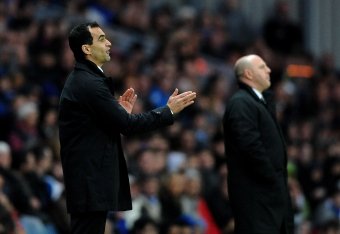 Laurence Griffiths/Getty Images
Much of the turnaround, therefore, is down to tactics and the managerial expertise of Roberto Martinez, and if Martinez decides to leave the club this summer for greener pastures, much of Wigan's newfound—and hard-earned—optimism would probably evaporate.
For now, though, Wigan are the Premier League's form team. Not Manchester City. Not Manchester United. And definitely not Arsenal or Tottenham or Newcastle.
No, it's Wigan, with their miniscule payroll, unfashionable, unfussy roster and their sharp-as-a-tack manager.
In this nutty English Premier League season, why not?
This article is
What is the duplicate article?
Why is this article offensive?
Where is this article plagiarized from?
Why is this article poorly edited?