Despite His Talent, WR Mike Wallace Is Too Expensive for the Steelers to Keep
May 7, 2012
Doug Pensinger/Getty Images
There's no denying what Pittsburgh Steelers wide receiver Mike Wallace has contributed to his team in his three seasons in the NFL. And there's little doubt that the Steelers want to do everything possible to get Wallace signed to a long-term deal, ideally in this offseason.
However, it's looking more and more likely that the cost of doing so is too high—and not just from a financial standpoint, either.
No, it's not just the supposed $120 million Wallace was asking interested teams for when he was still a restricted free agent that's so pricey (though it is), it's also what it's going to cost the Steelers as a whole should he get the kind of money he wants.
In the last two seasons combined, Wallace has caught 132 passes for 2,450 yards and 18 touchdowns. His speed and sure hands (he's fumbled just twice in three seasons) helped turn the Steelers into a serious passing powerhouse, and without him on the field, Pittsburgh will have to make some changes.
But nothing lasts forever in the NFL, and the Steelers should start preparing for a future without Wallace now. 
Next year, barring a new deal, Wallace will be an unrestricted free agent, while two other Steelers receivers, Antonio Brown and Emmanuel Sanders, will be restricted free agents.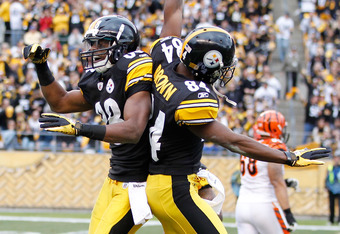 Gregory Shamus/Getty Images
At the same time, Pittsburgh will be dealing with yet another year with a salary cap crunch, and deals that other players have made to restructure their contracts will become due, meaning money is going to be an even greater issue than it was when they began this offseason nearly $30 million over the cap.
Depending on how the deal is structured, Wallace could cost the Steelers anywhere between $7 million and $15 million in 2013 should he get a contract around the amount he was reportedly seeking. That puts the Steelers in a position where they may have to choose between Wallace and Brown and Sanders—and maybe others, too.
The Steelers didn't shy away from cutting some of their veterans from their roster to get under the cap this year, but those veterans were rapidly becoming obsolete. That's a lot of dead weight to cut at once, and it's not likely they'll have that kind of financial safety valve available to them next year.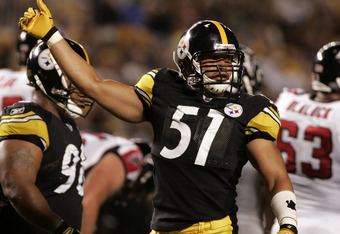 Justin K. Aller/Getty Images
So what weighs more: keeping Wallace or keeping two receivers and maybe two or three more veterans at other positions? Brown has proven he can match Wallace's production, also putting up over 1,000 yards in receptions last season. Sanders has injury concerns and may be allowed to walk when he's an unrestricted free agent in 2014, but they'll likely tender him a one-year deal next season.
It's not to say that receivers of Wallace's caliber are a dime a dozen, but sometimes, circumstances align in such a way that keeping Wallace could hurt the team more than if they let him move on, and this is simply one of those situations.
Other receivers can be drafted and developed. Though it will be a significant loss to not retain Wallace, keeping him around will simply cost the Steelers more than they can afford in both the short- and long-term. It may just be in Pittsburgh's best interest to let Wallace explore other options when the 2013 league year begins rather than work on giving him a new contract this season.