St. Louis Rams: Monday's Rams News and Notes at Noon
May 7, 2012

Welcome to Monday's St. Louis Rams "News and Notes at Noon," the one-stop spot for all major Rams headlines and other information of interest to Rams Nation. 
St. Louis Mini Camp and OTA Dates Announced 
The St. Louis Rams have announced their mini camp and organized team activity (OTA) dates. 
As reported by Turf Show Times, the following dates will be used for mini camps and OTAs:
Rookie Mini Camp: May 11-13 
Full Team Mini Camp: June 12-14 
OTAs: May 15-16, May 18, May 22-23, May 25 and June 5-8.  
Chris Long Striving to Get Better and Better
According to Jerry Ratcliffe for the Greene County Record, St. Louis defensive end Chris Long is still striving to get better every year, just as he has since his high school days. 
Ratcliffe shares some terrific background information on Long, and Long shares many thoughts regarding his game. 
Last season, Long put together his finest season to date, tallying 13 sacks.  In 2010, he led the entire NFL in quarterback pressures.
Long will be a free agent following the season, and a huge 2012 will translate into a huge payday for the hard-working defensive end.  Long, though, would like that payday to come in St. Louis, telling Ratcliffe: 
Hopefully it's not my last year with the Rams. I'd love to be a part of it but I'll cross that bridge when I come to it. For now, I'll just take it day by day.

 
Which Rams Receivers Will Ride on the 2012 Roster? 
Mike Sando of ESPN asserts that the final group of wide receivers who stick for the Rams will probably be determined by the health of wideouts like Steve Smith and Danario Alexander. 
If I had to predict six to stick for 2012, I would roll with the following at the moment, assuming all potential Rams wide receivers stay healthy: Danny Amendola, Steve Smith, Chris Givens, Brian Quick, Greg Salas and Danario Alexander.  
If Alexander does not stay healthy, the final spot would open up for Austin Pettis or Brandon Gibson.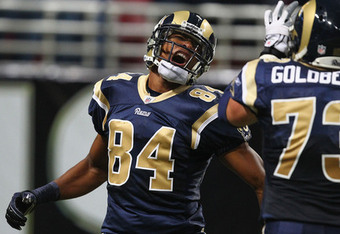 However, considering Alexander's league minimum salary, he will likely get a long look.  
He averaged nearly 18 yards per catch over the last two seasons and will have a full offseason without surgery this year.  That should enable to come out stronger and healthier with more endurance this year than he did in 2010 or 2011.  
Catching Up With Jeff Fisher
Katie Felts of ksdk.com caught up with St. Louis head coach Jeff Fisher recently. 
Fisher talks with Pelts about various football and non-football related topics.  Fisher admits that he has yet to work on his office or get out and about to tour St. Louis.  
Fisher also talks about his mountain climbing experiences, among other things.
Walter Football Rookie Fantasy Preview 
Walterfootball.com released an early rookie fantasy preview for offensive players recently.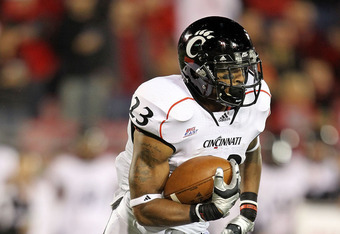 Rams' second-round pick Isaiah Pead ranks highest among St. Louis rookies, checking in impressively at No. 6. Brian Quick, another Rams' second-round pick, checked in at No. 20.
Analyzing Pass Pressure From Defensive Secondary Members 
According to a report from Pro Football Focus, the Rams have several secondary members who rank highly in regards to pass pressure. 
Pro Football Focus breaks down various categories of 2011 pass-rush statistics related to individual cornerbacks and safeties.  
Darian Stewart, Quintin Mikell and Cortland Finnegan appear prominently in the report.
Minnesota Vikings Stadium Vote Coming Today
The long-awaited vote for a potential new Vikings stadium will come later today (or tonight). 
The Associated Press (via stltoday.com) covers many of the bases regarding the situation in Minnesota. 
If the Minnesota legislature does not choose to pass the stadium bill, some feel that the Vikings will begin looking to other cities, such as Los Angeles or Toronto, for a new stadium site.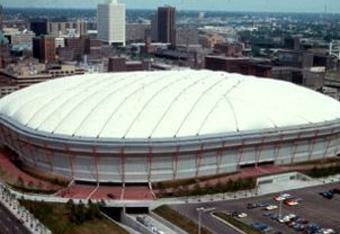 Join Ron Clements of CBS Sports and E Allen Tonight on STL Rams Central Radio 
Tonight on STL Rams Central Radio, guests will include Ron Clements of cbssports.com and E Allen of sportswithmrfactoid.com.  
Topics discussed will include speculation on which wide receivers will lock down roster spots in 2012 and what the revamped interior defensive line could theoretically do for middle linebacker James Laurinaitis, who is hoping to earn his first Pro Bowl berth this year.
Building the Case for the Rams Remaining In St. Louis 
Bleacher Report's own Justin Gibson put together a quality piece over the weekend regarding the future of the Rams organization in regards to its geographic locale. 
Gibson shares a vast array of information regarding the lease and other related background details relevant to the Rams, Rams owner Stan Kroenke, the city of St. Louis, the CVC and more. 
Have a great day as always, STL Rams Nation.
. 
Shane Gray covers the St. Louis Rams daily as a Featured Columnist for Bleacher Report. You are encouraged to check out the rest of his work here. Gray also owns and operates stlramscentral.com.