St. Louis Rams: Building the Case for the Rams to Stay in St. Louis
May 6, 2012

The St. Louis Rams rejected the initial $124 million proposal in March from the St. Louis Convention and Visitors Commission (CVC) to keep the team in Missouri long term, and low to mild panic took place among the local fanbase.
Then earlier this week, the Rams submitted their counteroffer which was not released to the public due to a confidentiality clause between the team and CVC.
"What's (owner) Stan Kroenke trying to hide? The team wants a new stadium. They are going back to Los Angeles."
The fanbase in St. Louis started to become agitated once again, despite there not being any significant signs of the Rams' departure. That fear that has overwhelmed fans for the past several years started to rear its ugly head once again.
The Chicken Littles were out in full force.
Do I personally know the Rams and CVC will come to agreement, keeping the team in St. Louis? Absolutely not. I'm not 100 percent sure of either scenario taking place.
However, what I do know is there are far more greater signs to the Rams staying put rather than packing their bags and driving a fleet of U-Hauls out to LA.
The LA Stadium Development is Not Close to Being a Done Deal
According to a report from Yahoo! Sports, the downtown Los Angeles stadium proposal is in trouble because of the developer's reluctance to alter terms of the deal that would be offered to any NFL team interested in coming to L.A.
The issue arises over Anschutz Entertainment Group (AEG), which would build and manage the downtown L.A. stadium, wanting to buy a minority stake in the team at a discounted rate. AEG reportedly wants anywhere from 30-50 percent of any team in its stadium.
Yahoo! Sports reports that three months ago, AEG's Phil Anschutz met with NFL commissioner Roger Goodell, Los Angeles Mayor Antonio Villaraigosa and New England Patriots owner Robert Kraft. At the meeting, Goodell told Anschutz that his demands were unacceptable to the NFL and teams who could potentially move to L.A.
However, Anschutz still refuses to change the terms of the deal that Goodell and the NFL oppose, Yahoo! Sports reports.
Kroenke is Invested in St. Louis
Bleacher Report featured columnist Shane Gray pointed two big factors out in a piece he wrote last month that give some insight into owner Stan Kroenke's personal investments to the area. 
Kroenke was the lead investor in 1993 to bring the St. Louis Stallions to Missouri, which would have brought the NFL back to his home state. Additionally, the Rams owner bought his initial 30 percent stake in the team in 1994 on the predetermined condition that the Rams would move to St. Louis.
On top of that, in just the few years since Kroenke has taken over the Rams, the team has vastly expanded their preseason network coverage. The Rams also won the 2010 St. Louis Philanthropic Award for their expanding community service work.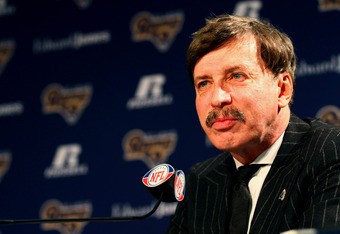 Dilip Vishwanat/Getty Images
Kroenke has shown an intense commitment to the City of St. Louis in the past, and also in the two years he has owned the team.
Why would a businessman like Kroenke put his personal finances on the line to move the Rams out of LA to St. Louis, invest further resources into digging deeper into the city, then bolt back to LA more than a decade later?
It makes no sense.
Rams Have a Great Lease Situation
The Rams currently hold one of the top leases in the entire NFL, paying a mere $500,000 a year to use the Edward Jones Dome. Advertising, ticket sales, concessions — all of that goes to Kroenke. He also pays no personal property taxes on any of his team's practice fields.
As mentioned above, the developer of the LA stadium wants 30-50 percent of the team coming to his stadium at a discounted price. On top of that, if Kroenke were to move the Rams back to LA, it would cost him an additional $250 to $500 million in relocation fees.
Pay $500,000 in St. Louis to house your franchise, or pay up to $500 million in addition to selling a large chunk of your team. You tell me which is more attractive to a businessman.
On top of all that, the most money generated from a stadium in one year was $119 million by the Dallas Cowboys who also hold the highest ticket prices and the most seats in the NFL (hat tip to SOKA of STLToday.com forums for pointing this out).
Miscellaneous Tidbits that Should Make You Feel Good
-As Gray pointed out in his piece, Kroenke is working diligently with the chairman of the CVC and lead negotiator for the CVC in the Edward Jones Dome lease negotiations for the Rams to redevelop Union Station in St. Louis.
-Kroenke's main job is with his reality development company, THF Realty, which is headquartered in St. Louis.
-Rams Chief Operating Officer Kevin Demoff has joined several St. Louis radio stations in recent months, including 101ESPN and KFNS, and has said time and time again that the Rams want to build a winner in St. Louis. Also, whether you like one home game being played in London per season or not, Demoff has said it is being done to put the Rams on the same global recognition level as other popular teams in the NFL such as the New England Patriots and Dallas Cowboys.
-In negotiations with the CVC, the Rams have never brought up the option of moving back to LA. The notion of the possibility, at this point in time, is nothing more than propaganda.
-Whether it be Kroenke's THF Realty or his multiple professional sports teams in the United States, he has avoided major markets that carry highers taxes and fees.
-St. Louis top connected media member Bernie Miklasz stated on his radio show on 101ESPN earlier this year that his sources embedded in the negotiations have told him that Kronke is not going to move the Rams out of St. Louis and that the two sides are closer than most would expect.
-When Jeff Fisher was hired as head coach of the Rams this year, he said in an interview with Miklasz on 101ESPN that he believed Kroenke would keep the team in St. Louis.
The Rams aren't a slam dunk guarantee to stay in St. Louis, but there are a lot more facts and examples that should calm worries about a move than there are to suggest that one will actually occur.
Los Angeles fans believe their city if more profitable for the Rams, but what evidence backs this notion up? It's documented that the Rams currently have one of the top leases in all of the NFL. It is also documented that moving the team to LA would cost Kroenke between 30 to 50 percent of his team at a discounted price, plus $250 to $500 million in relocation fees. How fast would he recoup his losses if the top stadium in the NFL is only generating just over $100 million per season?
It's time to calm down. It's time to use a level head regarding the matter until we see something else that shows us otherwise. It's been linked twice in two examples I cited already, but Bleacher Report's Shane Gray highlights even more examples in his piece. Please read it.
As of right now, it's fact vs. theory.