Robert Griffin III: Biggest Questions Facing RGIII in Rookie Season
May 7, 2012

Patrick McDermott/Getty Images
Despite being the No. 2 overall pick in the 2012 NFL draft, Robert Griffin III has a lot of pressure to immediately succeed for the Washington Redskins.
After all, our nation's capital hasn't seen a legit franchise quarterback since the days of Joe Theismann, so fans are eager to see what RG3 has to offer. And it's not surprising that he comes in as the starter. According to Mike Jones of the Washington Post, coach Mike Shanahan was clear about the situation:
"He's the starter. Period," Shanahan said Sunday after watching Griffin in five practices over the last three days.
Much like all other top prospects, though, Griffin has his work cut out for him and faces tough questions entering his rookie year.
So, let's take a look at some questions regarding RG3 before the 2012 season kicks off.
How much will he develop from under center?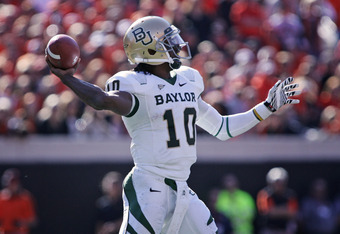 Brett Deering/Getty Images
It's arguably the biggest concern about Griffin entering this season. Although he does have some experience in taking snaps from under center at Baylor, it was nowhere enough to fully prepare him for the NFL.
That said, RG3 has the luxury of learning from Shanahan, who has coached Hall of Famers in Steve Young and John Elway. Both of those quarterbacks could be looked at as scramblers, but also had the ability to set up from under center.
Griffin has that kind of potential, though, because of his overall athletic ability and Washington's new receiving corps. Throughout the preseason, expect to see RG3 under center a lot. Once the regular season begins, however, he'll gradually get acclimated on a weekly basis.
So early on, don't anticipate seeing Griffin under center nearly as much as by midseason or the end. That will come with time, and provided RG3 develops ahead of the curve (by comparison to most quarterbacks in their rookie seasons), divisional games will be less concerning, as the NFC East is loaded with pass-rushers.
Will the urge to scramble not be a last resort?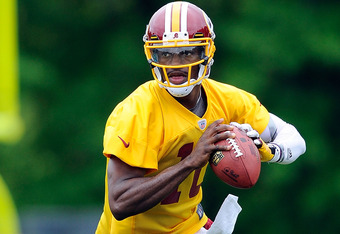 Patrick McDermott/Getty Images
It's easy to suspect that Griffin will scramble sooner than later quite often through the preseason and early parts of the regular season. The man possesses supreme athleticism to create all kinds of plays with his feet, so allowing him to do so early on will get him comfortable early on.
But as previously mentioned, the NFC East has an abundance of rushers that will dominate scramble-first quarterbacks. The good news for RG3, though, is that the Redskins don't play a divisional opponent until Week 7 (Giants).
Therefore, Griffin has quite a bit of time to get acclimated beforehand since the first six opponents don't have multiple rushers like anyone in the division.
Simply put, Griffin's development under center and willingness to let his targets make plays downfield through the season's first month is vital to becoming a complete threat. How long Griffin remains in the pocket before rolling outside will display his level of patience, awareness and poise early on.
Obviously, running is an option once out of the pocket, but keeping his eyes downfield is crucial in forcing those in coverage to respect the passing game. Scrambling must become a last resort in the pros, otherwise the final half of this year will be even tougher than it already looks.
Does he live up to the hype?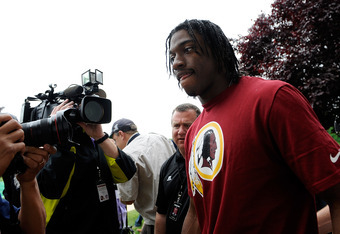 Patrick McDermott/Getty Images
There's no doubt that RG3 can live up to the hype, because his 2011 Heisman Trophy season is certainly worth the potential alone—not to mention Griffin's strong offseason via the combine and pro day before the draft.
Actually living up the hype is a whole other story, though. With all the pressure that comes with being a high first-round selection and already having been named the starter, Griffin now just has to get it done.
The next rightfully expected franchise quarterback for Washington, RG3 has the tangibles, intangibles, coaches and an array of offensive talent around him to enjoy a strong rookie season. It's now just a matter of making the plays, putting up the numbers and winning to remove whatever (if any) doubt remains.
Lest we forget about how much the Redskins gave up to take him at No. 2 overall. That alone warrants added pressure to the hype surrounding RG3.
John Rozum on Twitter.