10 Reasons New York Giants Will Improve from Last Season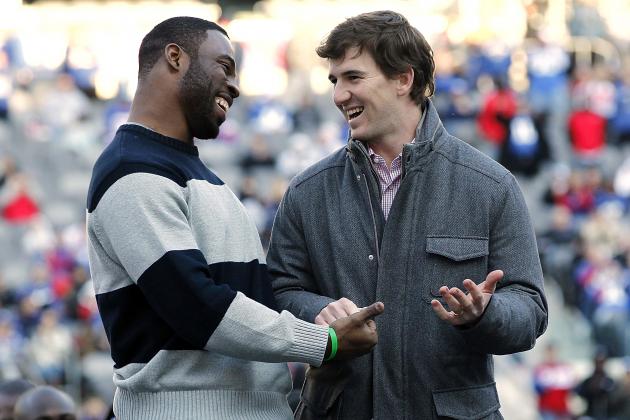 Jeff Zelevansky/Getty Images

When you're a team that finishes 9-7 and goes on an incredible Super Bowl run as the New York Giants did in 2011, the following year will be unique in terms of their title defense. What I mean by that is the Giants have multiple issues they need to address before next season.
They did win the Super Bowl and deal with a ton of injuries, but they finished with a negative point differential overall, and that is saying something.
Here are 10 reasons why the Giants will get better in 2012.
Begin Slideshow

»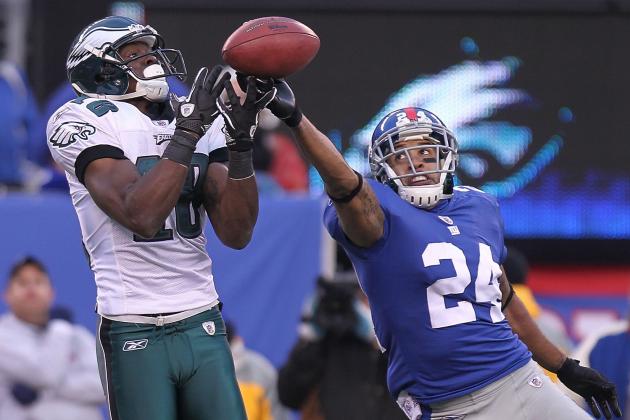 Nick Laham/Getty Images

Terrell Thomas was one of the Giants' best defensive players in 2010. He was a main reason for their improvement in pass defense from 2009 to 2010, as well as the reason they stunk up the join in 2011. He tore his ACL against the Chicago Bears in a preseason game last year, and the Giants were not the same.
They were able to mask those problems in the back end of the defense with a dominant pass rush in the playoffs. Hopefully this year the Giants can put it all together with a healthy defensive line and secondary at the same time.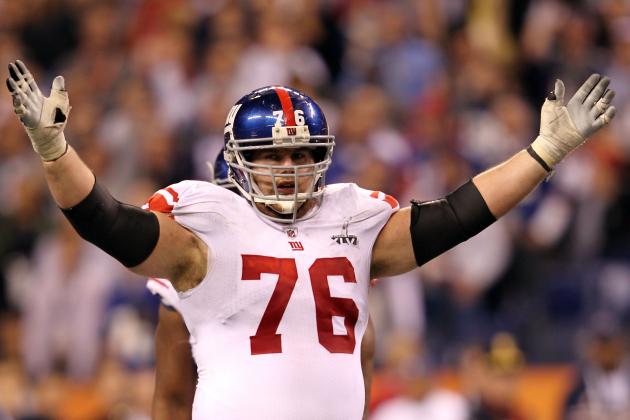 Jamie Squire/Getty Images

It is unclear at this point who the starters will be, but I have to assume anybody will be an upgrade over Kareem McKenzie, who was one of the worst right tackles in the NFL last season.
Hopefully the Giants are smart and keep Diehl away from the starting lineup as well. He is a reliable backup at this point in his career, nothing more.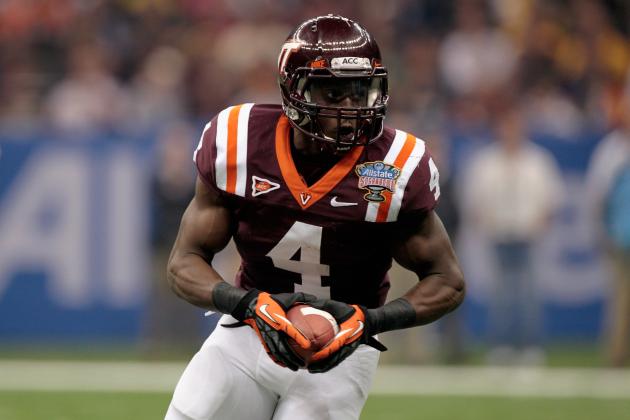 Chris Graythen/Getty Images

Assuming Tom Coughlin fixes his fumbling issues, 2012 first-round pick David Wilson is going to be a fantastic addition to the Giants' rushing attack.
This is a microcosm of the offensive line improving, but Wilson should be a better backup than Brandon Jacobs was last season. Jacobs had his moments but was not as punishing as he was in previous years.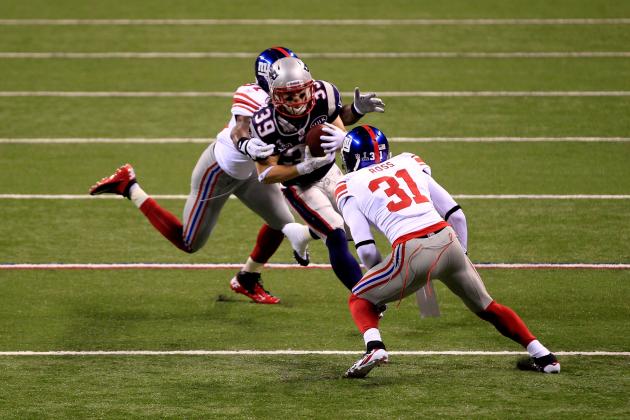 Chris Trotman/Getty Images

As much as he stepped his game up in the playoffs, Aaron Ross was abysmal in the regular season. He was one of the worst corners in the game last year. Despite being a good tackler and decent run-stopper, Ross' inability to cover anyone was a liability.
Now that the Giants have T2 back, Prince Amukamara with a full offseason, Jayron Hosley from the 2012 NFL Draft and Antwaun Molden in the mix, they hopefully can turn around their 29th ranked pass defense.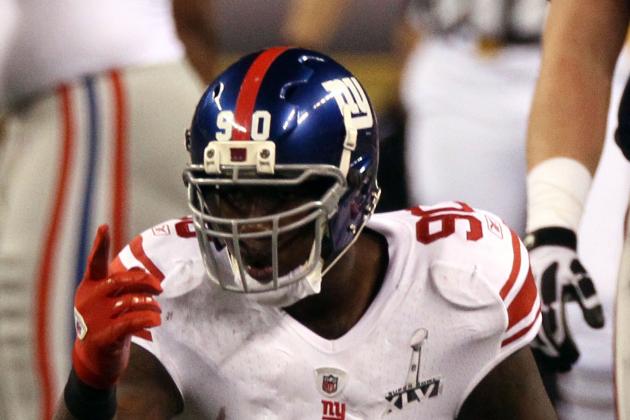 Win McNamee/Getty Images

As much as Jason Pierre-Paul improved from year one to year two, I do not believe he has tapped into his full potential yet. That's a scary thought for a guy who had 86 tackles and 16.5 sacks.
Expect JPP to be a defensive player of the year candidate next season.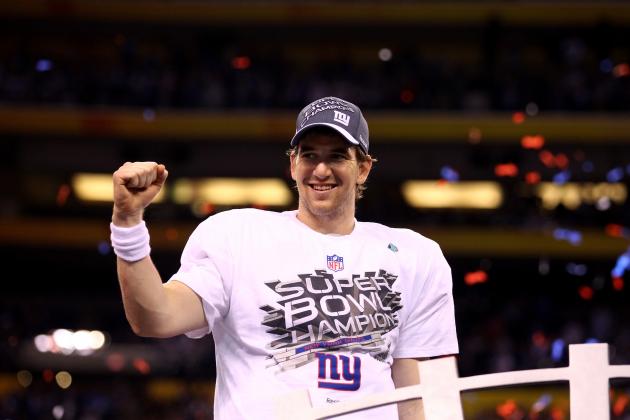 Al Bello/Getty Images

The New York Giants are great when they play with confidence. After winning the Super Bowl in the 2007 season, the Giants came together as a team in 2008 and bolted out of the gates at 11-1.
Unfortunately the Plaxico Burress incident derailed any chance of a title defense. This may be a different team, but many of the leaders are still here from that squad.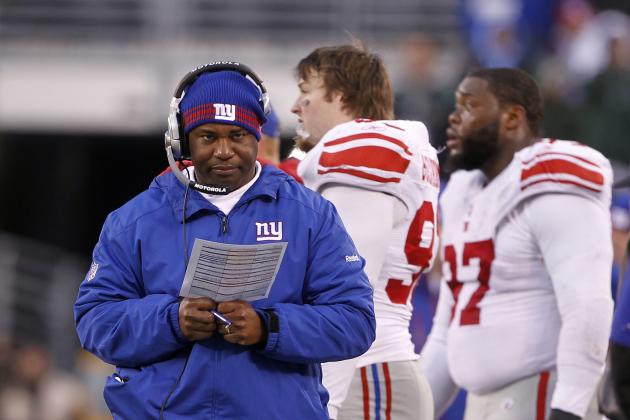 Rich Schultz/Getty Images

Perry Fewell admitted he was complicating the playbook too much for his players last season. He told reporters he planned on simplifying the game plan before their game with the New York Jets at the end of the season.
It obviously worked. The Giants held opponents to a total of 84 points in their final six-game win streak, which is an average of 14 points a game. No one scored more than 20.
If he can keep this momentum going with an improved roster, the Giants can go back to being a top 10 defense.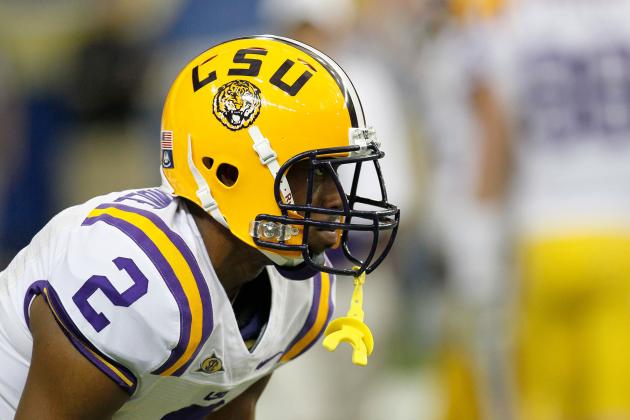 Kevin C. Cox/Getty Images

As talented as Mario Manningham was, he was frustratingly inconsistent. He battled injuries last season, was in and out of the lineup and has his worst statistical season (other than his rookie year where he did not play much).
Randle will be better than Manningham, and will prove it his rookie year. There is a reason director of college scouting Marc Ross said they were considering Randle at No. 32.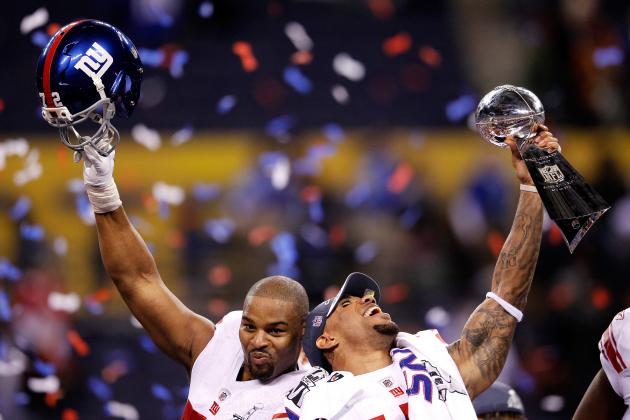 Rob Carr/Getty Images

I'm making the assumption that Osi Umenyiora plays with the Giants next season. If that is the case, the defensive line will be much better in 2012.
Osi says he is as healthy as he's ever been, Jason Pierre-Paul was a monster in 2011 and still improving, Justin Tuck finally got healthy last year during the playoff run, Marvin Austin is going to get his chance and they signed Shaun Rogers as a backup.
If you thought the Super Bowl run was impressive, just wait.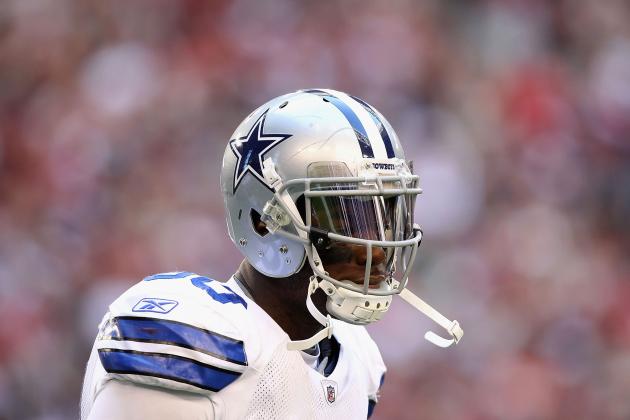 Christian Petersen/Getty Images

The biggest reason (these were not in order, just like this one the most) the Giants will get better next year is Eli Manning has never had this many weapons. Just to see the sheer volume of weapons he'll have, I'm going break it down in list form.
Hakeem Nicks - Most underrated No. 1 wide receiver in the game. Sure handed, can make big plays, never afraid to go over the middle.
Victor Cruz - Best big play receiver in 2011 behind Calvin Johnson. Crazy good in the slot breaking down zone coverage, break away speed. Just tapping in to his potential.
Rueben Randle - Deceptively fast, home run threat on the outside, terrific in the red zone. Will be solid outside receiver that can allow Cruz to play the slot.
Martellus Bennett - Unlimited potential, great blocker, huge red zone target (6'7''). As athletically gifted as any tight end Eli has had (yes, even Jeremy Shockey). Only question is the attitude, but new surroundings could erase that.
Adrien Robinson - fourth rounder that could have been a second rounder if he was at a school that utilized the tight end. Relishes his blocking role, athletic freak of nature (6'4'', 267 lbs with 4.5 speed), and good hands.
Domenik Hixon and Jerrel Jernigan battling it out for the fourth wide receiver spot, the Giants have too many good receivers which is a fantastic problem to have.
You could argue the Giants had a bevy of weapons in 2010 (Nicks, Steve Smith, Manningham, Kevin Boss), but I think by the end of this season we will be in awe of how good these weapons are.