Philadelphia Phillies: 10 Phillies with Something to Prove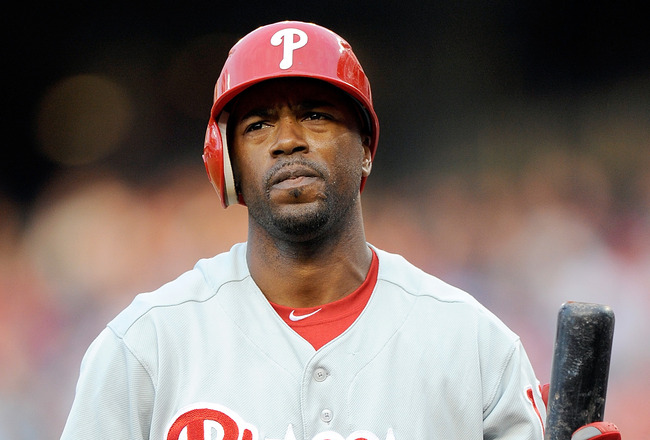 Greg Fiume/Getty Images
Roy Halladay, Cliff Lee and Cole Hamels are going to keep racking up quality starts. Carlos Ruiz, Shane Victorino and Hunter Pence will hit the ball hard and drive in runs. And Jonathan Papelbon will continue to shorten games when the Phillies get ahead.
Winning baseball, though, is about more than your stars showing up.
Unlike in basketball, where a dominant big man and talented two-way wing player can seemingly win titles alone, or in football, when a top-tier quarterback can will a flawed supporting cast to a deep playoff run on the strength of his arm, baseball requires players to understand and execute their roles if success is to come.
The lineup has to get on base and score runs, the fourth and fifth starters need to contribute six and seven-inning starts and the bullpen needs to be able to bridge the gap to the closer if the team is ahead, or give the offense a chance if they are down, by keeping the opponent within striking distance.
The Phillies' problems this season have been more about the role-players than the stars. Plenty of contributors have something to prove as the calendar moves toward the summer and we start to separate contenders from pretenders, and buyers from sellers.
Jimmy Rollins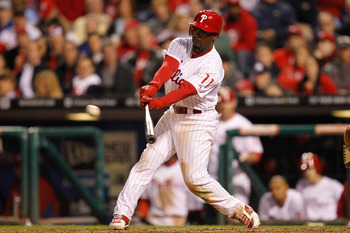 If he stays in the leadoff spot, Rollins needs to do less of this
Brian Garfinkel/Getty Images
What he must prove: That he can get on base at the top of the lineup and set the table for the middle of the order.
Rollins' role in the offense is dependent on his spot in the lineup.
For the first 20 games of the year, J-Roll batted third. Players in the that spot are required to do it all—hit for average and power while getting on base at a high clip and driving in runs.
It never made sense, really, for a player who hadn't slugged over .400 since 2009 to bat third. It was done more out of necessity than anything else, and the experiment wasn't a successful one, as Rollins' slash-line at game 20 (.216/.253/.243) was appalling for anyone not batting eighth in the lineup.
Eventually, Charlie Manuel recognized this. Instead of moving him down in the lineup, though, Manuel moved him to first, a spot from which he has contributed throughout his accomplished career.
Since the transition, Rollins has improved, with a .257/.297/.314 line as a leadoff hitter. Still, compared to his career line of .271/.328/.430, it isn't pretty. It is even less appealing, considering the role of a leadoff hitter is that of a table setter. His job is to get on base and find a way to get in a position to score when the big bats come up.
The problem with Rollins thus far has been his impatience. It has been a problem with most of the team, but is especially glaring when it comes to the leadoff hitter.
Rollins has drawn only six walks in 117 plate appearances. That walk percentage of 5.1 is easily the lowest of his career. He has only gotten ahead in the count 35 of those 117 times, and when he has, his OBP has skyrocketed to .439.
He has also put the first pitch in play 16 times, and only reached base twice in those occurrences, resulting in two singles, for a .125 BA.
It is clear that Rollins' patience will help the offense score more runs.
John Mayberry Jr.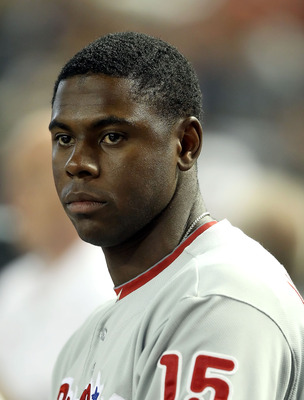 Christian Petersen/Getty Images
What he must prove: That he can hit left-handed pitching
Going into the season, it was unclear if John Mayberry Jr. could win the left field spot vacated by Raul Ibanez, or if he would be a part of a platoon, in which he would start against lefties, while Laynce Nix or Juan Pierre would get the nod when opposing a right-hander.
The thinking was, the improving right-handed power hitter had slugged .569 against lefties in his career and .595 against them in 2011, so the worst case scenario would be that he would continue to do that throughout his time in Philly, even if he never figured out righties.
While he hasn't figured righties out (slugging .100 in 20 at-bats against them), he has disappointed immensely against southpaws, with his slugging dropping over 200 points all the way to .370 through the first fifth of the season.
It really is worse than it sounds, too, as two of his three extra-base hits have come on weak line drives down the line that found the corner and resulted in doubles. For an alleged masher with five-tool upside, it has really been hard to watch.
It feels like he hasn't hit a ball hard since Albert Pujols was the world's best player, and a lot of the Phillies' struggles could be alleviated if he started to do that again.
Compounding the problem is the fact the he is out of minor league options, so in order to send him down, he would have to clear waivers, something that is very unlikely to happen with his power potential. The Phillies' only options are to ride it out with him and hope he fixes it along the way, or, to trade him and hope someone is in love with his raw skills.
Even further, Nix and Pierre have both been very good, so finding him playing time outside of pinch-hitting situations will be tough.
Antonio Bastardo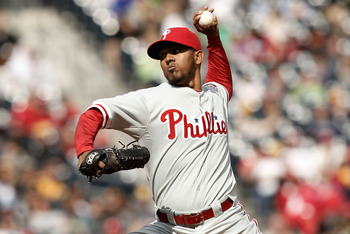 Jared Wickerham/Getty Images
What he must prove: That he can still throw strikes consistently
Bastardo was a revelation in 2011, leading the Pig 'Pen with 64 appearances while posting a 0.931 WHIP. Opponents batted just .144 against him, which had a lot to do with the fact that he got ahead of 60 percent of the batters he faced on the first pitch.
He has regressed a bit in 2012, with his WHIP rising to 1.263. His first pitches have been strikes only 48 percent of the time and his walk percentage is a career-high 14.8 percent. Three of the 27 batters he has faced have seen 3-0 counts.
If Bastardo is to continue to be a reliable bullpen arm, he must get back to throwing strikes early in counts, preferably with his fastball, so he can go to his changeup later in the count and get back to dominating.
If hitters have caught on to his late-life fastball, and he can no longer get it by batters in the strike zone, then he might need a trip to Lehigh Valley to work on expanding his arsenal.
Chad Qualls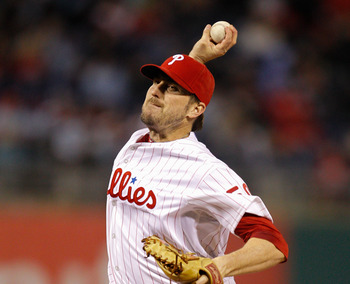 Brian Garfinkel/Getty Images
What he must prove: That his April performance was not an aberration, and he can be a Major League setup man
Qualls' appearance on this list has less to do with his performance this season, and more to do with his career track record.
Even after some less-than-stellar games against the Cubs and Nationals, Qualls' ERA is as still low as it's been since 2008, at 3.48. Before the last day of April, his ERA was a minuscule 1.17.
Qualls has made every appearance in the eighth inning, and for a pitching-centric team, the setup role is an invaluable spot in the bullpen. Making sure the game makes it to Papelbon with the lead intact is his job description and he has performed admirably so far.
My reason for disdain comes from the fact the Qualls has done this before. In his career, the 33-year-old has posted a 3.53 ERA in March and April, with a .233 batting average against him.
In May, those numbers jump to 4.50 and .306. In June, 5.03 and .298.
There is no small sample-size issues, either; he has at least 85 innings pitched in every month.
While he has picked it up and pitched quite well for the latter part of the season, the effectiveness of the pitching is at its highest importance in the early part of the season, with Chase Utley and Ryan Howard on the disabled list, and staying in the race will require good late-inning performances in 2-1 and 3-2 games.
A similar early-summer contribution to the one's he's posted in the past will probably result in a smaller role for him during the stretch run, not to mention a large void between the Phillies and contention.
Jim Thome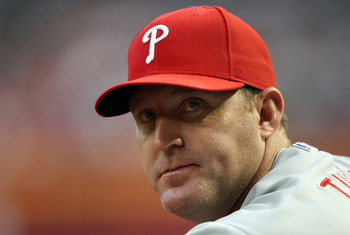 Christian Petersen/Getty Images
What he must prove: That he can come off of the bench and hit big league pitching
Thome was brought in with the expectation that he could play some first base in the absence of Ryan Howard and be a fear-striking power-bat off the bench.
While his defense at first hasn't been atrocious, his approach at the plate has, with only a .111 batting average so far. Now, a stint on the disabled list has made it possible that he may not play at first base ever again, as Howard may return before he does.
Howard will occasionally need a break at first and I fully expect it to come on a day when the Phillies are opposed by a southpaw. Ty Wigginton, who has looked superior to Thome in every way this year, would take The Big Piece's spot in that scenario.
If his days playing defense are numbered, Thome becomes an exclusive pinch-hitter, a la Matt Stairs.
The problem with that, sadly, is that Thome is a bad pinch-hitter.
In his career as a pinch-hitter, the owner of 604 career homers has hit only .219 and slugged only .383, with a long ball every 42 at-bats.
Contrast that with his career as a regular, when he has hit .278, slugged .558 and homered every 13 at-bats, and it becomes clear that he just doesn't have the pinch-hitting gene.
If Thome can adjust his mental approach and learn to come in cold and make a difference with his power, it would be an asset for the Phillies' offense. If he can't, as tough as it is, he might be released before August comes.
It should be added that he may have use as a designated hitter, when the Phillies go to American League parks in June.
Jose Contreras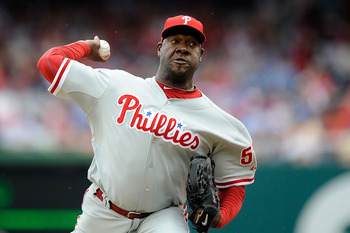 Patrick McDermott/Getty Images
What he must prove: That he can still pitch at the highest level
The Cuban was a major component of the bullpen in 2010, posting a 3.34 ERA in 67 appearances with 53 holds. In 2011, he was expected to contribute even more, as he was tabbed as the closer early in the absence of Brad Lidge. His season was cut short by injury and he didn't return until mid-April this year.
It appears the injury very well may have taken whatever was left in the tank of the 40-year-old hurler, who has drawn suspicion of being much older.
The first signs of his demise came during his rehab assignment in High-A Clearwater, when he was tagged for four runs in 4.1 innings, facing minor leaguers. His reinstatement into the Major League bullpen hasn't gone any better, as he has allowed 12 batters to reach and six runs to score in less than six innings.
The problem, as is usually the case when relievers lose their effectiveness, is that Contreras has been betrayed by his control. His strike rate (58 percent) is a career-low. He has only gotten ahead of seven of the 28 hitters whom he has faced. All seven of his strikeouts have been swinging, which alludes to the fact that his stuff isn't awful, because guys are swinging and missing—but he's having trouble locating it.
He will need to figure it out soon if he plans to remain a part of the big league 'pen. With Michael Stutes and Dave Herndon due to come off the disabled list soon, two relievers will likely be sent down. Contreras isn't a lock to make the cut.
Joe Blanton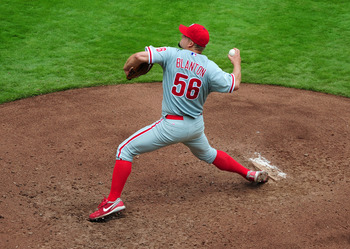 Scott Cunningham/Getty Images
What he must prove: That he can maintain his early success, and become a consistent innings-eater.
Through five starts, Joe Blanton's numbers across the board are the best of his career.
He is the only Phillies starter to throw a complete game, and his was a three-hit shutout. The former first-round pick of the Oakland Athletics has done his part and then some, keeping his club in the hunt in the early going.
Players are who we think they are, though, and it's important not to get too excited about early-season deviations from the norm—both good and bad. So, much as Hunter Pence and Shane Victorino have career numbers that suggest they will play better than they have early on, Blanton's track record points to this being as good as it gets.
In other words, his 2.83 ERA will end up a lot closer to his career ERA of 4.28 than it is now.
He can, though, control his regression to a degree, by recognizing what he has done so well to allow him to dominate, and continue to focus on that aspect.
First and foremost, the root of all pitching successes and failures is control. Blanton has thrown a career-high 69 percent of his pitches for strikes, including getting ahead of hitters with 69 percent of his first-pitches going for strikes, too. His walk percentage is an impressive and career-low 2.1 percent.
He is also keeping his pitch count down, which obviously goes hand-in-hand with throwing strikes. Throwing only 3.32 pitches per batter allows him to go deeper into games, and take pressure off of the bullpen. Above all else, innings consumption should be considered his goal for the duration of the season.
Domonic Brown
Len Redkoles/Getty Images
What he must prove: That he is improving, and will eventually contribute at the big league level
He's only 24, and his numbers through about half a season of at-bats at the big league level aren't too worrisome (.236/.314/.382). Young players frequently struggle in the first call-up before pulling it together later.
What does raise cause for concern, though, is his regression at Triple-A Lehigh Valley from 2010 to this season.
After being called up to the Iron Pigs from Reading for the first time in 2010, he hit .346 and slugged .561, leading to raves from scouts, and his ascension to No. 4 on Baseball America's top-prospect list.
In the last two seasons, though, he has hit just .261 and .256 and slugged .370 and .367, respectively, at the same level. That type of decline can do a lot to damage your stock, as it has to Brown. He has gone from a sure-thing, a super prospect, to being a question mark within the organization.
Depending on what other clubs think of him, Brown might become a trade chip, if the Phils are in contention and in need of a boost come mid-July. The need for his services at the big league level right now isn't glaring, as Laynce Nix/Juan Pierre have handled left-handed duties in the left field platoon pretty well.
If he can crank it up, though, an offense that lacks a ton of pop could always use a good hitter. But if he keeps hitting like he is—and playing atrocious defense, as has been the case recently—then he won't be a Phillie anytime soon.
Chase Utley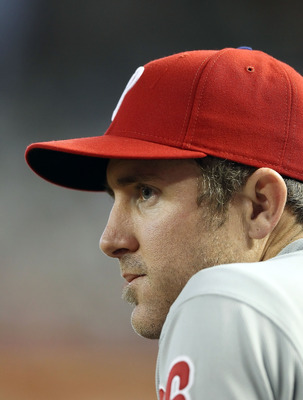 Christian Petersen/Getty Images
What he must prove: That he isn't washed up and will be a force in the middle of the order when healthy.
It has been well documented that the offense has struggle to hit for power and drive in runs in the absence of Utley and Howard. The return of the Big Piece will, undoubtedly, change both the look of the lineup and the way opposing pitchers approach it. Howard can still hit the ball a long way, and it isn't a question.
What is a question, though, is what Utley can bring to the table. The five-time NL All-Star and four-time Silver Slugger just hasn't been the same since knee problems arose before the 2010 season. After averaging 29 home runs and 101 RBI while never hitting below .290 from 2005-2009, he has declined drastically in the last two seasons.
Today, Phillies fans would be happy to get .270, 15 homers, 25 doubles and 65 RBI from the former super-star. The lowering expectation has nothing to do with Utley's drive, effort or even age, it's just his knees.
If he really can be healthy, and drive the ball with his lower-half like he once did, then the sky is the limit and this offense can be as dangerous as any. But that's a big "if", and the only person who can show us is Chase himself.
Charlie Manuel
Daniel Shirey/Getty Images
What he must prove: That he can manage adequately, in terms of matchups, usage and strategy.
The manager of the five-time defending NL East champs has made Twitter explode more than a few times early this year with decisions that could be called questionable-at-best, and he is truly under fire from fans for the first time in his career in Philadelphia.
The small decisions can be detrimental to winning and they cannot be discounted.
Counted among these has to be things like pinch hitting Jim Thome against a lefty with Mayberry or Wigginton on the bench, or bringing in light-hitting defensive replacements in the seventh in a close game, instead of the ninth. Such decisions can lead to problems when the opponent takes the lead and a comeback must be made, but Carlos Ruiz and Laynce Nix are no longer available, for example.
The decisions which Manuel has made that have infuriated the city, though, have been related to the use of his bullpen, and specifically, Jonathan Papelbon.
A prime example of this would be what took place Sunday in Washington, when Cole Hamels had thrown 109 pitches through eight innings and the Phillies led, 3-1. With the pitcher spot due up in the ninth, every kind of baseball wisdom/common sense says that you pinch hit for Hamels, and let the highest-paid closer in baseball, who hadn't pitched in five days, finish it off.
But at the start of the ninth, Hamels was leading off. And had the Phillies not exploded for six runs in the ninth, Hamels would've pitched the bottom of the inning. Why risk injury to Hamels, especially considering Cliff Lee recently strained his oblique pitching into the tenth? 109 was already his season-high, and the decision to let him bat in the ninth baffled me.
Anyway, ironing out situations like this will be imperative to your pitching staff holding up and winning enough games for it to matter.
Keep Reading

Philadelphia Phillies: Like this team?