Miguel Cotto's Blueprint to Beat Floyd Mayweather: What Worked and What Didn't
May 6, 2012

Al Bello/Getty Images
Floyd Mayweather (43-0, 26 KOs) had just a bit too much for Miguel Cotto (37-3, 30 KOs) to handle in most rounds of their crowd-pleasing fight last night at the MGM Grand in Las Vegas, Nev.
In prevailing by scores of 118-110 and 117-111 (twice), Mayweather, 35, exhibited a seldom-seen facet of his game: the ability to dig in and get the better of a bigger man in close-quarters fighting. Rarely before his fight against Cotto, 31, had Mayweather been willing, or required, to sustain and commit to so many heated exchanges.
While Cotto acquitted himself admirably and made every round competitive, the claims that we might have seen the first signs of Mayweather possibly losing a step or the definitive blueprint for how to beat "Money" are premature.
If we did get a "blueprint" last night, it is one that only reveals how to make a fight against Mayweather competitive. So, what did we learn?
Cotto came forward with purposeful aggression and seemed intent on working the body. Mixing up combinations prevented Floyd from landing as many clean, unanswered counter punches as he usually does.
Cotto was especially effective when he pinned Mayweather on the ropes and crowded the now eight-time world champion in five weight divisions.
Ring generalship was obviously crucial in Cotto being able to corner Mayweather, so it was peculiar when Cotto started dancing and firing from the outside towards the middle rounds.
HBO analyst and Hall of Fame trainer Emanuel Steward astutely pointed out how this was Cotto at his least effective and that he was better served coming forward and crowding Floyd with body shots and suffocating in-fighting.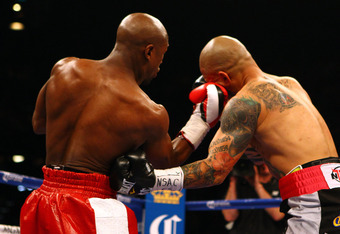 Al Bello/Getty Images
Steward also mentioned in his post-fight analysis that Cotto did not commit strongly enough to using his jab and moving in behind it. In a preview article for this fight, I mentioned how Cotto's keys to victory would be moving in behind a stiff jab and then pounding away to the body.
While Cotto was able to do this to a certain extent, the inability of his jab to disrupt Mayweather's flow enabled Floyd to plant himself and counter reasonably well.
What Cotto had to hope for was using his jab to get Mayweather off-balance to create openings; unfortunately, this never fully materialized.
Still, the times Cotto was able to get close made the bout thrilling in a way Mayweather fights usually are not because he so routinely outclasses his opponents.
So, did Cotto demonstrate a clear strategy that, dare I say, someone like Manny Pacquiao (54-3-2, 38 KOs) could use to beat Floyd Mayweather?
In a word: no. Effectively cutting off the ring, sustained body punching, and the use of a strong jab are indeed the best ways to challenge Mayweather. And we must give Miguel Cotto his due for showing the class and skill of a great champion.
Still, what made the fight so exciting was Mayweather's willingness to engage and adapt to his opponent's style. The reason we have become accustomed to seeing Mayweather so routinely dominating his opponents without getting a shiner or bloody nose is because they are usually intimidated by his aura.
For some reason, recent foes have decided to posture and try to outfox and out-quick Mayweather, which is obviously a recipe for disaster because Floyd is the most polished defender in the game.
In a bout where Mayweather's adversary finally came to fight and was not scared, it was inevitable that Floyd would have to absorb more punches and get involved in two-way exchanges. This is boxing, after all.
Anyone thinking that Cotto's ability to tag Mayweather shows that Floyd might be slowing down was not paying attention to the fight's narrative. The way it played out called for Floyd to brawl a bit, and the adaptability he showed was frighteningly effective.
What should actually scare future Mayweather opponents is how collected he is under fire. Mayweather's attack was so varied—lead right hands, jabs, left hooks—and his uppercut constantly made Cotto pay when the Puerto Rican abandoned his jab while moving forward.
More disconcerting for those who want to see Mayweather lose is how Floyd was able to rock Cotto and was never in any significant danger himself.
In fact, when you break it down, the most noteworthy aspect of last night's bout was how Mayweather efficiently dealt with someone who applied constant pressure.
What Cotto ultimately showed—other than the true class that will one day make him a Hall of Fame fighter—is how to force Mayweather to fight you, and we should all thank the Puerto Rican star for refusing to back down.