Miguel Cotto's 3 Keys to Victory Against Floyd Mayweather
May 3, 2012

Al Bello/Getty Images
To quote Floyd Mayweather, "42 have tried and 42 have failed."
Mayweather's boastful and truthful claim can only lead us to speculate about what Miguel Cotto (37-2, 30 KOs) must do to defeat his perfect (in record only) opponent.
Arguing about what advantages Cotto holds over Mayweather is pointless, in a sense. Even if Cotto is the bigger man and thus carries greater power, Mayweather will be ready. "Money" has shown well-schooled survival instincts against Shane Mosley and has also fought bigger men like Oscar De La Hoya.
Instead, it is more productive to offer a blueprint of what Cotto must consistently do throughout the fight if he is to have a shred of hope against someone as slick and defensively sound as Mayweather.
Use the Jab (and Keep Using It)
Lunging in against Mayweather without the proper timing to set up your attack is a recipe for disaster. It goes without saying that Mayweather is the most accomplished counterpuncher and defensive guru in the game.
If Cotto falls in love with power punches and head shots, Mayweather will simply time him and feast on his off-balance opponent.
This is where the jab comes in.
For the first six rounds of his fight against Mayweather, Oscar De La Hoya used his jab effectively and had success against "Money." However, when De La Hoya abandoned the jab, he was reduced to aimlessly stalking Mayweather around the ring and fell pray to Floyd's superior footwork and speed.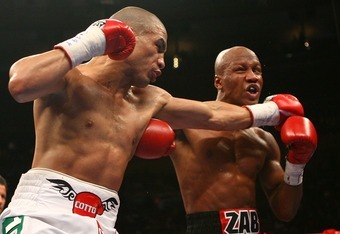 Nick Laham/Getty Images
Cotto needs to use his jab to engage Mayweather and force him to plant himself. By pumping the jab at Mayweather's body and turned arm and shoulder, Cotto can gather momentum and set Mayweather up for body shots.
What Cotto needs to be careful of is not to head-hunt with his jab. If he lunges as Mayweather rolls back, he'll be in perfect position for one of those shoulder-roll right-hand counters.
Go To the Body
Cotto's digging hooks to the body have proven to be dangerous weapons throughout his career. The best chance Cotto has of wearing down Mayweather is by consistently going to the body every round.
Commitment is key because only an accumulation of blows and a measured attack will potentially challenge Mayweather's world-class stamina.
In using his patented shoulder-roll defense, Mayweather is usually able to lunge back and forth, using leverage to counterpunch. Body shots could allow Cotto to get Mayweather off balance, potentially forcing Floyd to bend forward, which would then allow Cotto to bull his way in for head shots.
Cotto needs to make sure he does not get frustrated if it seems like he is not hurting Mayweather.
As we saw in the Mayweather-Mosley fight, Shane was essentially lost after rocking Mayweather in the second round. The problem was that Mosley started to mirror Mayweather in stance, hoping that he would be able to luckily time him again and finish the job. Of course, Mayweather did not make another mistake, and, as a result, Mosley's lack of any consistent attack crippled his chances. 
Cotto must keep his composure and stick with a body attack. There is no fast and easy solution to solve Mayweather, so Cotto might as well get ready to dig in (literally) for the long haul.
Cut Off the Ring
Aimlessly stalking Mayweather is a trap that too many fighters fall into. If Cotto wants to even think about hurting Mayweather, he first needs to pin Floyd down and close the gap. Because Mayweather has superior foot speed and agility, Cotto's ring generalship will ultimately be a product of his movement, his jab, and his body punching.  
Cotto has a tight, high guard, and this will serve him well as he moves forward. In using his jab to get close, Cotto needs to then use his body punching to slow down and help prevent Mayweather's lateral movement. If Cotto can maintain this steady, tactical approach without getting frustrated or abandoning his game plan, he might be able to keep rounds close and set Mayweather up for mistakes.
Ultimately, I'm convinced Floyd Mayweather will win a unanimous decision. Still, I think Cotto has a chance to make "Money" uncomfortable and perhaps keep the fight reasonably close if he gets off to a fast start.