Usain Bolt Thrills at Jamaican Meet in Good Sign for London Olympics
May 6, 2012

The 2012 Jamaica International Invitational track meet was held this Saturday from 8-11 p.m. ET in the capital city of Kingston. The air was a humid on a breezy night and there were great showings in the track and field department.
The event was a much-needed sign of what to expect in the 2012 London Summer Olympics. 
Yes, there were many spectacular performances on display, but no star was brighter than the living legend Usain Bolt. 
The Lightning Bolt won the 100 meters in 9.82 seconds and dazzled the home crowd even after the aggravation of two false starts. To put that time into perspective, fellow Jamaican Michael Frater finished second with a time of 10 seconds flat. 
Using the results from this event one could deduce that Bolt would top the current Olympic record of 9.69 seconds before Frater could even come close to beating Bolt in the next Jamaica International Invitational. 
Remember, that Olympic record is held by Bolt.  
It would take him only .14 seconds extra to beat the record, while Frater would need .18 seconds just to match what Bolt ran in the Jamaica International Invitational. 
That should show just how far ahead of the competition Bolt was tonight. 
Scratch that. Bolt is this far ahead of the competition every night. 
But enough about the results of this race; let us dissect what these results mean. With the test of time, the Jamaica International Invitational will not be an important factor in Usain Bolt's legacy.
Mark Dadswell/Getty Images
Instead, the World Championships and the Olympics will pop out as significant markers of the man. And the world has one of those influential career-defining moments creeping up right around the corner.
Everyone wants to know what will happen in London, and if this race was any hint to what could happen then expect Usain Bolt to add to an already full trophy case.
Well, right now it should be a trophy cabinet. 
Of course the competition will be much stronger this summer—but so will the competitor. Bolt always brings his best when it is needed. He is a personality that will thrill the world with his "To Di World" pose and will thrill them again with a dominating performance. 
Our generation has never seen an athlete quite like this sprinter. 
Bolt is so amazing when it counts that even if he flopped at this International Invitational I would still be looking forward to London. 
But he didn't flop—he excelled. 
Usain Bolt once again turned in a great performance and kept a globe of fans awaiting his next performance. 
It wasn't the best race of his life, but that is why this is a good sign for the Olympics. He knows that he can physically stretch the constraints of his body and get better. Usain Bolt is an athlete that shines on the big stage.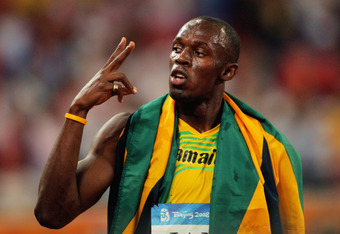 Stu Forster/Getty Images
"I think I could have done better, but the false starts didn't help my focus," he said. "It's a good start for my first run. It's a great feeling to run in Jamaica." 
With this showing, Bolt figuratively told the world "Watch out. I can dominate you even when it is not my best performance. Just imagine what London will be like when it is my best performance." 
That thought should excite any sports fan from Jamaica to Japan. Bolt dazzled us this night in Kingston—and that is a boon for a wonderful 2012 Olympics. 
On a weekend when The Avengers ruled the box office, Usain Bolt was the real superhero.