2012 NBA Mock Draft: Where Lethal Scoring Threats Will Land in 1st Round
May 5, 2012

Jeff Gross/Getty Images
When it comes to the NBA draft, there is no question that it will be the impressive, jaw-dropping offensive talents that get the plethora of looks.
It's an exciting time in the world of basketball today, as the 2012 NBA Playoffs are in full throttle. Yet there is no doubt that owners and team general managers of playoff teams and lottery teams are thinking ahead to the 2012 NBA draft.
Anthony Davis is one of the big-time names headlining the list of top scorers in this draft class, as his offensive talent was significant in the team's 2012 NCAA Championship title run.
Is Davis a guaranteed No. 1? How high can Barnes climb up the charts?
This is a full mock draft of the NBA's first round, and where each of the top scorers in this draft class will end up.
Note: Although picks have not been arranged yet, these are based on lottery odds and team's records this season.
1. Charlotte Bobcats: Anthony Davis
Kentucky's finest, Davis is argued as one of the most talented college basketball players to ever make a leap to the NBA.
He can handle the ball, rebound, block shots like there's no tomorrow, and definitely score buckets. His scoring ability will be especially attractive to this Bobcats team, as this was a squad that couldn't buy a basket in 2011-12.
The Bobcats were dead last in the league in points per game, scoring just 87 points per game. Expect Davis to make an immediate impact in this regard.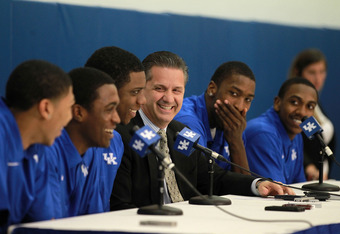 Andy Lyons/Getty Images
2. Washington Wizards: Michael Kidd-Gilchrist
Arguably the best scorer in the NBA draft, Michael Kidd-Gilchrist will be a force to reckon with in the pros.
He will be a major addition for PG John Wall, as there is no question this team needs another top-notch scorer to get to that next level. Adding Nene was just one step in that direction.
Last season, Kidd-Gilchrist averaged nearly 12 points per game. What made him such a prolific scorer was his ability to knock down open jumpers while also using his quick first step to get to the cup.
He will be a valuable asset to this Wizards team—there's no question about it.
3. Cleveland Cavaliers: Thomas Robinson
Kansas was just one game away from a national championship, and Thomas Robinson's inside game was that major reason why. Robinson will give the Cavaliers a major boost in the frontcourt for years to come.

4. New Orleans Hornets: Jared Sullinger
Can you say, "the second-coming of David West?"
5. Sacramento Kings: Bradley Beal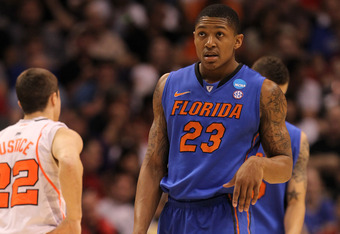 Jamie Squire/Getty Images
Bradley Beal was outright impressive in his one year as a Gator, averaging 14.8 points per game last season. When it comes to scoring the rock, this is easily one of the top five scorers in this year's NBA draft.
Beal, a PG and SG with the team, is just 18 years old. If the Kings are to take him, he will be able to make an immediate impact. A Beal-Evans duo will be lethal in Sacramento if the Kings can pull this pick off.
Whether he drops to No. 5 or not is the big question with him, as he is heavily underrated as a scorer in spite of being a predicted top 5 pick.
6. Portland Trail Blazers (via Brooklyn Nets): Andre Drummond
The 6'10'', 250-pound center is just 18 years old, yet has arguably the biggest upside of any player in the draft.

7. Golden State Warriors: Austin Rivers
Although most may disagree, Rivers hands-down deserves a spot in the top 10 in this year's NBA draft.
The Duke point guard was able to lead his team to a promising campaign last season, in spite of not coming up in the first round game of the NCAA tournament. Defined by his clutch last-second three-point bucket to lift Duke over UNC, Rivers is a promising scorer that teams cannot pass on.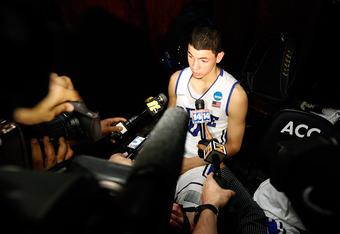 Streeter Lecka/Getty Images
The young, explosive talent will have plenty to prove in the league. Yet as far as talent goes, Rivers has the ability to start immediately upon entering the league.
8. Toronto Raptors: Harrison Barnes
The question with Barnes has to be whether or not he can score at the next level, as this Raptors team needs his scoring talent badly.

9. Detroit Pistons: Tyler Zeller
Zeller will be a major addition to a Pistons team that has little to no talent in the frontcourt outside of Greg Monroe. The two together could make for an especially strong tandem on the glass.
10. New Orleans Hornets (via Minnesota Timberwolves): Kendall Marshall
The most talented, composed PG in the draft, the Hornets win big taking UNC's Marshall. His passing ability and composure is unmatched in the 2012 class.

11. Portland Trail Blazers: Damian Lillard
Damian Lillard is not a good scorer, he's an incredible scorer.
The PG out of Weber State is coming off of a season averaging 24.5 points per game while shooting 46.7 percent from the field and over 40 percent from three-point range.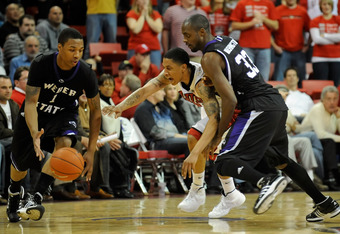 Ethan Miller/Getty Images
With the Brandon Roy misfortunes this team has dealt with and after losing Rudy Fernandez, adding Lillard would be an especially positive addition to this talented ballclub.
12. Milwaukee Bucks: John Henson
Henson comes from a top-notch program and proven coach in Roy Williams, but will his lack of strength affect his transition to the league?

13. Phoenix Suns: Jeremy Lamb
A good scorer and solid defender, Lamb makes a strong case for himself as a lottery selection. Yet there was a reason why Kemba Walker was the player that had the attention from the media two seasons ago.

14. Houston Rockets: Tony Wroten
His youth and size at the PG slot gives Houston a big time boost in the backcourt.

15. Philadelphia 76ers: Terrence Jones
Much like Evan Turner is for this time, Terrence Jones is an offensive talent that can bring it defensively and likes to run the transition game. A great fit in the city of Brotherly Love.

16. Houston Rockets (via New York Knicks): Meyers Leonard
Don't be surprised if the Illinois center makes his way into the top 10 come draft day.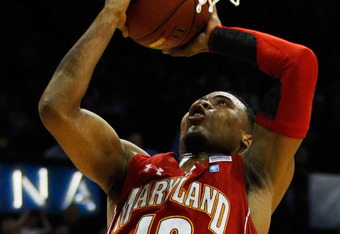 Streeter Lecka/Getty Images
17. Dallas Mavericks: Terrell Stoglin
It may come as a surprise to many, as Stoglin has just recently declared for the NBA draft, yet he is a sure-fire selection for Dallas at the No. 17 spot.
Stoglin was the leading scorer in the ACC last season, and is a PG that has every bit of ability to play at the next level. His explosive drives to the basket and solid jump shot will have teams looking his way from the get-go.
Mavericks get a steal with the Maryland Terrapins guard at the No. 17 spot.
18.  Minnesota Timberwolves (via Utah Jazz): Terrence Ross
Ross will join teammate Wroten in the first round, and could easily have the better NBA career in spite of being selected later.

19. Orlando Magic: Arnett Moultrie
A bit undersized at 6'6'', Moultrie will likely make the transition to the SG spot. The Magic could use Moultrie's scoring ability next season.

20. Denver Nuggets: Perry Jones
The Baylor sophomore is a great player, and to some a top 10 selection. Yet perhaps he is not necessarily proven enough. A likeable talent, Jones could well be a steal late in the first round.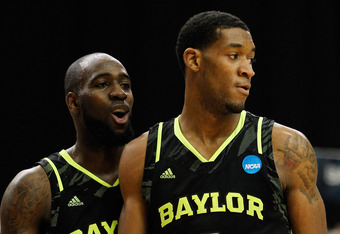 Streeter Lecka/Getty Images
21. Boston Celtics: Quincy Miller
Another solid talent out of Baylor, Miller is gives the Celtics a significantly stronger foundation at the small forward spot. With Jeff Green's heart issues, Miller will be desperately needed next season.

22. Boston Celtics (via L.A. Clippers): Fab Melo
These C's need size, and that's exactly what this talent brings with him to the league.

23. Atlanta Hawks: Dion Waiters
Teammate of Melo's, Waiters proved to the a top-notch scorer for the top team in the nation with just under 13 points scored per game.

24. Cleveland Cavaliers (via L.A. Lakers): Royce White
No LeBron James, no problem. All jokes aside, this small forward will certainly make an impact with the Cavs next season. White was just under one rebound shy of averaging a double-double last season.

25. Memphis Grizzlies: Moe Harkless
A freshman with a plethora of upside. This could easily be the steal of the draft.

26. Indiana Pacers: Jeff Taylor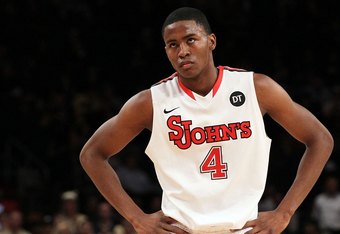 Jim McIsaac/Getty Images
The small forward gives a player like Danny Granger fresh legs, as there is no real strong bench player behind him in the rotation.

27. Miami Heat: Draymond Green
Bosh is an especially talented player at the PF spot, yet Draymond Green brings an aggression that Bosh seems to seldom bring. Combining their talents could mean big things in South Beach.
For the first time since Magic Johnson, we essentially have a point-forward entering the league. Although make no mistake about it, this player is not playing PG for any NBA team.
28. Oklahoma City Thunder: Tyshawn Taylor
Russell Westbrook competing with Tyshawn Taylor for minutes will be something to watch. Don't underestimate the talent Taylor brings to the table as a scoring threat.

29. Chicago Bulls: Marquis Teague

With the way his brother is playing in Atlanta, Marquis has plenty of expectations on his plate.

30. Golden State Warriors (via San Antonio Spurs): Andrew Nicholson
The Warriors have little to no defensive presence, as PF Nicholson may well help improve this team in the frontcourt in this regard.