Adrian Gonzalez: How His Slow Start Compares to the Rest of the AL First Basemen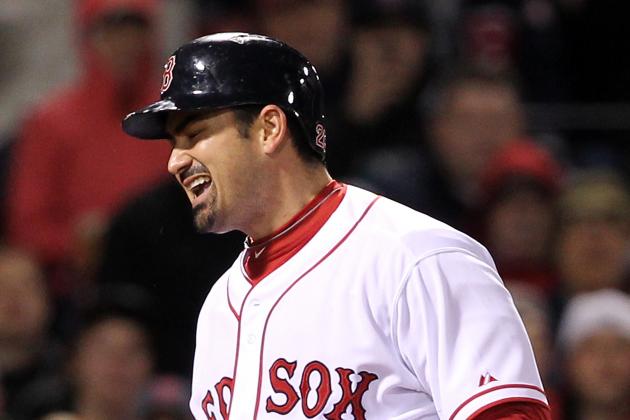 Jim Rogash/Getty Images

Of all the stories that have surrounded the 2012 Boston Red Sox, the Adrian Gonzalez saga has seemingly flown under the radar for the most part.
Saga, you say?
Well, that might be a bit dramatic. The problem is, Gonzalez has yet to truly perform in Boston in 2012. You can even make a solid argument that his numbers in 2011 were faulty due to the fact that he never produced in the clutch.
Think about that for a second.
When is the last time you saw Gonzalez come up with a big hit in the clutch for the Boston Red Sox? If you can't think of one it is for good reason, there are none.
The Red Sox emptied their wallet to lock up Gonzo long term and thus far, he seems to be just OK for the Sox. While big-money contracts have flown around surrounding first basemen, it feels like an appropriate time to examine just where Gonzalez stands in comparison to his American League peers this season.
Those peers are as follows:
Paul Konerko, Chicago White Sox
Michael Young, Texas Rangers
Chris Davis, Baltimore Orioles
Billy Butler, Kansas City Royals
Prince Fielder, Detroit Tigers
Carlos Pena, Tampa Bay Rays
Justin Morneau, Minnesota Twins
Mark Teixeira, New York Yankees
Albert Pujols, Los Angeles Angels of Anaheim
Adam Lind, Toronto Blue Jays
Justin Smoak, Seattle Mariners
Casey Kotchman, Cleveland Indians
Kila Ka'aihue, Oakland Athletics
Begin Slideshow

»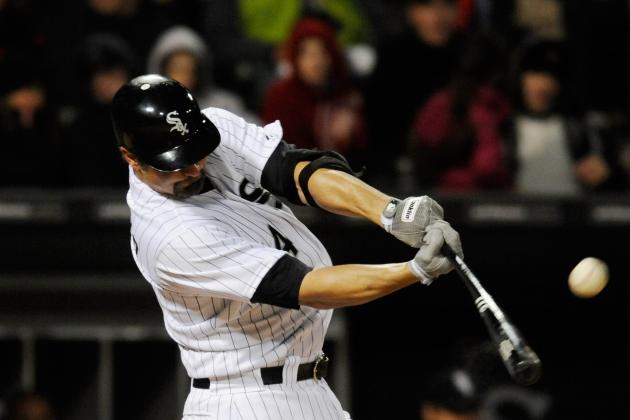 David Banks/Getty Images

Paul Konerko of the Chicago White Sox leads all of his peers in this category, batting an impressive .333 through his first 25 games and 98 at-bats in 2012.
Gonzalez, on the other hand, has batted just .250 through his first 24 games and 92 at-bats.
That equates to a full 0.42 points below his career average and places him eighth overall among his American League peers.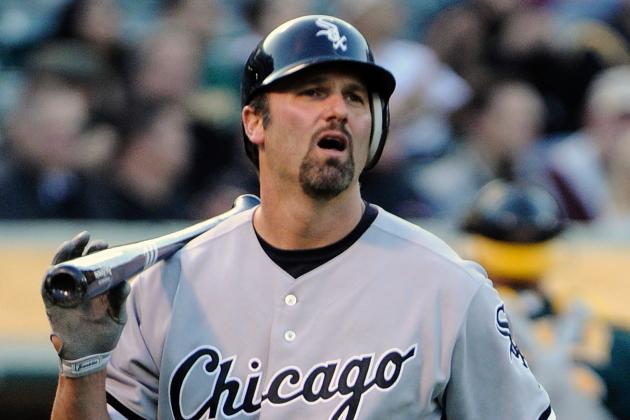 Thearon W. Henderson/Getty Images

Once again, Chicago slugger Konerko leads all first basemen in OBP this season with an impressive .421 to his name.
Gonzalez is ninth on the list with his .327 OBP.
Typically, fans can expect Gonzo to have a solid .374 OBP, clearly that is not the case this season.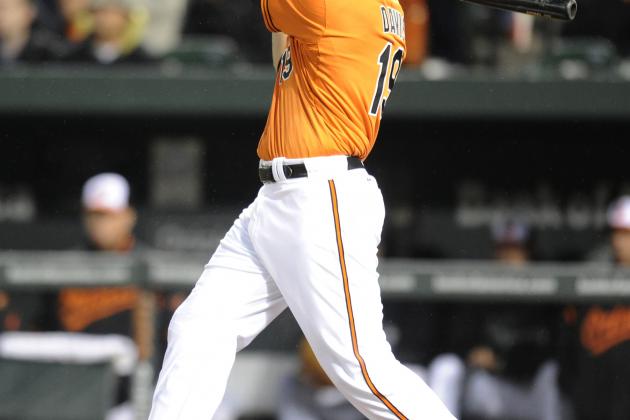 Mitchell Layton/Getty Images

Chris Davis of the Baltimore Orioles (yes, the Baltimore Orioles) is leading the charge so far in 2012 with a fantastic .595 SLG.
Gonzalez ranks 12th overall with a .370 SLG.
Twelfth.
His career average is .510, a mere .140 points higher than what we're seeing this season.
Ezra Shaw/Getty Images

Once again, Konerko is top dog in this category with a healthy OPS of 1.012.
Gonzalez is 10th overall, with a .697 OPS.
His career average is .884, or .187 points higher than his production would reflect in 2012.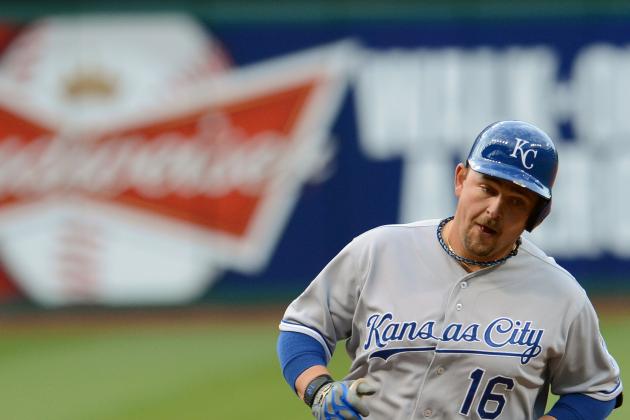 Jason Miller/Getty Images

If I want to broaden this list up beyond the players I listed on the first page, technically Gonzalez would be 12th overall in this category.
Adam Dunn, part-time DH and first baseman for the Chicago White Sox, would lead the charge with seven bombs.
Eric Hosmer of the Kansas City Royals would be tied with teammate Billy Butler, Chris Davis and Paul Konerko for second on the list, with five apiece.
Being a nice guy, I'll take Dunn and Hosmer off the list, leaving Gonzalez 10th overall with just two home runs this season.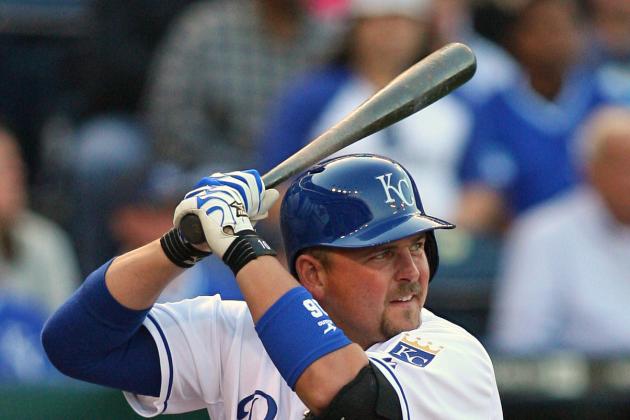 Tim Umphrey/Getty Images

What the hell is going on with this list?
Prince Fielder, Albert Pujols, Adrian Gonzalez and Mark Teixeira should all be vying for the top spot on every category based on the money they're making and the teams they're on respectively.
Instead, the Billy Butlers, Paul Konerkos and Chris Davises of the world are taking over. It is like Bizarro World!
Once again, omitting Adam Dunn, who otherwise would be leading the charge, Billy Butler leads this category (tied with Konerko) with 16 RBI.
Can we chalk it up to sharing the same uniform number as Bo Jackson? Maybe.
Gonzalez is at least ranked third overall with 15 RBI.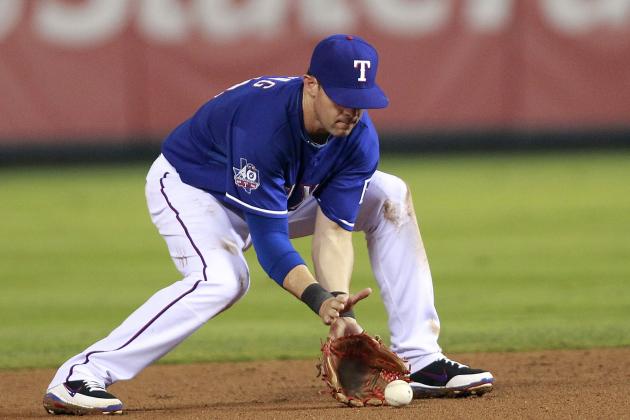 Rick Yeatts/Getty Images

Michael Young is a bit of a hybrid player in Texas.
Yes, he's the DH, but he also plays first and third from time to time.
He also leads all other first basemen in this, the most basic of categories in the AL with 34 hits this season.
Gonzalez falls to seventh overall with 24 hits.
It is worth noting that of all the "big money" first basemen, only Prince Fielder (fifth overall) has more hits than Gonzo. The rest are players with fairly normal contracts.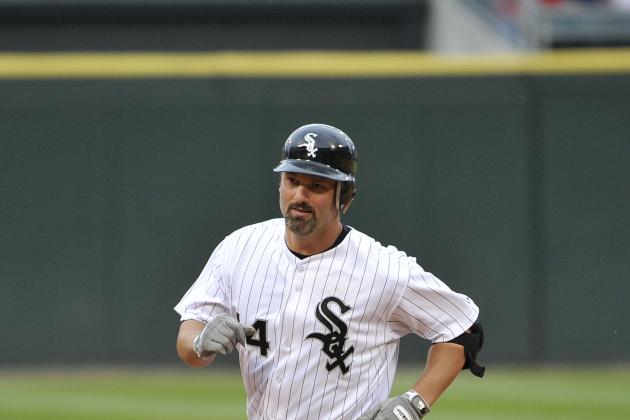 Brian Kersey/Getty Images

Surprise, surprise, it is once again Konerko.
Naturally, the player with the highest batting average is likely going to have extra base hits. Konerko leads the charge with nine doubles so far this season.
Gonzalez's five is best for seventh overall.
Once again, it is worth noting that only Albert Pujols' eight doubles places higher than Gonzo among high-dollar first basemen.
I'm not sure that will help you sleep at night, but it was worth noting.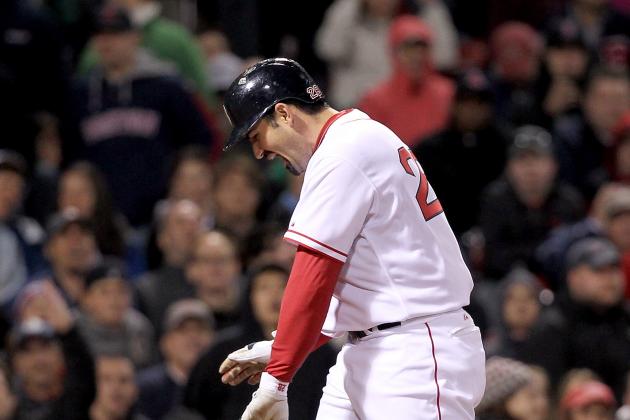 Jim Rogash/Getty Images

The Boston Red Sox don't require Gonzalez to be "the man," so to speak.
What they need is for him to just produce to his normal output.
The Gonzalez we've seen thus far in 2012 is just a shadow of what he normally is. His offense is obviously lacking and luckily for Gonzo, the drama surrounding the team has temporarily blinded most of his critics.
Temporarily.
When the team strung together a few wins, the struggles of the slugger could go unmentioned.
Having lost two out of three to the A's and heading into a tough series with the Orioles, now is not the time to be slumping.
Now is the time for some action.