College Basketball: The Most Important Recruit Ever for the Top 25 Programs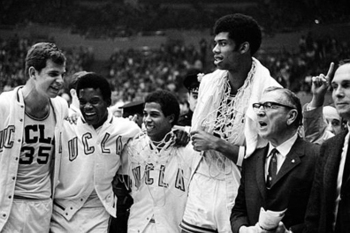 http://www.achievement.org/achievers/abd0/large/abd0-009.jpg
Building a Top 25 college basketball program starts with recruiting, and these are the recruits that brought the best teams in college basketball history to the top.
If you don't believe in the power of recruiting, I refer you to John Calipari's National Championship run with Kentucky. Coach Cal is the best recruiter in the game today, and this has helped him to finally win the NCAA tournament.
Recruiting can be vital for many reasons other than building a program. It can also be trend-setting and convince other recruits to join the program, which is what Kyle Anderson did at UCLA this year, convincing Jordan Adams, Shabazz Muhammad and Tony Parker to join the Bruins.
For various reasons, these are the most important recruits for the best schools in college basketball.
The teams on this list are my power rankings for the best programs in college basketball history. These rankings are based on wins, conference successes, NCAA tournament appearances, National Championships, etc.
With that, these are the most important recruits ever for the Top 25 programs in college basketball history.
25. Wisconsin: Alando Tucker (2003-07)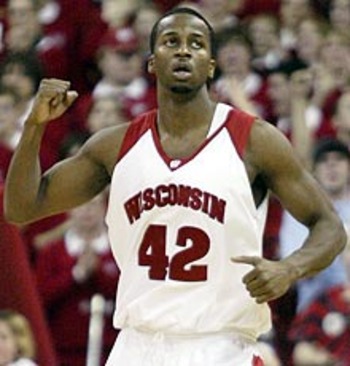 v\http://www.thesportsbank.net/core/wp-content/uploads/2010/06/Alando-Tucker.jpg
Alando Tucker is arguably the best player in Wisconsin basketball history, which makes him the team's most important recruit.
Tucker came in the midst of the team's current 14-year streak of NCAA tournament appearances. From 2003 to 2007 he was on four NCAA tournament teams (except for 2004, when he was injured).
In his career he averaged 16.5 points per game; he is the team's leading all-time scorer, and he holds the record for most points in a single season. He was a prolific scorer that led four teams to the NCAA tournament, including an Elite Eight appearance and two to the Sweet Sixteen.
Tucker also was a consensus All-American in his senior year, when he averaged 20.0 points, 5.4 rebounds and 2.0 assists per game.
Known for defense, Wisconsin could use another scorer like Tucker to get back on top of the Big Ten.
24. Notre Dame: Austin Carr (1969-71)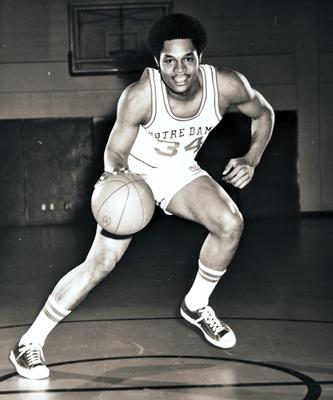 Photo Courtesy University of Notre Dame
Austin Carr was a legend at Notre Dame, and he remains one of the best players in college basketball history. Carr is another example of a team's best player in school history that was also the most important recruit.
Leading his team to three straight NCAA tournaments, Carr did not receive a lot of help.
As a freshman, he averaged an incredible 22.1 points and 5.3 rebounds per game. He then elevated his game in his final two seasons, scoring an average of over 38 points per game while also averaging almost eight rebounds per game.
Carr was never able to lead his team past the Sweet 16, which does make his selection for this spot slightly controversial.
However, he was easily the best player in school history, and he began Notre Dame's success from the 70s through the 80s.
23. St. John's: Chris Mullin (1982-85)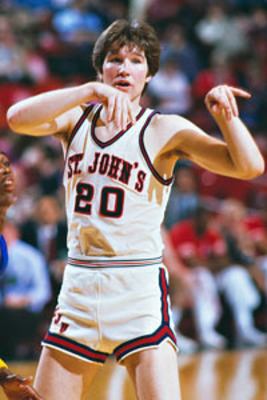 http://a.espncdn.com/photo/2011/0809/ncf_g_mullin_200.jpg
Chris Mullin had an incredible career at St. John's before becoming an NBA All-Star.
Mullin averaged an incredible 19.5 points, 4.1 rebounds, 3.6 assists and 1.7 steals per game over his career, shooting 55 percent from the floor as a guard.
The Red Storm missed the NCAA tournament in 1981, but when Mullin came to town in 1982, the team went to four straight tournaments, making it every year when Mullin was on the team. Those four years began a streak of seven straight trips to the Big Dance, and 11 out of 12.
Mullin started racking up accolades during his sophomore season, winning the Big East Player of the Year Award for the first of three times in his career.
During his junior season he averaged 23 points, 4.0 assists and 4.4 assists per game and was an All-American and Big East Player of the Year.
His senior season, he won the UPI National Player of the Year Award and led St. John's to the Final Four, which was just the second time in history, and the first since 1952.
Mullin started the Red Storm's success in the 80s and 90s, which were the two most successful decades in school history.
22. UNLV: Larry Johnson (1990-91)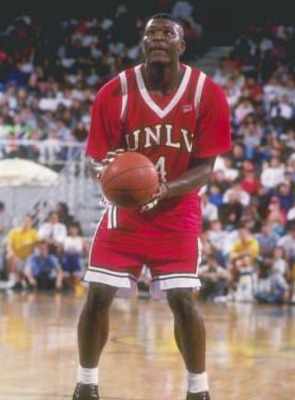 http://cache.deadspin.com/assets/images/11/2007/11/larryjohnsonmama.jpg
Larry Johnson was not a high school recruit for UNLV, but he transferred from Odessa college. However, he was still recruited to come to the school, which is why he is on this list.
Johnson led the 1990 UNLV team to the only National Championship in school history, averaging 20.6 points and 11.4 rebounds per game as the team won it all.
The following year, Johnson improved to 22.7 points and 10.6 rebounds per game, and he almost led the team to back-to-back titles before suffering a huge upset at the hands of the Duke Blue Devils, who were led by Grant Hill, Christian Laettner and Bobby Hurley.
Johnson was vital in the team's success in the early-90's, and UNLV was the most feared team in the country while he was a part of it.
Despite playing only two seasons, Johnson's jersey was retired because of the vital role he played during UNLV's most successful time.
21. Texas: Slater Martin (1944-49)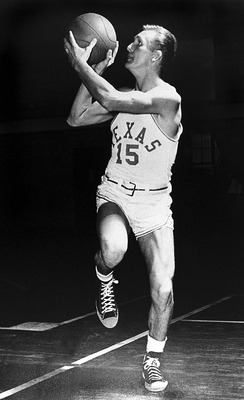 http://blog.mysanantonio.com/garydelaune/files/2011/03/1965501-SLATER-MARTIN.jpg
A seven-time NBA All-Star, Slater Martin's basketball career began at Texas.
Of the two Final Four runs by the Longhorns during the early 40s, Martin led the team to the second through his scoring ability and air-tight defense.
He recorded an incredible 49-point-effort against TCU in 1949 which was the Southwestern Conference record. He was also an All-American that year.
Averaging 12.7 points per game over his illustrious career, Martin was one of the best players the Longhorns have ever had.
The success for Texas in the 40s was thanks in large part to Martin, and his scoring prowess during his time as a Longhorn.
20. Michigan: Chris Webber (1992-93)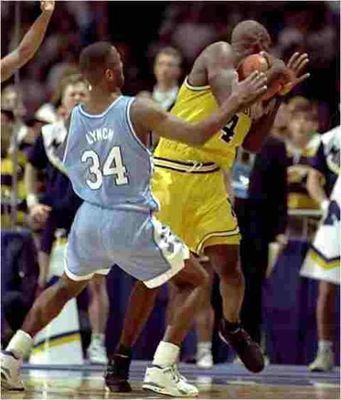 http://3.bp.blogspot.com/-rPTcK0z6e0c/TYAsu3A9NaI/AAAAAAAAAHQ/POD4QzsPbxc/s1600/No_Timeouts_Left_Chris.jpg
Chris Webber is Michigan's most important recruit for many reasons. I could have put any member from the "Fab Five" on here, or one of Michigan's many other elite players, but Webber takes the cake.
Webber was indeed part of the 1991 recruiting class dubbed the "Fab Five," consisting of five arrogant recruits, but we loved them for that. These five comprised the first all-African-American starting lineup in college basketball, and they were trend-setters with their baggy clothes and gangster-attitudes.
Webber was the leader of these freshmen, averaging 15.5 points, 10.0 rebounds and 2.5 blocks per game during his freshman season. He led the Wolverines to the Championship Game of the NCAA tournament that year, but the team eventually lost.
In the 1992-93 season he improved even further, averaging 19.2 points, 10.1 rebounds and 2.5 blocks per game. He was a First-Team All-American and was a finalist for National Player of the Year honors.
Unfortunately, not all of the reasons he is on this list were positive for Michigan.
Webber was one of the players who were loaned a total of $616,000 by Ed Martin. He also infamously called a timeout in the 1993 Championship game when the team was down two points with 11 seconds left and no timeouts. This led to a technical foul, and North Carolina won the game 77-71.
However, there is no denying that Webber was the most influential and well-known recruit Michigan has ever had.
19. San Francisco: Bill Russell (1954-56)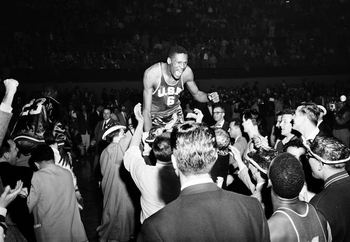 http://sportige.com/wp-content/uploads/2010/03/Bill-Russell.jpg
Would you expect anyone else?
Bill Russell is one of the greatest college basketball players of all-time, and he was easily the most important recruit San Francisco ever landed.
The Dons didn't have much competition when recruiting the future star, as he did not receive a single National Letter of Intent until Hal DeJulio of the local University of San Francisco offered him a scholarship, which he accepted in a heartbeat.
Russell was not a great player in high school, and this looked like a poor recruiting move for the Dons, but it turned out to be the best decision the school has ever made.
Russell developed into a star once at the college-level, and during his freshman season he averaged 19.9 points and 19.2 rebounds per game.
Russell led the Dons to a pair of National Championships, coming in 1955 and 1956. His average of 21.0 points and 20.8 rebounds per game during those two seasons were incredible, and the Dons benefited from his impressive development.
An All-American in 1955 and 1956, Russell is now in the Collegiate Basketball Hall of Fame and was the most influential player in USF history.
18. North Carolina State: David Thompson (1973-75)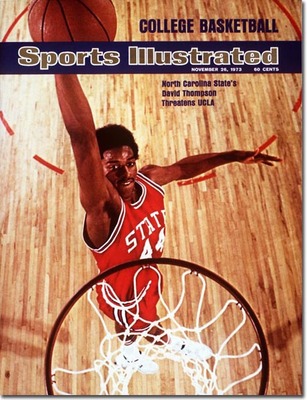 http://i.cdn.turner.com/sivault/si_online/covers/images/1973/1126_large.jpg
One of college basketball's greatest players in history, David Thompson had a successful three-year-career in Raleigh with the North Carolina State Wolfpack.
Known as "Skywalker," there was a story that the 6'4" guard could jump so high he could take a quarter off the top of the backboard and leave change. With a 44-inch vertical jump, he was a freak of an athlete.
Thompson was a prolific scorer, averaging 26.8 points per game in his career. He also used his incredible jumping ability to average 8.1 rebounds per game in his career.
During the first game of his sophomore season, Thompson went for 33 points and 13 rebounds in a 130-53 rout that showed just how good this team was with him.
Thompson brought an NCAA tournament title to Raleigh in 1974, during his only NCAA tournament. The team dominated en route to a National Championship, winning every game by double-digits.
Unfortunately there were some recruiting violations during Thompson's process which barred the team from competing in the postseason in 1973, when the team went a perfect 27-0. Otherwise the team probably would have had two National Championships with Thompson.
17. Florida: Jason Williams (1998)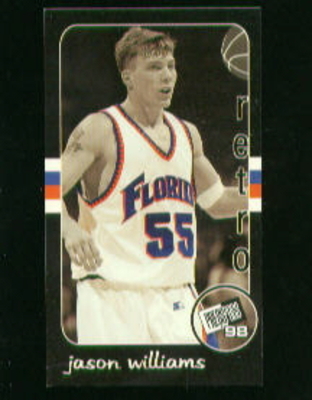 http://www.blujay.com/1/432/3198836_s1_i1.jpg
Jason Williams was only a one-and-done at Florida, but he was the foundation for Billy Donovan's dynasty.
Donovan is the coach that built up the Gators, and he has led them to 12 of the last 14 NCAA tournaments. However, none of it would have been possible without Williams
Donovan was still coaching at Marshall when he was invited to take the job at Florida. He took it, and the reason he was an instant success was because of his recruiting.
Bringing Williams with him, Donovan had a fast start on the recruiting trail, and it took him just three seasons to make it to the NCAA tournament.
From there, the program has won two National Championships under Donovan, but none of it would have been possible if Donovan hadn't landed such a highly-touted recruit.
He is the first big recruit Donovan landed, and he is responsible for all of Florida' s success since the 1997-98 season.
16. Oklahoma State: Bob Kurland (1943-46)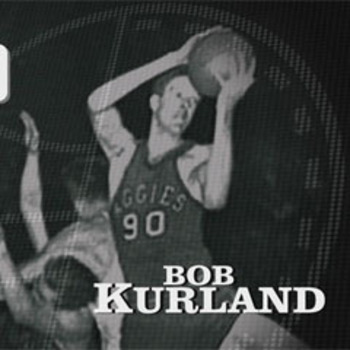 http://assets.espn.go.com/media/motion/2008/0211/hu_080211ncb_no20kurland1v.jpg
Bob Kurland is a legend when it comes to Oklahoma State basketball.
Kurland was a seven-footer in the 1940s, which was not all it was cracked up to be. Coaches simply did not want to spend the time coaching a player considered too tall for the game. Legendary Kansas coach Phog Allen even called him "freak" and a "glandular goon."
However, Oklahoma State coach Henry Iba took the risk on him, and it certainly paid off.
In a time when goal-tending was still legal, Kurland was the first seven-footer in the game, and he was also the first to dunk on a regular basis. The goal-tending rule was actually made in part because of him, which shows how much he changed the game.
Kurland led the school to its first National Championship, and it won back-to-back titles in 1945 and 1946.
Kurland led the school to its first two NCAA tournament appearances, winning both tournaments. He gave the school an incredible amount of success and the only two National Championships Oklahoma State has ever won.
15. Utah: Arnie Ferrin (1944-48)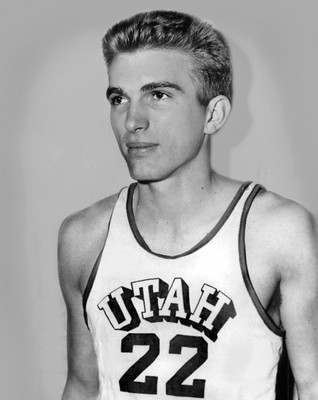 http://cdn3.standard.net/sites/default/files/imagecache/max_800/2010/12/17/story-18-w1b2-63217.jpg
Utah's successful history began in the 40s, led by Arnie Ferrin, who was one of the best players in the school's history.
There weren't many stats kept for Ferrin during that era, but we know that he was one of the best players in the country because of his accomplishments.
Ferrin was an All-American from Day 1, and he was voted one during all four years of his career (the only player to be a four-time All-American in Utah history).
Ferrin led Utah to its early success, and he truly began Utah basketball.
The Utes are still waiting on another player like him to lead them back into prosperity, but there may never be another Arnie Ferrin.
14. Illinois: Deron Williams (2003-05)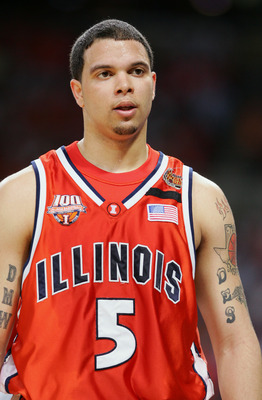 Elsa/Getty Images
Before Deron Williams was a star in the NBA, he was a star for the Fighting Illini of Illinois.
Williams only played three seasons with Illinois, but he led the most successful team the school ever had, going 37-2 in the 2004-05 season.
During the 2005 NCAA tournament, the team provided us with some thrills. After winning the Big Ten regular season and tournament championships, the team played one of the best games in NCAA tournament history.
Down 15 with just four minutes left against Arizona, the Illini rallied to send the game into overtime and eventually won by a single point. Williams was key in the rally, providing both assists and points as he led his team to victory, and to the Final Four, finishing with 22 points and 10 assists.
Unfortunately, the team lost to North Carolina in the Championship Game, but it remains the only Illini team to make it that far.
In his career, Williams averaged 11 points and six assists per game. During the 2004-05 season he averaged 12.5 points and 6.8 assists per game.
After the 2004-05 season he was named as an All-American, All-Big Ten, Big Ten All-Tournament, All-Final Four and a finalist for the National Player of the Year Award.
Williams then became the third-overall pick in the 2005 NBA draft, and the rest is history.
13. Villanova: Ed Pinckney (1982-85)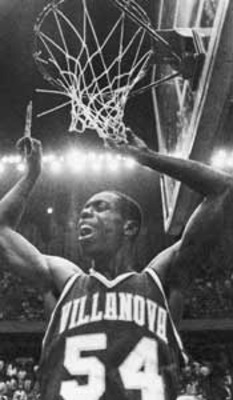 http://vuhoops.com/wp-content/uploads/2009/09/ez-ed.jpg
Ed Pinckney was a great player for Villanova during all four of his years with the Wildcats, averaging double-digit points in every season.
Standing at 6'9" and just 195 pounds, Pinckney was not a powerful forward, but he was versatile, and created mismatches.
Pinckney came in as a freshman and averaged 14.2 points, 7.8 rebounds and 2.0 blocks per game, along with shooting 64 percent from the field.
An All-American in 1983, Pinckney led Villanova to four NCAA tournaments, three Elite Eights and the school's only NCAA tournament Championship.
The No. 8 seeded Wildcats had one heck of an NCAA tournament in 1985. After beating Dayton in Dayton, the team beat No. 1 seeded Michigan, Maryland and No. 2 seeded North Carolina to win the Southeast region.
Nova then beat Memphis State in the Final Four to set up a matchup with conference rival Georgetown, who was favored by 10 points coming into the game.
However, April Fool's Day was the day the Championship Game would be played, and it seemed unreal that No. 8 seeded Villanova beat a Georgetown team led by Patrick Ewing that had already beaten the Wildcats twice in the regular season.
However, in a true David vs. Goliath matchup, the Wildcats overcame a Hoya defense that held opponents to shooting under 40 percent from the floor throughout the season to shoot 22-of-28 from the floor, which was almost 80 percent from the floor. The team didn't shoot much, but the Wildcats made their shots count, and beat Georgetown 66-64.
Pinckney led Nova to one of the biggest upsets in college basketball history, and the No. 8 seeded Wildcats remain the lowest seed to win it all.
Pinckney went five-of-seven from the floor for 16 points in the 1985 National Championship Game, and was named the tournament's Most Outstanding Player. He led the Wildcats during the best time in school history, and will always be remembered for it.
His No. 54 is now retired as well.
12. Michigan State: Magic Johnson (1978-79)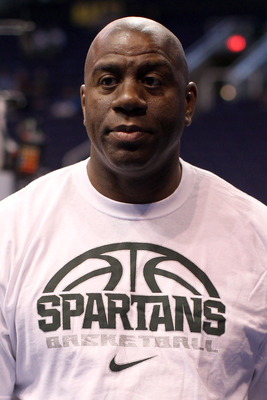 Christian Petersen/Getty Images
Magic Johnson was truly a unique player, and he was also the most important recruit Michigan State has ever had.
Johnson was only around two years, but he was a star from the minute he stepped on campus until he left, and he remains an icon for the school.
Averaging 17.1 points, 7.4 rebounds and 7.9 assists per game over the span of his career, Johnson was the most versatile player to ever play the game, and he was truly an incredible point-forward.
In 1978 he led the Spartans to the Elite Eight. In 1979 he carried team to an NCAA tournament championship: the first National Championship in school history.
Johnson's No. 33 still hangs in the rafters at Michigan State, just like seemingly every other player on this list.
11. Cincinnati: Oscar Robertson (1958-60)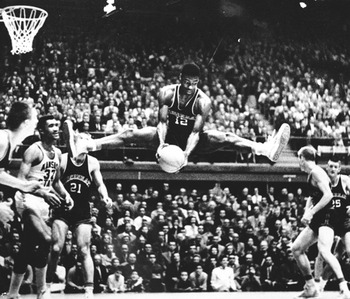 http://www.sportswriters.net/usbwa/awards/oscar/action_oscar_ncaa.jpg
Oscar Robertson is not only the best player in the history of the Cincinnati basketball, but he is also the most important recruit the school has ever landed.
Robertson averaged a ridiculous 33.8 points per game during his varsity career with the Bearcats, and was college basketball's all-time leading scorer at the time.
While he never won the NCAA tournament himself, he did go to back-to-back Final Fours in 1959 and 1960. He also set up back-to-back National Championships in 1961 and 1962 and three straight trips to the finals from 1961 to 1963.
"The Big O" was one of the best players in college basketball history, and he was the cornerstone for all of Cincy's success in the late-50s and early-60s.
The Bearcats are back in the Top 25, but they have not been nearly as successful without Robertson in the last 50 years.
10. Arizona: Sean Elliott (1986-89)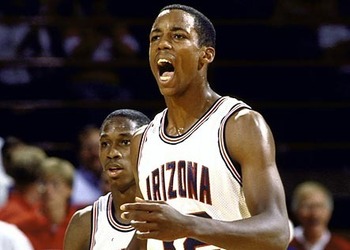 http://i.cdn.turner.com/sivault/multimedia/photo_gallery/0708/campus.arizona.top10/images/01162669.jpg
Arizona has been one of the most dominant schools in college basketball for the last 30 years, and the Wildcats went on a streak of 25 straight seasons with an NCAA tournament appearance from 1985-2009.
However, the Wildcats' success began with a local kid named Sean Elliott, who decided to play close to home and helped put Arizona on the map.
Elliott was a star for the Wildcats, averaging 19.2 points, 6.1 rebounds and 3.4 assists per game over his four-year career. The accolades and accomplishments he earned over his career are staggering.
When he first came to Arizona, he averaged almost 16 points per game, along with 5.3 rebounds and 2.2 assists per contest, which was good enough for Pac-10 Freshman of the Year honors.
Named a First-Team All-American, Elliott led the team to the Final Four in 1988, which was the furthest the team had ever gone.
In 1989 he was a First-Team All-American again, and he was named the Pac-10 Player of the Year for the second consecutive year. He also set the Pac-10 scoring record and was the National Player of the Year (the first in school history).
In 1988 and 1989, he won the Pac-10 tournament, and was named tournament MVP both years.
Elliott led the team to the NCAA tournament in all four years of his career. When he first did so as a freshman it was just the fifth time in school history, but he helped the school reach 25 straight Big Dances.
Elliott's No. 32 jersey still hangs in the rafters, one of just four players to have his jersey retired by Arizona.
9. Syracuse: Dave Bing (1964-66)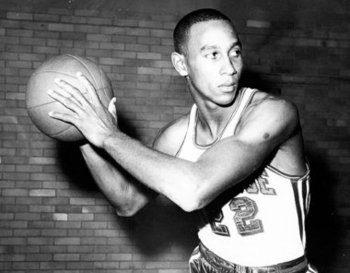 http://media.syracuse.com/orangebasketball/photo/9075095-large.jpg
The national emergence of Syracuse basketball began with a man named Dave Bing. During his three years at Syracuse Bing became a legend.
Averaging 24.8 points and 10.3 rebounds per game, Bing was a huge contributor for the Orange. He also averaged 6.6 assists per game during his senior year, which was the first time the stat was recorded.
Bing led the Orange to the region final in the NCAA tournament during his senior year, which was just the second appearance in school history. He also led the team to the NIT that year.
Bing is now a Hall of Famer and the mayor of Detroit, and his No. 22 now hangs in the rafters of the Carrier Dome.
8. Connecticut: Kemba Walker (2009-11)
Streeter Lecka/Getty Images
Yeah. I went there.
While I could have easily put other players here like Chris Smith, Emeka Okafor, Richard Hamilton or Ray Allen, However, I'm predicting that Kemba Walker will be the most important recruit in Connecticut basketball history.
It looked like the Huskies were on the verge of years of mediocrity. The team had missed the 2010 NCAA tournament, which was a bad sign.
The Huskies had made it to 14 of 17 NCAA tournament from 1990 to 2006, but then missed two of four from 2007 to 2010.
UConn started the 2010-11 season unranked, and expectations were incredibly low. However, a junior named Kemba Walker emerged into a star.
After averaging 14.6 points per game as a sophomore, Walker jumped up to 23.5 points, 4.5 assists and 5.1 rebounds per game during his junior campaign.
The McDonald's All-American came to UConn during a time that could have been disastrous, but turned the program into National Champions.
Walker was an absolute star, and he became an icon during the Big East tournament, when he led a team ranked No. 9 in the Big East and on the verge of being a bubble-team to five straight wins to clinch an automatic bid into the NCAA tournament. The team beat No. 1 ranked Pittsburgh on Walker's incredible step-back jumper.
From there, the Huskies made it to the Final Four out of the West region as a No. 3 seed, and beat Kentucky and Butler to win the 2011 NCAA tournament.
Walker was the National Player of the Year in 2011, and he is going to be remembered as a historic player who led UConn out of choppy waters and to the third NCAA tournament championship in school history.
7. Louisville: Darrell Griffith (1977-80)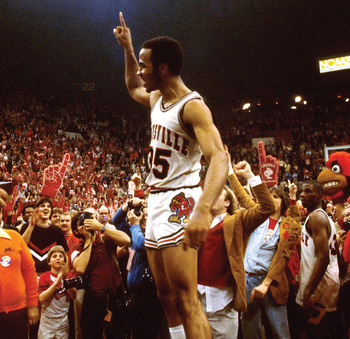 http://uoflcardbook.com/wp-content/uploads/2010/08/Darrell_Griffith_5.jpg
The most important coach in Louisville history is Denny Crum, and his most important recruit was Darrell Griffith.
Under Crum, Louisville went to six Final Fours, and won two NCAA tournaments. However, this would not have been possible without Griffith.
During his four years, Griffith averaged double-digit points per game during every season and a combined 18.2 points per game for his career, shooting almost 52 percent as a guard.
Winning the 1980 National Player of the Year, he remains the only Player of the Year in Louisville history, and he led the Cardinals to an NCAA championship that year.
In his career, he led Louisville to two regular season Metro Conference titles, two Metro tournament championships, four straight NCAA tournament appearances and the first of two National Championships under Crum (and the only two in school history).
Griffith was the best player Crum ever had, and all of Louisville's success since the mid-70s has been built on Griffith's foundation.
6. Kansas: Wilt Chamberlain (1957-58)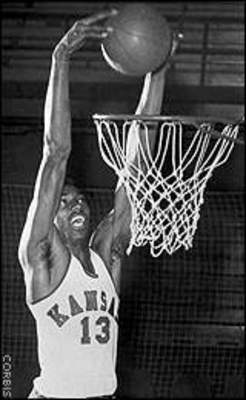 http://ww1.prweb.com/prfiles/2007/02/05/502880/WiltChamberlainKansas2.jpg
52 points and 31 rebounds. In his first college game, Wilt Chamberlain scored 51 points and grabbed 31 rebounds.
The most dominant player in basketball history, Chamberlain was also the most important recruit Kansas has ever had. He only played two years with the varsity squad, but he led Kansas in both seasons.
You may have heard of the coach that recruited him, Phog Allen, who happens to have Allen Fieldhouse named after him. Allen retired before Chamberlain joined the varsity squad in his sophomore season (NCAA rules at the time prevented freshmen from playing varsity), but one can only imagine what the two could have done with a few years together.
In his first game with the Jayhawks' varsity team in December of 1956, Chamberlain scored 52 points and grabbed 31 rebounds, both of which broke all-time school records.
From there he went on to have a great freshman season, averaging just under 30 points and 19 rebounds per game.
The team went to the national championship that year but lost because of its reliance on Chamberlain. After having him triple-teamed all game, North Carolina beat Kansas 54-53 in what is still considered one of the best college games in history. Chamberlain was named the tournament's Most Outstanding Player that year.
In his junior season, he averaged 30.1 points and 17.5 rebounds per game. The team did not play in the NCAA tournament that year, and then Chamberlain left to play professionally with the Harlem Globetrotters.
In his two-year college career, he averaged over 30 points and 18 rebounds per game, and he was the best player the Jayhawks ever had. If he'd helped Kansas win a championship or two, he'd be making a higher appearance on this list, but his impact was nonetheless significant.
5. Indiana: Don Schlundt (1952-55)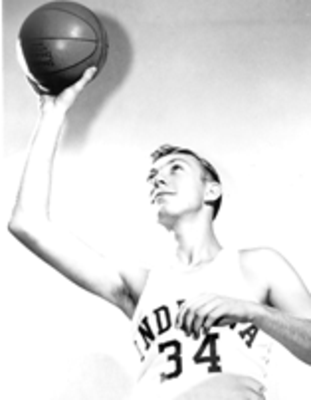 http://graphics.fansonly.com/schools/ind/graphics/hof/schlundt.gif
As much as I would have like to put one of Bob Knight's recruits here, I give the honors to Don Schlundt, who played under Branch McCracken.
Schlundt was a 6'10" center for Indiana during the early-to-mid 50s and was one of the most successful players in IU history, leading the school to its early success.
Like most other players, Schlundt struggled in his freshman season compared to his other three. However, unlike other players, when he struggled he still averaged 17.1 points and 7.2 rebounds per game.
During his next three seasons, he averaged over 25 points and eight rebounds per game, winning three straight All-American honors.
1953 was a great year for Schlundt. Apart from being an All-American and winning Big Ten Player of the Year honors, he also led the Hoosiers to a National Championship; just the second in school history.
In his career, he averaged 23.3 points and 9.1 rebounds per game, and he set the tone for one of the winningest programs in college basketball history.
4. Duke: Johnny Dawkins (1983-86)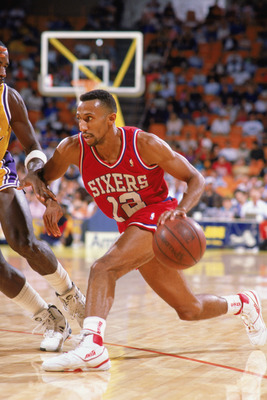 Mike Powell/Getty Images
Duke is now known as one of the best—and most hated—programs in history. Thanks to Mike Krzyzewski's incredible success at Duke, the Blue Devils are as prestigious a program as you will ever find.
Coach K is now the winningest coach in history with over 900 wins, passing his mentor, Bob Knight, during this past season. However, it would not have been possible without Johnny Dawkins.
Dawkins was the first big recruit Coach K ever landed, and he set the tone for the program, giving the Blue Devils and Krzyzewski national relevance.
Dawkins scored over 18 points per game every year of his career and averaged 19.2 points, 4.0 rebounds and 4.2 assists over his four seasons.
In his senior year, he won the Naismith National Player of the Year award. During that season he averaged over 20 points per game.
Dawkins is the cornerstone that Duke's empire is now built upon, and without him Duke wouldn't be on this list.
3. North Carolina: Charlie Scott (1966-70)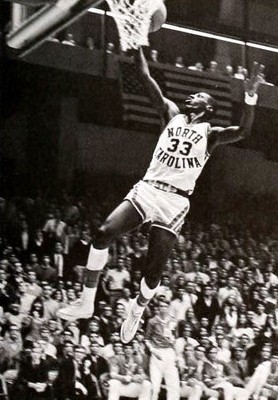 http://www.chapelhillmemories.com/uploads/Image/Charlie_Scott_UNC-1968.jpg
I bet you expected to see someone like Michael Jordan here. Or maybe James Worthy. At the very least you'd expect Sam Perkins or Vince Carter, right?
Wrong.
These guys were the better players for sure, so you're right there, but they weren't as important as a man named Charlie Scott.
Scott was the first African-American to receive and athletic scholarship to Chapel Hill, and he paved the way for the four guys listed above, and many more stars.
Scott was a prolific scorer and an excellent athlete, averaging 22.1 points and 7.1 rebounds per game in his career. However, apart from being a great player, he is known for paving the way for thousands of athletes at North Carolina.
He also a gold medalist for the 1968 Olympic team and had successful careers in the ABA and NBA. Scott was also the first African-American to pledge a fraternity at UNC.
2. Kentucky: Alex Groza (1945-49)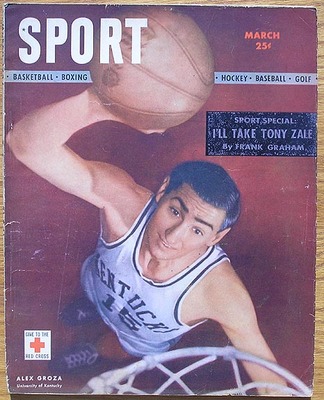 http://www.sportsartifacts.com/pubsport347.JPG
Before John Calipari brought about a dozen elite recruits to Lexington, Adolph Rupp was the man on top of the college basketball world, and his most important recruit was Alex Groza for a few reasons (not all of which are good).
Groza was the captain of the original "Fabulous Five" teams at Kentucky, winning the school's first two NCAA tournaments in 1948 and 1949.
Averaging almost 15 points per game, Groza was the center that led Big Blue to back-to-back titles, and Kentucky has added six more since then, including one during this past season.
However, like I said before, not every reason he is on this list is good.
Groza was implicated in a point-shaving scandal during the 1949 NIT tournament. He and teammate Dan Barnstable admitted to accepting $2,000 to shave points during the game, and the 10-point-favorites lost 67-56.
After receiving suspended sentences in court, the players involved were then banned from the NBA for life. Groza never played in the NBA because of the ban, and what could have been a legendary professional career was never given a chance.
1. UCLA: Lew Alcindor (1967-69)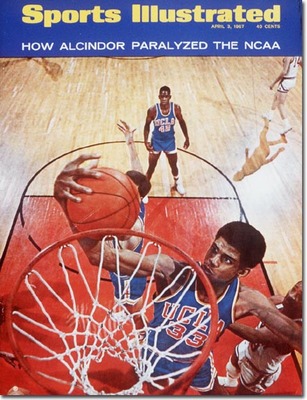 http://i.cdn.turner.com/sivault/si_online/covers/images/1967/0403_large.jpg
Lew Alcindor, now known as Kareem Abdul-Jabbar, was arguably the best college basketball player in history.
As a 7'2" center coming to college, Alcindor was one of the most hyped recruits of all-time. He was incredibly dominant and led his high school to a 79-2 record before coming to Westwood.
Alcindor didn't have much practice losing games, and that didn't change in college. In his first game at UCLA the freshmen played a UCLA team that won back-to-back National Championships. The freshmen won 75-60.
Although freshmen were not eligible to play varsity at the time, Alcindor was worth waiting for, and in his first varsity game he dropped 56 points against Cal.
Alcindor completely changed the game, and from the moment he stepped on the court for the Bruins he was the leader. In his career he averaged 26.4 points and 15.5 rebounds per game, including 29.0 points per game as a freshman.
During his first varsity season the team went 30-0, and in his three years the team hardly ever lost.
With three All-American selections, two National Player of the Year awards, three NCAA Tournament Most Outstanding Player awards and three consecutive national titles, Alcindor is possibly the best player in college history.
He led UCLA to the third, fourth, and fifth straight titles before departing for the NBA, and he extended a streak that would eventually reach seven National Championships in a row.
Keep Reading