Bryce Harper, Mike Trout Not the First Teens to Excel on the Field of Battle
May 3, 2012

During World War II, the U.S. Army Air Corps was packed to the rafters with 19-year-old pilots who flew dangerous bombing missions deep into enemy territory. These young airmen and their crews of radio operators, engineers and turret gunners navigated heavy, hot roaring metal through some of the most perilous conditions known to man.  
Whether facing brutal high-altitude weather conditions, buzzard like swarms of enemy fighters or 88 mm flak guns fully intent on creating death and destruction, these teens used skill and resolve in the face of fear to accomplish the mission.
Call me an insensitive grandson of a B-17 bomber gunner, but for the life of me, I cannot understand why more than seventy years after World War II, media conglomerates obsesses so much over Bryce Harper and Mike Trout being only 19 as they make their way in the big leagues.
Wow, strange transition from the battlefield to baseball. I know.
But please bear with me.
I hate to play devil's advocate or be that Debbie downer, but it seems like every sentence pouring into the mainstream points to Harper and Trout being just teenagers.
It is 19-year-old Bryce Harper this, and 19-year-old Mike Trout that.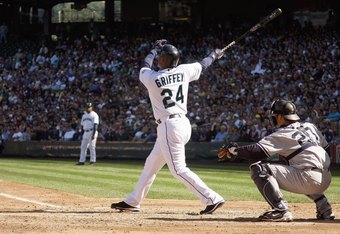 Otto Greule Jr/Getty Images
"He's batting third…and he's only 19!" I heard one MLB commentator holler.
"I know what I was doing when I was 19," says another commentator. "Sure as heck wasn't playing baseball in the big leagues…"
It is like being a teenager in the big leagues is equivalent to being an alien. Like both Harper and Trout invaded Earth in the dead of night, with ball and glove in hand like Moonlight Graham in his youth.
Now, it would be asinine and prudish for me to sit here and say it is not exciting to watch Harper and Trout excel at such a young age. The proof in the pudding is right here.
But looking at the big picture, these two young men are not the first ballplayers to take the baseball world by storm at such a young age.
I can almost see teen icons Ken Griffey Jr., Andruw Jones and B.J. Upton seeing Harper and Trout and barking, "hey, hey, hey! What the heck are we, chopped liver?"
Not to mention a whole slew of early 20th century ballplayers now turning in their graves, as they slip into oblivion. Ever hear of utility infielder Eddie Miksis?  He was just 17 when he made his major league debut for the Brooklyn Dodgers. How about Bob Feller? He too was 17 when he first took to the dusty hill for the Cleveland Indians. How about Jimmie Foxx and Mel Ott? Ever hear of them? Both ballplayers made it to the show at 17 and they turned out alright.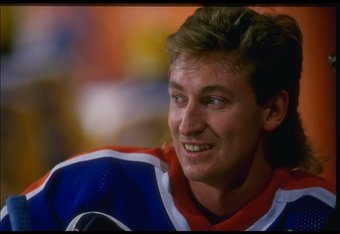 Getty Images/Getty Images
Joe Nuxhall notwithstanding, "there are others you know," to quote Shoeless Joe Jackson from Field of Dreams. Soccer star Pele made his international debut at 15. Martina Hingis won her first Wimbledon singles title at 16. NHL legend Wayne Gretzky was 17 when he made the big time with the Edmonton Oilers.
So I hate to break it to media pundits. But Bryce Harper and Mike Trout are not the first athletes to wow the world with youth. And they sure as heck will not be the last.
By obsessing over Harper's and Trout's age, we undersell these two superstars in the making.
With that said, my question is this. Why can't the media just come to grips with the fact that Harper and Trout are simply two madly skilled ballplayers who are going to bless us with their play at major league ballparks for the next two decades of our lives?
I think both you and I can provide the answer to this question.