NBA Playoffs: How Not Trading Pau Gasol Will Lead to Lakers Winning 2012 Title
May 4, 2012

Harry How/Getty Images
Sometimes, the best trades are the ones that never get made.
Wouldn't it be ironic if L.A. won the NBA Championship this year and everyone gave commissioner David Stern a huge standing ovation at the awards ceremony for nixing a deal that would have sent Pau Gasol packing in December?
And aren't you glad that the big guy from Spain is still wearing purple and gold, and wouldn't you agree that he rather quietly has become the Lakers' most valuable asset during the playoffs?
Pau Gasol in a Lakers uniform throughout the playoffs represents the difference between a world championship and another ho-hum early exit for L.A. 
With him acting as the "mortar" for a starting unit that includes big-time go-to solutions in Andrew Bynum and Kobe Bryant, Gasol is back to being the consummate, complementary piece that he was when the Lakers won back-to-back titles in 2009 and 2010.
What a strange, strange year it's been in basketball and Lakerland in particular. Not that long ago and for much of the regular season, Gasol was the subject of intense trade speculation which had an adverse effect on his play.
An emotionally connected player both on and off the court, Gasol was clearly in a downward funk while waiting for the proverbial shoe to drop and the call to come that he'd been shipped off to some distant location for a point guard and a couple of generic forwards. 
That call never came and we'll never know for sure if that was because management ultimately decided it was best to keep Gasol or that they couldn't get all the pieces of a deal to fall into place.  It was probably a little of both.
Just after the trade deadline came and went - and there were rumors galore involving Gasol going to Minnesota, Portland, New Jersey, Houston - you could hear the Lakers power forward utter a huge sigh of relief and you could see his play ramp up to the levels most fans were accustomed to seeing from the four time All-Star.
Although Gasol's average for the 66 game season was just 17.4 points per game, he increased that number to 19.9 over the final 10 games of the regular season.  Gasol also upped his assists from 3.7 to 5.3 for that final stretch of games and added 10.3 rebounds and 1.4 blocks.
Good Gasol had triumphed over Anxiety-Ridden Gasol.  And unlike Lamar Odom, who was so fraught with emotional pain after the Lakers tried unsuccessfully to trade him to New Orleans in December, Gasol managed to keep a stiff upper lip and carry on.  He wasn't happy, but he carried on until March when the smoke cleared.
As the Lakers prepare for Game 3 tonight against the Nuggets, Pau Gasol has become the unlikely "Big Facilitator."  His field-goal attempts have dropped from an average of 14 during the regular season to 12 in these playoffs.  But his assists have increased to 6.5 and he clearly seems to relish his skills as the best passing "big man" in the game.
There is no question that the Lakers need all the pieces to fit for them to win a title this spring; that means Bryant continuing to score 25 points on efficient shooting, Bynum pulling down 12-15 rebounds and blocking shots in the paint, the bench of Matt Barnes, Steve Blake and Jordan Hill contributing good defense and hustle points.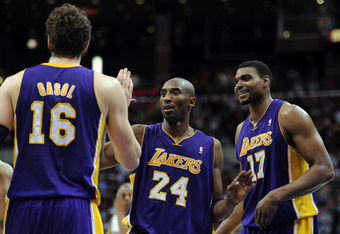 Harry How/Getty Images
And Metta World Peace picking up where he left off just before clubbing James Harden in the head last week.
But what has been overlooked and undervalued by so many has been the incredible team-first mentality and play of one Pau Gasol. 
Denver Post writer Benjamin Hochman talked with Gasol just after the Lakers had defeated the Nuggets, 104-100, in Game 2 on Tuesday, asking him about his passing accuracy, and the fact that he had more assists than Denver's extraordinary point guard, Ty Lawson.
"I'm just trying to find my open teammates, trying to see what's going on and give easy looks to [low-post partner Andrew] Bynum most of the time," Gasol said. "And then Kobe [Bryant] is such a good cutter and holds his position so well in the paint, so he's a definer for me. I'm just trying to make our offense work, get a little movement and get guys easy shots."
Gasol is the glue holding it all together.  His presence, passing, court awareness and basketball IQ allow the other Lakers—and that includes the acknowledged floor general Ramon Sessions—to focus on what makes them special to the team.
Together, Gasol and his band of basketball brothers hold the key and promise of championship number 17.  
And, as Pau Gasol goes, so go the Lakers.