Mayweather vs Cotto: Latest News, Media and Updates on Epic Superfight
May 4, 2012

Wherever Floyd Mayweather is, news is not far behind.
Sports fans spanning the globe will be glued to televisions as the Puerto Rican underdog, Miguel Cotto, will attempt to silence the flamboyant, outspoken Floyd Mayweather. 
With Saturday's blockbuster PPV nearing, now is the opportunity to recap the match's build-up.
Here's the Mayweather vs. Cotto starter kit.
Final Press Conference
Preparing for their May 5 showdown, the final press conference for Mayweather vs. Cotto was surprisingly peaceful.
As always, a predictably tight-lipped Cotto addressed media with a brief statement reiterating his unwavering convictions and determination. 
Mayweather echoed his opponent's sentiments. To much surprise, no verbal shots were fired in either direction.
Highlights of the press conference can be viewed here. (Yahoo Sports)
The "Money Issue"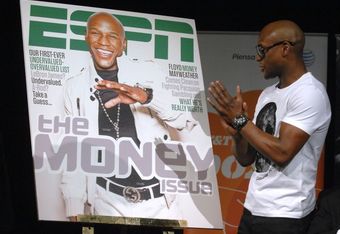 Sports Illustrated has the "Swimsuit Issue," now ESPN The Magazine has the "Money Issue."
To promote its May 14 debut, ESPN gives a glimpse into an excerpt of Mayweather's daily life.
The undefeated icon shares his thoughts regarding his tight-knit camp, family and, of course, money.
Writer Tim Keown also paints an intricate portrait of a day with the outspoken boxer. He writes:
A Hayes song drifts through the cabin of the Benz.

What now? They await his reaction.

Mayweather gives a satisfied nod but otherwise doesn't respond.

Their restaurant of choice tonight is a Japanese place the fighter frequents with his crew. Inside, the mood lightens. Floyd's buoyancy returns. He addresses the group by telling his first-time visitors that he drops 10 grand a week in the place. "You order whatever you want," he says. "Everything's on me."
Did you expect anything less?
The full story can be found below. 
Weigh-in
The last chance for media members to illuminate the fighters with camera flashes will be today, at 5 ET. 
The "silent killer," as Mayweather refers to Cotto and the flashy, slick-mouthed "Pretty Boy" himself will step on the scales. 
In Mayweather's previous fight, fireworks were lit when Floyd choked Victor Ortiz after officially making the cut. 
Was it just scripted hype to promote the upcoming PPV?
Probably. 
Although Mayweather has been uncharacteristically reticent throughout the past week, expect him to discard the muzzle today. 
The weigh-in can be viewed live on HBO.
No TV? No problem. You can also watch the live stream on Crave Online, courtesy of Yahoo Sports.
HBO's 24/7
Every boxing fan's favorite mini-series, HBO's 24/7, will air its final installment of the Mayweather vs. Cotto bout tonight (8 ET). 
The critically acclaimed series highlights the roller coaster of emotions that each boxer endures throughout camp.  
The intimate access to each fighter is unrivaled.    
Full episodes are available via HBO's YouTube page. 
The match, itself, will begin at 9pm ET on May 5.