Predicting the Miami Dolphins' Quarterback Battle
May 4, 2012

Al Bello/Getty Images
There are a lot of positional battles going on in Miami this season, with the Dolphins transitioning to a hybrid style of defense and to a West Coast style of offense.
While the different battles comprise a good undercard, the main event will be the battle at quarterback. As of now, the matchup is scheduled to be a triple-threat match between David Garrard, Matt Moore and Ryan Tannehill.
While most of the draft pundits might say "no," Joe Philbin says "not so fast" to the notion of Tannehill starting the season opener against the Houston Texans.
Don't count the kid out, but he's already at a disadvantage up against the seasoned vets who, with years of study, know the ropes of an NFL offense like a devout knows his scripture.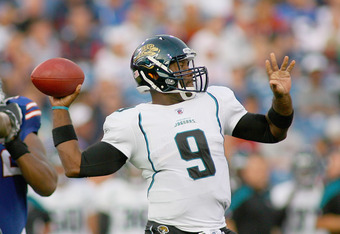 Rick Stewart/Getty Images
What's more, both have been here before. Garrard is very familiar with the thrill of victory, starting for the Jaguars for four consecutive seasons. 
Moore, on the other hand, has only won a starting job in training camp once in his career—when he beat out Jimmy Clausen in Carolina in 2009. Every other time, he's been forced into a starting role by injury or awful quarterback play.
Take nothing away from his performance for the Dolphins; he played well enough down the stretch to help the Dolphins to a 6-3 record. That's to say, he didn't lead his team to victory, but he didn't steer the Dolphins to defeat, either. 
Throughout his career to this point, though, Moore has been a backup. 
What's more, the Dolphins must remember that, while Moore played very well down the stretch, he also had Brandon Marshall to throw to. Marshall had 43 receptions for 676 yards and five touchdowns in the final nine games of the season.
To give you an idea of how much of a security blanket Marshall was for Moore, the wideout accounted for one-third of Moore's yards and touchdowns in that nine-game stretch and just over 30 percent of his completions.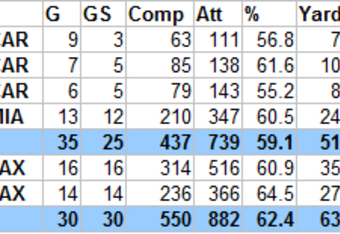 Both quarterbacks have been very hot and cold throughout their careers. Garrard suffered a dry spell in 2008 and 2009 but rebounded in 2010 before being a surprise cut at the end of training camp in 2011. 
Despite that, Garrard has been more consistently efficient of the two from a statistical standpoint; his lows have not been as low as Matt Moore's.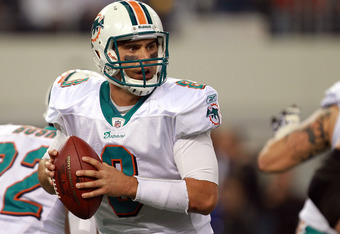 Ronald Martinez/Getty Images
But all this begs the question: regardless of the stats and the past, do the Dolphins want to hand the keys to the offense to a 34-year-old coming off a year away from football, or would they rather go with the less-decorated 27-year-old who showed potential to be good down the stretch in 2011 but has never shown the potential to be great?
Neither sounds too enticing in the long term. No wonder the Dolphins drafted a quarterback in the first round.
I reiterate: don't count Tannehill out. In fact, trends among quarterbacks taken in the top half of the first round indicate that the majority of them are Week 1 starters.
Ultimately, it should still come down to who's the best fit, and the Dolphins wouldn't have drafted him No. 8 overall if they didn't project him as a fit into their offense. Tannehill has already said that there's a lot of carry-over from offensive coordinator Mike Sherman's offense at Texas A&M.
The Aggies may have blown four late leads, but the offense was hardly ever the problem in those games; they averaged 34.7 points per game on offense.
As mentioned earlier, though, the consensus is that he'll need some time to develop; if that's the case, look for an exciting battle between two short-term solutions at quarterback.