What to Expect from Miami Dolphins 2012 First Round Pick Ryan Tannehill
May 2, 2012

Al Bello/Getty Images
The pundits have spoken, and have beaten the dead horse on new Miami Dolphins quarterback Ryan Tannehill: He should not be starting in Week 1, probably not in 2012 at all.
In that sense, expectations should be pretty low for Tannehill. 
However, his own head coach Joe Philbin hasn't ruled out Tannehill as the starter for 2012. He'd be far from the first head coach to throw his top 10 pick to the proverbial wolves, either; in fact, it's become the trend.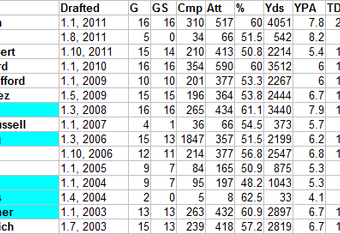 Taking a look back at the quarterbacks taken in the top 10 overall since 2003—a list that consists of 15 players—we get an idea for a baseline on which we may be able to judge Tannehill's performance in 2012, and what to expect in the meantime.
A few interesting notes in observing the rookie seasons of the aforementioned quarterbacks:
The 15 quarterbacks taken in the top 10 since 2003 have averaged 11.5 games and 10.1 starts.
Quarterbacks fell largely into one of two categories: Either they played almost every game (10 of the 15 played in 10 or more games), or they played in almost none of the games (three of the 15 played in five or less games). Alex Smith and Eli Manning both played in nine games and started 7.
Quarterbacks who fell into the first category (10 or more games) averaged 56.9 percent completions, 2,839 yards, 6.6 yards per attempt, 14.7 touchdowns, 15.3 interceptions and a passer rating of 73.7.
One more note: All of the quarterbacks who played in 10 or more games started almost all of the games they played in. Likewise, all of the quarterbacks who played in five or less games started almost none of the games. Either they were thrown to the wolves or they were treated with gentle hands their first year.
The results are mixed on the long-term results of quarterbacks who weren't rushed onto the field. Philip Rivers and Eli Manning turned out well; Rivers has been voted to more Pro Bowls than any other top 10 quarterback since 2003, and Manning has won two Super Bowls and two Super Bowl MVPs.
Alex Smith is coming around as of 2011, it took him awhile to finally settle in. We'll see if he sustains it.
The Cardinals might have been wise to bring Matt Leinart along slowly, but he couldn't stay healthy and couldn't sustain a high level of play even when he was healthy.
JaMarcus Russell? The only thing he's sustaining is the reminder that a top-rated quarterback is never a sure thing. 
Regardless of their success, there is an overriding theme among most of them: they were forced onto the field by either injury or a terrible record. That's likely how Tannehill will end up on the field. The Dolphins have two quarterbacks that could be good enough to get the team through the 2012 season in Matt Moore and David Garrard, both of whom have starting NFL experience.
That, in and of itself, will be very valuable to the Dolphins quarterback of the future.
But even if Tannehill is starting, recent history has shown that he may not be doomed.
Six of the 15 quarterbacks on the list surpassed 2,500 passing yards in their rookie year; only three have surpassed 3,000 yards, and all were in the past four years.
Six of the QBs listed have earned a passer rating greater than 75, and four of them were in the past four years.
Five QBs on the list have thrown for 13 or more touchdowns, and four of them in the past four years.
Yes, Tannehill came from a spread offense, but keep in mind that many of the quarterbacks on the list were also in a spread offense in college. We saw last year with Cam Newton and Andy Dalton how an offense can be tailored to a college quarterback. Perhaps the Dolphins will do the same with Tannehill.
There is one alarming note, though: of the eight quarterbacks drafted in the top 10 between 2003 and 2007, four will be starting in 2011 and three of them will be starting for the same team that drafted them.
The quarterback position as a whole–but especially among those drafted in the top 10–tends to be hit or miss.