NBA Rumors: Signing Andrei Kirilenko Won't Lure Deron Williams to Brooklyn
May 3, 2012

Could Andrei Kirilenko be on his way to join the Brooklyn Nets and potentially become Deron Williams' newest teammate?
Where there's smoke, there can often be fire, and this isn't the first time we've heard AK-47 being linked to the Nets.
Although Kirilenko has spent this season playing for CSKA Moscow in Russia, the versatile forward may very well have eyes for a potential NBA return next year.
Twitter caught fire on Wednesday when Wendell Maxey, a freelance journalist based in Germany, passed along the news that Kirilenko and the Nets had a three-year verbal agreement in place.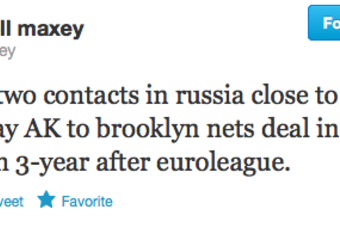 That report was quickly refuted by both Nets beat writer Stefan Bondy and Zach Lowe of Sports Illustrated, but that doesn't mean there is nothing brewing between Kirilenko and the Nets.
Back in December of 2011, just 10 days before the regular season began, Yahoo!'s Adrian Wojnarowski reported that the Nets were "trying to close deal" with Kirilenko.
Again, there is a lot of smoke here.
Maxey elaborated on his initial report with the following:
A third person based in Moscow and familiar with Kirilenko's relationship with CSKA and the Nets -- thanks to the storied history between the 31-year old free agent and Russian owner Mikhail Prokhorov -- confirmed friendly talks between the two-sides are on-going and appear imminent.
As Maxey notes, Kirilenko is very familiar with Prokhorov.
Back when the Nets had delusional visions of landing Carmelo Anthony, the New York Daily News reported that Kirilenko and Prokhorov have dined together in Russia, and that he had been on the team's free-agent radar.
It's entirely possible that Kirilenko does wind up back in the NBA next season, but is D-Will really going to make his free-agent decision based off of that factor alone?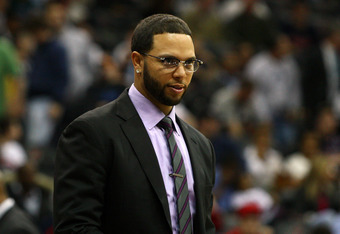 Chris Chambers/Getty Images
That is unlikely.
Here's the thing: general manager Billy King is spread out.
He's got an incredibly busy offseason ahead of him.
After his team moved into its new Brooklyn digs, King said that he wants to re-sign Gerald Wallace to a new multi-year contract as well as bring back impending free agents Kris Humphries and Brook Lopez.
Oh, and there's just the small matter of re-signing Williams to a maximum contract.
No big deal, right?
Something isn't adding up here.
Bringing back Lopez is a no-brainer. He's expressed his desire to remain with the team, and the young center, who is a great offensive talent, is eager to prove that last season's injury-plagued campaign was just a blip on the radar screen.
A three-headed monster of Kirilenko, Wallace and Humphries sounds good to some in theory, but not if it comes at the expense of losing Williams.
All three are talented players, but is Williams' decision going to be based on the personnel moves at all?
Williams told Yahoo!'s Marc Spears earlier this season that if Dwight Howard had been traded to the Nets, it would have "definitely changed things."
How would they have changed? "I've already made it known that if he (Howard) would have come I probably would have stayed," Williams said.
Read into that what you will, but that certainly sounds like someone who is eager to explore his opportunities.
"I want to win. I'll be 28 when I sign this next deal. I have to look for the best situation for me," Williams told Spears.
Kirilenko signing in Brooklyn isn't going to change Williams' point of view.
He's going to do whatever he feels is the best decision for him regardless of Kirilenko's status.