Newcastle vs. Manchester City: Biggest Match of the Premier League Season
May 3, 2012

Alex Livesey/Getty Images
Forget what they told you last week about the Manchester derby—this is the biggest match of the Premier League season this year.
When Manchester City travel to Newcastle United, both title aspirations and Champions League dreams are on the line. They are without doubt the two form sides of the league, and will rightly stage out an enthralling match on Sunday.
Newcastle have now won seven of their last eight, with a recent 2-0 victory over Chelsea at Stamford Bridge a sign of where their current form is at. They have taken points off Manchester United, Arsenal and Tottenham as well this year, and certainly won't be out of their depth when the league leaders come to town.
The Toon are currently in a battle for Champions League qualification for next season and considering that their fourth spot may be vacated for Chelsea, finishing as high up the ladder as they possibly can is of the utmost importance.
Sitting on the same number of points as Tottenham, and just one point behind third placed Arsenal, Newcastle are in a great position for European glory next season—points at home would be a huge boost for them heading into the final round.
For Manchester City, they've somehow clawed their way back to the top of the English Premier League after they'd seemingly given it all up. Consecutive draws to Stoke City and Sunderland, as well as a loss to Arsenal the following week, had placed rivals Manchester United eight points clear atop the standings.
But with the recent shortcomings of the Red Devils, City have pounced and on the back of four straight wins, have catapulted their way back to the No.1 spot.
Their most recent win over United sees them level with Sir Alex Ferguson's men in terms of points, with City's superior goal difference handing them the overall lead. United face Swansea and Sunderland in their final two matches, thus making three points here for City an absolute must.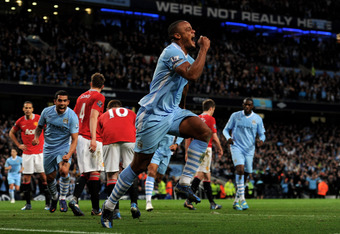 Michael Regan/Getty Images
The equation for the Citizens is simple: win both matches and you win the Premier League.
As I said, it's the biggest match of the league, as two sides with different aspirations meet in the second-last round of the season. Both have everything to play for, and both have everything to lose.
The real key question is to whether Manchester City can put together an impressive performance on the road—something they've struggled to do at times this season.
Their troubles away from home have been well-documented but with losses to Arsenal, Chelsea, Everton, Sunderland and Swansea, the argument is both justified and correct. Throw in to that mix draws to Liverpool, Fulham, West Bromwich and Stoke City, and the statement becomes even clearer.
In fact, Manchester City hasn't beaten any team ranked fifth to 13th on the league table away from home—they haven't recorded a single win in any of those eight matches.
Compare this to their form at the Etihad, and the difference is clear—the Citizens simply aren't as good a team away from home as they are at home.
They've scored 16 less goals and conceded almost double compared to their home numbers—failing to score in over a quarter of their away matches this season.
Away from home, Manchester City doesn't inspire a great deal of confidence, and perhaps rightly so.
On the other hand, Newcastle United have been dominant at home and haven't lost at St. James' Park since they were beaten 3-2 by West Bromwich Albion on December 21, 2011.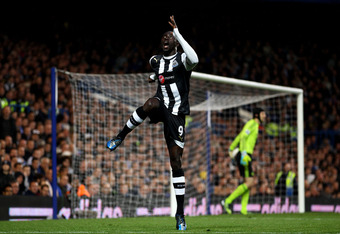 Julian Finney/Getty Images
They've kept a clean sheet in exactly half of their home matches this year and are averaging just 0.83 goals allowed per game—numbers that will no doubt be tested by the offensive strength of Manchester City, who boast the likes of Sergio Aguero and Carlos Tevez.
For the hosts, the key rests in their defense duties, which they have performed so well at home this season, as well as the play of Demba Ba and Papiss Cisse. They have scored 29 goals between them in just 41 combined appearances. Whilst Ba isn't scoring at the rate he was earlier in the season, Cisse certainly is, with the striker netting 11 goals in his last eight matches for the club.
The Citizens' defense can open up on the road, and if that's the case, expect the Newcastle duo to exploit it successfully and give the home side the win. If Manchester City remain disciplined, however, this one could go down to the wire.
This match is without doubt the biggest match of the year.
Granted it's only because of what transpired last week, but for both teams, this is the game that will either make or break their season and the dreams that follow.
I think Newcastle will hold the Citizens early, but succumb just before half-time to an Aguero strike.
However, buoyed by the home fans, the Toon will strike in the second half to tie the match, which is where it will stay.
Should be one incredible match.


Prediction: Newcastle 1, Manchester City 1
Read more articles by Dan here—or Follow @dantalintyre