2012 Dallas Cowboys: After a Busy Offseason, Are the Cowboys Contenders ?
May 3, 2012

Tom Pennington/Getty Images
When you look at the past few seasons for the Dallas Cowboys, it's hard to make the argument that they are a team on the brink of contention. If you ask Jerry Jones, I'm sure he would beg to differ on the topic, but the results don't match up to his logic.
So far, the Cowboys have enjoyed a pretty successful offseason between free agency and the draft. They've been able to upgrade the secondary with Brandon Carr and Morris Claiborne, have solidified the backup quarterback position with Kyle Orton and they appear to have found some players who can contribute at other positions of need such as Dan Connor, Nate Livings and Mackenzy Bernadeau. 
With a lot of accomplishments in a short period of time, the Cowboys now must start the process of putting these pieces together in the Organized Team Activities (OTA) sessions and ultimately training camp. Hopefully, a lot of the good decisions that were made can translate into the right end product for the Cowboys.
But with such a busy offseason of activity and renewed optimism, are the Cowboys ready to emerge from middle-of-the-pack underachievers to the NFL's upper echelon ?
In an era of the NFL where getting hot at the right time means more than being the No. 1 seed, it's an easy concept to ask, "Why not us?" That may very well be the case, but let's take a closer look at why the Cowboys may be closer to contention.
1. The Cowboys appear to have landed another solid draft. We know for sure that Claiborne will be one solid starter, but players like Tyrone Crawford, Kyle Wilber, Danny Coale and James Hanna could all turn out to be solid situational players with starting ability.  
2. Jason Garrett seems to have put his stamp on this team in terms of talent evaluation and selection of players. His influence seems to be very visible, and he has won over Jerry Jones. While I don't feel the Cowboys have the level of depth that other teams have, it's starting to feel like the organization has one singular goal in mind in retooling the roster.
3. The upgrades the Cowboys were able to make to the roster have already seemed to re-energize the team and the fanbase. You can't help but notice the change in attitude and the feedback from guys like Brandon Carr talking about solid workouts. Morris Claiborne, I feel, has already made an impact on this team just by his press conference where he talks about being ready to go to work.
4. The past few drafts and really since the firing of Wade Phillips, have brought a commitment to getting younger and faster. Even if some of the free agents ultimately become stopgaps until next offseason, the Cowboys have better talent from a year ago. It's really hard to completely rebuild a team in an offseason or two, but the Cowboys seem to be adopting a philosophy and a better overall plan going forward.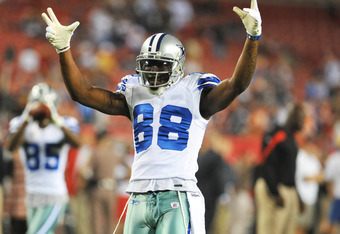 Al Messerschmidt/Getty Images
5. While the NFL was embroiled in a lockout last season, the players ultimately suffered the most. The Cowboys will be stronger and better conditioned as a result of having a full offseason of Mike Woicik's program. This could've contributed to some of those fourth-quarter collapses last year, and it could be the difference this season.

6. The Cowboys tried shutting down opponents last year with players like Frank Walker, Alan Ball and Terence Newman. Not only has their been a dramatic makeover, but Rob Ryan now has better talent to work with on the current roster. By adding Carr and Claiborne, many fans now want to see why Ryan was worth all the hype when they brought him to town.
To a certain extent, there is a lot of pressure on Rob Ryan this year to fully implement his scheme by having the benefit of a full offseason. I for one, don't want to hear from any players how they were "confused" at times and were not coordinated. Excuses are over and it's time to show up to the dance. I want to see Ryan's scheme wreak havoc on the NFL.
At this present moment in time, I'm convinced that the Cowboys are a playoff team. The schedule still poses plenty of challenges, and the NFC East will be even stronger than last year. I still feel like they are a 10-6 team that will have a lot to prove, and they need to have the ability to be successful in must-win scenarios.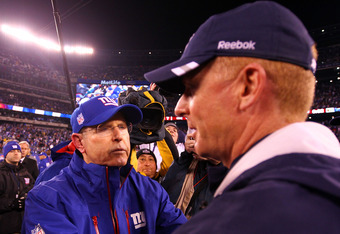 Al Bello/Getty Images
If the Cowboys are tired of their past results and are tired of watching teams sneak in the side door to Super Bowl glory, then they need to ask themselves, "Why not us?" To answer the question of are they contenders is an easy one to answer. It's up to them.