Jabar Gaffney Adds to New England Patriots' Low-Cost, High-Reward WR Battle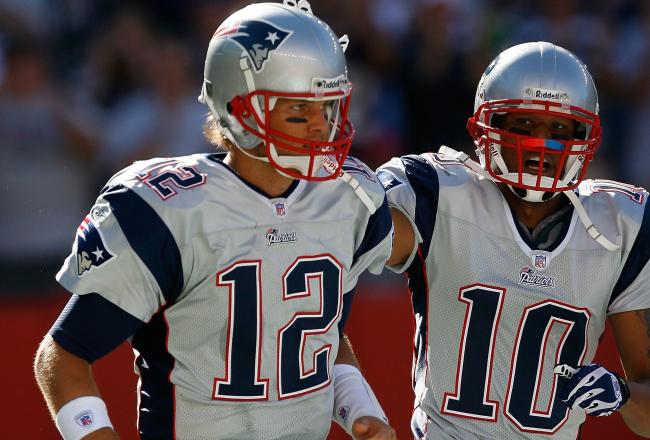 Jim Rogash/Getty Images
While many people felt that the New England Patriots should be in the market for a young wide receiver in the 2012 NFL Draft, not many prognosticated them to add even more veteran talent to an already seasoned group.
According to Josina Anderson of ESPN, the Patriots did just that by re-signing an old friend in Jabar Gaffney.
I wonder if he texted Tom Brady next.
It wouldn't be surprising: the two were very close when together with the Patriots, and Brady has banged the table for Gaffney in the past.
Jab could do everything well. I think that's his versatility. He's got good size, he's got long arms, he's got good speed, he's got good quickness, he plays every position, he's smart. He's just one of those guys that, from the day we got him here, he was just so reliable and dependable because he knew what to do and he did it well. You gain a lot of trust from the quarterback when all those things matchup. I was bummed when he went to Denver and I was bummed when he went to Washington and here we are playing them.
"Bummed?" Not a word we hear Brady use a lot.
That's okay, profess your love Tom; I've gushed about Gaffney, too.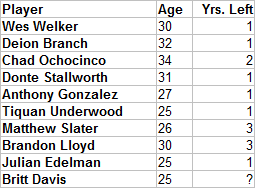 There's no denying that the Patriots are rather long in the tooth at wide receiver, with most of the receivers on their roster either over the age of 30, on a one-year deal or both. But one thing the Patriots would not have gotten in the draft that they get with Gaffney is someone who can quickly get on the same page with Brady.
Over the years, Gaffney became an ace in the hole for Brady. The two hooked up on two touchdowns in the 2006 postseason, and Gaffney made a miraculous catch on the go-ahead touchdown reception against the Ravens with just under a minute to play to help keep the Patriots 2007 undefeated season alive.
Gaffney's also proven himself a perfect fit for Josh McDaniels' offense. He had five straight productive seasons for McDaniels, hauling in 204 passes for 2,666 yards and 12 touchdowns.
But after putting up career highs in receptions, yards and touchdowns with the Redskins in 2011, where their quarterback situation was less than perfect, it's clear his chemistry with Brady and his fit in McDaniels' offense aren't the only keys to his success.
Speaking of McDaniels, it's pretty clear what kind of an impact he has had on the offseason strategy for the Patriots: a meteoric one. Just look at the list of veteran receivers the team has acquired this season.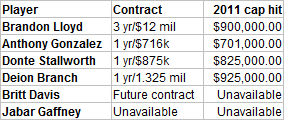 Info courtesy Rotoworld.com
The Patriots have created quite the competition at wide receiver, and didn't have to spend a lot of money to do it. The extra $7.2 million from Brady's
reworked contract
certainly helped, but it would be bad business to allocate too much of their resources in one position. With the possibility of paying
Wes Welker
$9.4 million in 2012, the Patriots are wise to invest in low stocks with high potential.
Stallworth, Gaffney, Lloyd and Gonzalez all have shown big time potential in the past, and if the Patriots can get anything out of one or more of those players, the investment has paid off.
They've thrown a lot of darts at the board. In that sense, I like their chances to hit a bulls-eye on at least one.
As an added bonus, if any of the players they've signed loses out in training camp, it won't cost the team much to part ways.
Now that's the Patriot Way.
This article is
What is the duplicate article?
Why is this article offensive?
Where is this article plagiarized from?
Why is this article poorly edited?