What to Expect from New England Patriots 2012 2nd-Round Pick Tavon Wilson
May 2, 2012

Jonathan Daniel/Getty Images
Bill Belichick did the unthinkable: He left Mel Kiper speechless.
Drafting a safety in Tavon Wilson, who Kiper had projected as a sixth to seventh-round prospect, will tend to draw such reaction. The shockwaves could be felt throughout New England as Patriots fans let out a collective, "Who?!" while stampeding like wildebeasts to their computers to Google all the information they could about the Illinois defensive back.
Whether or not he was worth the pick will be determined in time, but what should we even expect of a second-round safety anyway?
To create a baseline, we'll look at the safeties drafted between picks 38 and 58—10 spots before and 10 spots after where Wilson was taken, at No. 48 overall—since 2004 (the list includes cornerbacks, but I pared it down to just the safeties). The list is 17 long, which is a decent sample size to work with.
With that, here are some observations and trends on safeties drafted between those draft slots and some baseline expectations.
Rookie-year average: 12.9 games, 6.5 starts, 42.6 tackles, 0.4 sacks, 1.4 interceptions, 3.9 pass deflections and .8 forced fumbles.
Only four out of them have made the Pro Bowl at any point in their career. Jairus Byrd made one, Bob Sanders and Roman Harper have made two each and Nick Collins has made it to the Pro Bowl three times.
14 of the 17 were still in the NFL as of 2011.
13 of the 17 have been the primary starter (according to Pro Football Focus) for at least one year; seven of the 17 were the primary starter for three or more years.
Only Nick Collins started all 16 games as a rookie; five of the 17 started at least 10 games. One more, T.J. Ward, started half his team's games and every game he played before getting injured.
Ten of the 17 safeties played in every game.
The conclusion here is that while most safeties taken in the second round haven't lit up the stat sheet in their rookie year, almost all of them have been a steady presence on their roster for years.
Some solid safeties have been taken in the second round, including Ward, Byrd, Danieal Manning, Bob Sanders, Madieu Williams and, of course, Nick Collins. There have been a few who haven't met expectations, including Darcel McBath and Michael Mitchell, and Josh and Daniel Bullocks showed potential, but both played short careers in the NFL.
Early success isn't necessarily indicative of long-term potential, either. While Byrd, Manning, Williams and Collins all exceeded the aforementioned baseline rookie-year average, both of the Bullocks' did as well, but neither is in the league anymore. Likewise, Tyrell Johnson fell short  of those numbers and has been a steady presence at safety for the Vikings before signing with the Dolphins this offseason.
And now, for a look at the defensive backs the Patriots have drafted since 2003.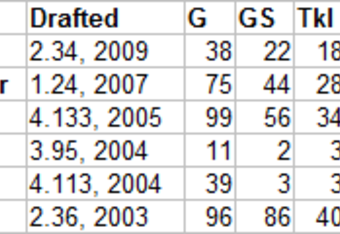 The Patriots have been hit-or-miss in the draft at the safety position, coming away with Patrick Chung, who is right on that border between good and great at safety, and James Sanders, whose veteran presence was sorely missed last year. Eugene Wilson was solid when he was with the Patriots as well.
Guss Scott, Dexter Reid and, of course, Brandon Meriweather are some of the less fond memories among the safeties the Patriots have drafted.
The Patriots are clearly hoping that's not the case with Wilson, and although the early expectations are fairly low, the Patriots can be excited about him if for no other reason than having a steady presence at safety.
After last season, that will be a welcome change.