Lukasz Podolski's Arsenal Arrival Is Similar to Cesc Fabregas's Departure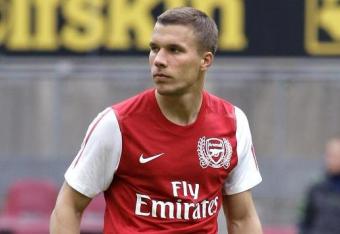 Eight years is a very long time. For Cesc Fabregas, an Arsenal player from 2003 to 2011 and team captain for just about the final three seasons, it was enough to instill an irreversible sense of devotion.
Speaking to Sky Sports News last December, Fabregas, who rejoined FC Barcelona ahead of the 2011-12 season (he had begun his footballing career in the acclaimed la Masia academy), said that if he were ever to leave the Catalan club in the future, it would only be for a return to Arsenal.
"Apart from Arsenal and Barcelona, I don't see myself playing anywhere else," Fabregas said. "I will definitely be going back (to Arsenal) whenever I have time to watch games and to see the guys, and you never know in the future, why not?
"If there is one place to go back to, it is Arsenal for sure."
Fabregas has called his decision to leave Arsenal the hardest one he ever made as a professional, and confessed that when he finally left the club last August, he nearly broke down in tears upon saying goodbye to manager Arsene Wenger.
It was Wenger, after all, who had brought him to London as an unproven 16-year-old starlet, and had helped form him into one of the most dynamic attacking talents in world football. The Frenchman's trust in Fabregas was so complete that he bestowed the captaincy upon him in the middle of the 2008-09 season, when he was just 21 years old.
That kind of memory sticks.
Fabregas never appeared to forget just how integral a role Arsenal played in his development. That humbleness has allowed him to sidestep the rampant criticism and vitriol that has been heaped upon Samir Nasri, who also left the club last summer but in a far less respectful manner.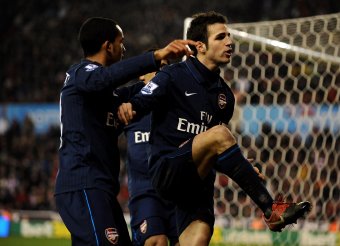 Laurence Griffiths/Getty Images
Fans may be called fickle, but that's not quite fair as an assessment. They always remember the true servants.
They recognized Fabregas's strength of character in the way he handled himself. The next time he makes an appearance at Arsenal, you can bet it will receive a similar type of reception once bestowed upon Thierry Henry when he returned to the Emirates with Barcelona in 2010.
It certainly won't be like this.
Thus, it should be heartening to Arsenal fans that the newest addition to the team, German forward Lukasz Podolski, is ready to depart FC Cologne in a similar manner to that of Fabregas.
Podolski's transfer to Arsenal was made official on Monday.
Podolski's roots with Cologne run deep, similar to what was seen with Fabregas and Arsenal.
He began playing football within the Cologne youth setup before making his senior debut as a 19-year-old in 2003. He spent a total of 14 years (1995-2002, 2009-12) with the West German side.
Listening to Podolski, it's readily apparent how much Cologne means to him. He wants to win trophies with Arsenal, but he will never forget the club that gave him his start in football.
Sound familiar?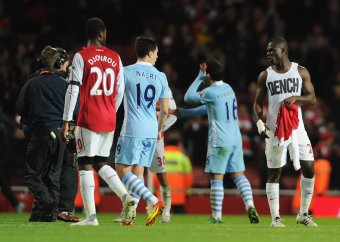 Michael Regan/Getty Images
"I also had offers within the Bundesliga, but it never was an option for me, because I would not want to play for any club in Germany other than Koln (Cologne)," Podolski said. "I would not have had the heart to do it.
"I can always imagine a return to Koln."
Fabregas would never have left for another Premiership club. The same went for Henry. Arsenal meant that much to them. Sometimes, football can transcend the business side of the game.
Arsenal fans won't have to worry about a potential Podolski return to Cologne for awhile (the 26-year-old signed a four-year deal with the club), but it speaks to his character that, like Cesc or Thierry, he will never bite the hand that helped him upon the path to greatness.
And if Podolski can imitate the since-departed Catalan in the heroics department—that super turn as a substitute against Aston Villa in December 2009, the throat-clutching celebration after scoring the decisive penalty against Stoke after Ramsey's gruesome leg injury in February, 2010, and so many others now resigned to the nebulous of memory—then he will be well on his way to saving some space for himself in the pantheon of Arsenal legends.
An encouraging thought, certainly.
(The formerly) Super Sam could take some notes in that department.
This article is
What is the duplicate article?
Why is this article offensive?
Where is this article plagiarized from?
Why is this article poorly edited?

Arsenal: Like this team?