Predicting the Brooklyn Nets' Starting Lineup for Inaugural Season
May 2, 2012

Chris Chambers/Getty Images
There has been a ton of hype surrounding the Nets' move to Brooklyn, and after the team's official logo was revealed earlier this week, many are already brimming with excitement about what it means for the long-term outlook of the franchise.
Although the major focus will be on what Deron Williams decides to do as a free agent, the Nets need to ensure that there is a competitive roster in place for the first season at the Barclays Center.
General manager Billy King has already said that he wants to re-sign Gerald Wallace, who was acquired at the trade deadline and is expected to decline the player option on his current contract for next season.
The team has Wallace's Bird rights, but that doesn't mean King won't be a busy man.
Although King wants to re-sign Wallace, D-Will, Brook Lopez and Kris Humphries, it's unlikely that there will be enough financial flexibility to accommodate all of those goals.
Incredibly, 11 of 15 players on this season's Nets roster are poised to become free agents, and the 2012-13 starting lineup might look a little different than some are expecting.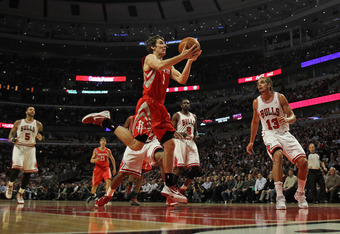 Jonathan Daniel/Getty Images
Point Guard: Goran Dragic
I understand that there remains some optimism about Williams re-signing with the Nets, but there is just one comment I can't forget about at this stage of the game.
In early April, Marc Spears of Yahoo! Sports talked with Williams, who gave a bone-chilling quote about where he stood with the club.
"I didn't ask to be here. I got traded. I didn't come here being a free agent. This is the first time that I'm a free agent in my career."
Dragic was miscast as a role player by some fans earlier this season, but his play for Houston while Kyle Lowry was sidelined tells a completely different story.
In 28 games as a starter, Dragic averaged 18.0 points, 8.4 assists and 1.8 steals, and he's going to make an impact on whatever team he signs with next year.
If D-Will bolts, Dragic is a fantastic "consolation prize."
Shooting Guard: Courtney Lee (R)
Lee has had a strange journey through the league in his first four seasons, and it's not often a player with his skill struggles to find a home so early in his career.
After being relegated to a reserve role in his first season with the Rockets and being subjected to inconsistent playing time, Lee filled in really nicely for Kevin Martin when the veteran shooting guard was hurt this season.
Averaging 14 points and 1.5 steals while shooting 40 percent from the three-point line, Lee established himself as a wing player capable of stretching the floor as well as making athletic plays around the basket.
He doesn't get a ton of love for being a solid foul shooter, but he's at 83.2 percent for his career, and that really shouldn't go unnoticed.
Small Forward: Gerald Wallace
The Nets gave up a prized first-round draft choice (top three protected) to nab Wallace at the deadline, and that is going to play a serious role in King's desire to bring him back for the future.
Although the veteran is seeking a multi-year deal, there aren't going to be all that many teams willing to pay the big bucks for a player who has an injury history and is set to turn 30 in July.
He has never played in a full slate of regular season games, but Crash was solid during his 16 games with the Nets and is the type who would be a nice fit for a youthful team looking to rise.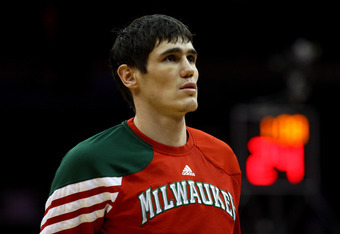 Chris Chambers/Getty Images
Power Forward : Ersan Ilyasova
Humphries has been a great source of production at power forward for the Nets over the last two seasons, but he's played his way into a lucrative multi-year deal.
Brooklyn is going to have major competition for Humphries' services, and it wouldn't be surprising to see him find a new home.
He'll be looking to cash in after averaging a double-double in two straight seasons, but Ilyasova is younger than Humphries and has a more versatile offensive game.
If D-Will departs, the Nets will have to improve the offensive approach, and Ilyasova exploded in a starting role this season with averages of 14.2 points and 8.9 rebounds per game.
Shooting 51.9 percent from the field and 47 percent from deep as a starter, Ilyasova would provide a dynamic that isn't currently present in the Nets' offense.
Center: Brook Lopez (R)
Yes, Lopez has problems rebounding the basketball. Yes, Lopez only played five games this season.
And yes, the Nets should still want him back.
Look—we're talking about a player who is a legitimate 7'0" tall and a real offensive talent in a game that doesn't have enough talented centers.
Before this season, Lopez played in every single game of his career and improved his ability to score the basketball in every year.
If the Nets can get him back on a multi-year deal, it'll likely be on a discount because he's coming off of an injury-riddled campaign.
There's a chance that Lopez simply accepts his qualifying offer and plays the season out on a one-year deal, but the Nets should be pushing for a long-term extension.
A starting lineup of Dragic, Lee, Wallace, Ilyasova and Lopez might not have the same "punch" as one that includes Deron Williams, but it's a far more talented group than the product the Nets put on the floor this year.
Hello, Brooklyn.