Kansas City Chiefs: Reviewing Scott Pioli's Draft History with Chiefs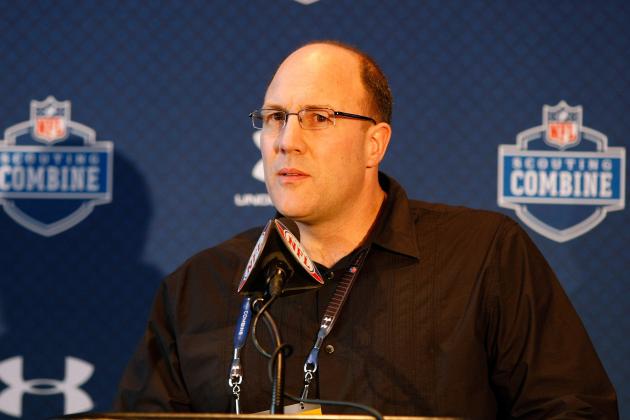 Scott Boehm/Getty Images

When the Kansas City Chiefs were seeking a new general manager during the 2009 offseason, Scott Pioli was receiving offers from multiple teams because of his ability to evaluate talent. Pioli spent a lot of time helping the Patriots put together a good team and eventually win three Super Bowls in the span of four years.
The Chiefs were able to bring Pioli to their franchise in hopes that they would turn their franchise around. Since coming to Kansas City, Pioli has been very active through free agency compared to previous general manager Carl Peterson.
However, when Chiefs fans thought they saw eye-to-eye with Kansas City's general manager on draft day, they were surprised to see how the Chiefs made their selections in the draft under Pioli.
Let's revisit all four of Pioli's drafts with the Chiefs and see what we think now.
Begin Slideshow

»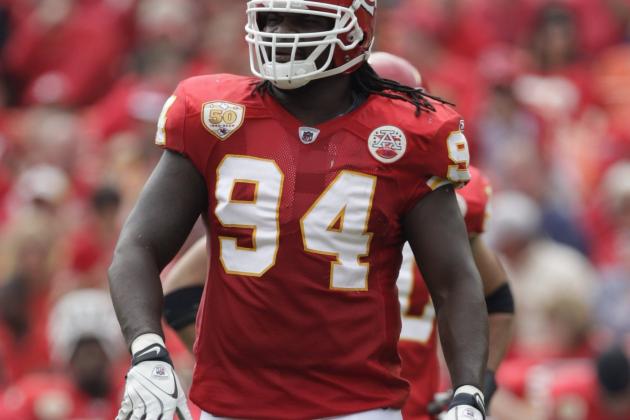 Jamie Squire/Getty Images

2009: DE Tyson Jackson
Tyson Jackson was the first player Pioli ever drafted. Jackson was taken third overall in 2009. Although he plays defensive end in the 3-4 defense, the Chiefs were heavily criticized for taking Jackson so high.
The Chiefs recently restructured his contract, as he has not fully lived up to their expectations.
2010: S Eric Berry
This could very well be the only first-round pick any Chiefs fan saw coming. Eric Berry was valued as an elite safety and had a phenomenal rookie season as he got a late invitation to the Pro Bowl.
Although Berry missed almost all of the 2011 season, he is still a fan favorite, as this pick is probably considered Pioli's best first-round option.
2011: WR Jonathan Baldwin
Jonathan Baldwin has tremendous talent and could help Matt Cassel a lot in 2012 as the Chiefs look to bounce back from a tough 2011 season.
Unfortunately, Baldwin was unable to showcase his skills during his rookie campaign. After missing the first five games due to an off-the-field injury, Baldwin started three games while playing in 11 as he caught 21 passes for 254 yards and one touchdown.
Fans and the media can make a fair assessment of him after he plays one full season with the team.
2012: NT Dontari Poe
It won't be easy to write about the 2012 draft picks since we don't know anything about them in regards to playing football in the NFL. What we do know is that Chiefs fans are not thrilled over the selection of Dontari Poe.
Chiefs head coach and defensive coordinator Romeo Crennel once coached Vince Wilfork in New England and knows a good nose tackle when he sees one.
First Round Overview
The more recent picks, like Poe and Baldwin, can't be judged, nor is it fair to label them as busts. Poe has yet to play and Baldwin missed a majority of his first training camp, which was crucial, affecting his rookie season.
On the other hand, Berry is in a similar boat, as he played only one season plus one quarter in 2011.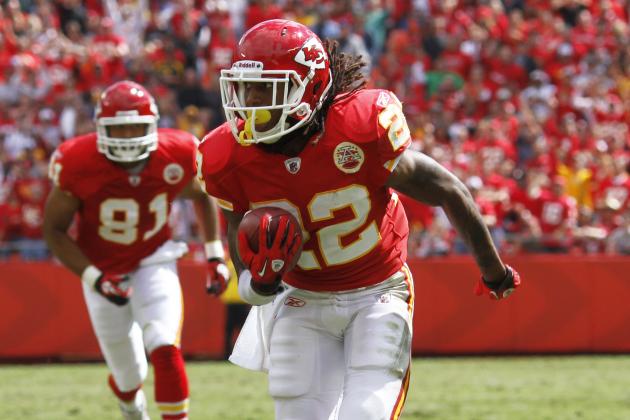 Joe Robbins/Getty Images

2010: RB/WR/KR/PR Dexter McCluster
Dexter McCluster lived up to the hype during his debut when he took a franchise-record 94-yard punt return back for a touchdown on Monday Night Football against the San Diego Chargers. Since then, McCluster has not scored another touchdown on special teams.
He helped the Chiefs in the rushing department last year, as he had the highest yard per carry average. His coaches know that he has rare talent because of his speed. McCluster needs to be able to use that speed to contribute on offense and special teams so the Chiefs can become a dynamic team.
2010: CB/KR/PR Javier Arenas
Pioli had two second-round picks and spent both of them on returners. This time, he went with a Javier Arenas. Arenas is more valued for his ability to play special teams rather than cornerback.
Arenas has done well as a punt returner while contributing as a nickel cornerback. Arenas finished ninth last season in punt return yards and had the third-highest punt return average among the top 10 punt returners in the league.
Arenas has improved defensively under Crennel and could continue to get better.
2011: C/G Rodney Hudson
Rodney Hudson started only one game last season at offensive guard and could be the team's new starting center. Hudson suited up for all 16 games in 2011, but did not get a lot of playing time.
The Chiefs will know more about Hudson throughout the 2012 season.
2012: OL Jeff Allen
Like Hudson, Jeff Allen is a versatile lineman and has the ability to play multiple positions at the offensive line. Allen's number could be called if a starter suffers an injury at some point during the season.
Second Round Overview
Pioli's investments in the second round have not gone as expected. After trading away a second-round pick in 2009 for Matt Cassel and Mike Vrabel, Pioli relied heavily on his 2010 second-round picks to shine.
McCluster has had his moments, but is not consistent, while Arenas is continuing to establish himself as a returner and cornerback. Now Pioli has gone after offensive linemen who are projected to start after their rookie seasons.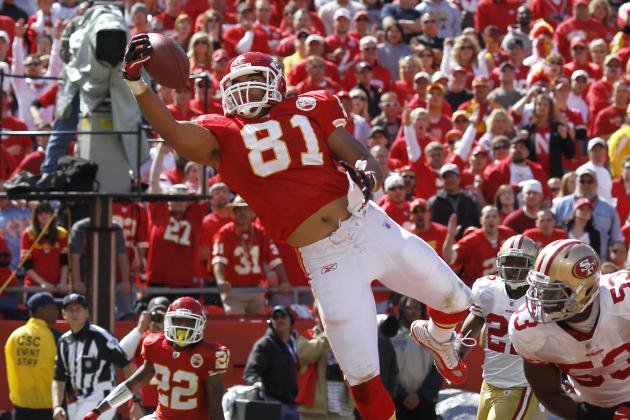 Joe Robbins/Getty Images

2009: DE Alex Magee
There is not much to say about Alex Magee. He was Pioli's second draft choice since taking over as the Chiefs' new general manager. However, Magee barely played while he was in Kansas City and was traded away during the 2010 season.
2010: G Jon Asamoah
Jon Asamoah started only one game during his rookie season in 2010. In 2011, the Chiefs released Brian Waters and that allowed Asamoah to become the starting right guard for the team. He started all 16 games in 2011, giving up three sacks.
Asamoah will be lining up next to right tackle Eric Winston this season and can give the Chiefs a better right side at the line.
2010: TE Tony Moeaki
Tony Moeaki's popularity rose after snagging a touchdown pass with one hand against the San Francisco 49ers. Moeaki missed the 2011 regular season due to injury and hopes to bounce back with Kevin Boss on the team.
If Moeaki can stay healthy, he can be very beneficial for the Chiefs.
2011: OLB Justin Houston
Justin Houston fell to the third round with some questions surrounding him, but he overcame those obstacles during his rookie season and helped the Chiefs become a better pass-rushing team.
Chiefs fans should be excited to see Houston and Tamba Hali team up in 2012.
2011: DE Allen Bailey
Allen Bailey got a little bit of action last season while rotating with the defensive ends as a backup. If Jackson is unable to live up to Pioli's expectations and if Bailey continues to make flashes, he may be given the opportunity to start late in the season.

2012: OL Donald Stephenson
Like Allen, Stephenson will spend some time behind a starter before he can get noticed. It could take some time before he gets the opportunity to get significant playing time.
Third Round Overview
Pioli has had better luck in the third round than he has in the second round so far. But it may not come off as surprising, since Pioli has had success finding good football players in later rounds of the draft.
Players like Asamoah, Moeaki and Houston are starting to take charge as they play a big part in helping the Chiefs win this year.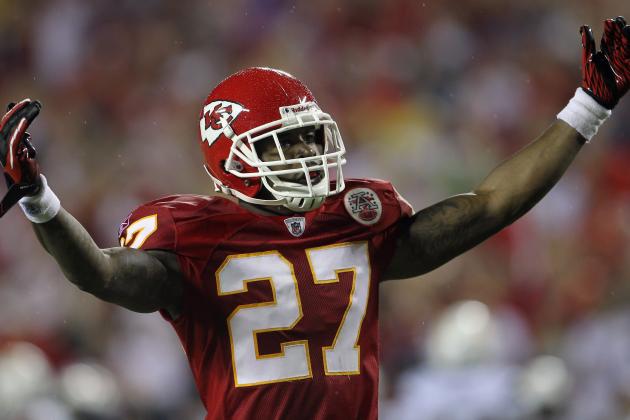 Jamie Squire/Getty Images

2009: DB Donald Washington
As a non-starter for the Chiefs, Donald Washington has played a little bit of cornerback and safety when having to fill in for an absent player. He has not been great and has allowed many pass-catchers get by him.
Washington will have to make a big impression in training camp to keep a roster spot.
2011: CB Jalil Brown
Jalil Brown had very little playing time in 14 games as a special teams defender and on defense. The Chiefs have added some depth at defensive back this offseason and Brown hopes to be part of that corps in 2012.
2012: WR Devon Wylie
The Chiefs have a lot of wide receivers this season and it will be interesting to see how Devon Wylie fits with Brian Daboll's offense in Kansas City.
The Chiefs will make room for Wylie and see what he can do with his speed.
Fourth Round Overview
As we continue to go each round, there is not much to make out of the players selected, which is typical for every team. The Chiefs have not had much luck with defensive backs in this round and on the other side of the ball, they are hoping they found a diamond in the rough with Wylie.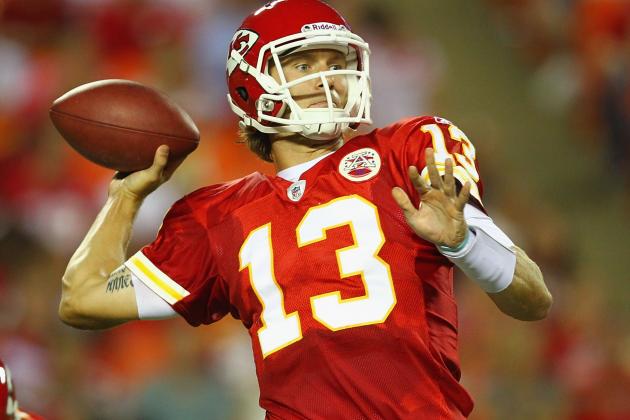 Dilip Vishwanat/Getty Images

2009: T Colin Brown
A lot of Chiefs fans were excited for this pick when they learned former Missouri Tiger Colin Brown was taken. But Brown suffered an undisclosed injury and was placed on injured reserve before the season got underway during his rookie season.
Brown was let go after the season.
2010: S Kendrick Lewis
Kendrick Lewis proved that he was better than a fifth-round pick after coming away with three interceptions during his rookie season while teaming up with another rookie in Berry.
Last season, Lewis stepped up and took more of a leadership role at safety with Berry's absence and came up with three interceptions and gained 116 yards off interceptions, finishing sixth in the league in yards returned.
2010: OLB Cameron Sheffield
Cameron Sheffield participated in the preseason as a rookie and suffered a huge concussion that forced him to miss his entire rookie campaign. Sheffield came back healthy and played in all 16 games as a backup.
It is uncertain what Sheffield's future holds after an impressive Senior Bowl before being drafted.
2011: QB Ricky Stanzi
Ricky Stanzi did not play a single snap during the regular season in 2011. The Chiefs signed Brady Quinn to a one-year deal this offseason, but want to keep Stanzi, hence why the team did not go after a quarterback in the draft.
If Stanzi gets the opportunity to play and make some strides, he could become the No. 2 quarterback in Kansas City if Quinn is not re-signed.
2011: OLB Gabe Miller
The Chiefs added Gabe Miller last season to create some competition among all of the outside linebackers other than Hali. But Miller did not play a snap in 2011.
2012: DB DeQuan Menzie
As always, there are no guarantees with late-round selections. As you can see from this list, the Chiefs have had all sorts of things happen with their fifth-round picks.
Usually, Pioli wants his draft picks to be part of the 53-man roster. It might be safe to assume DeQuan Menzie plays a little bit with the defensive backs this season and also contributes on special teams.
Fifth Round Overview
Everyone from Pioli's fifth round is panning out differently. A couple of the players who are on the team, such as Sheffield and Miller, might be fighting for a roster spot and will need a strong preseason to stay with the team.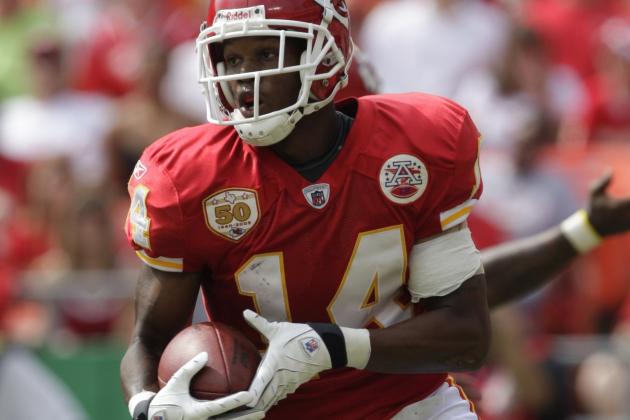 Jamie Squire/Getty Images

2009: WR/KR/PR Quinten Lawrence
The Chiefs were hoping to get some production out of Quinten Lawrence in the return game, but he was not useful and only had one catch with the Chiefs.
Lawrence is now pursuing an opportunity as a defensive back with the Miami Dolphins.
2011: NT Jerrell Powe
A lot of Chiefs fans were excited when Jerrell Powe was taken in the sixth round and they were hoping to see him start at some point. But with Poe now on the team, Powe's ceiling may be as a backup.
2012: RB Cyrus Gray
Cyrus Gray will be part of a big backfield with Jamaal Charles and Peyton Hillis. While Charles and Hillis will likely get over 80 percent of the load at running back, Gray hopes to be the team's top running back behind the two to help them move the chains and advance on offense, when given the opportunity.
Sixth Round Overview
The Chiefs could have a good backup in Powe, who has not played much. Gray might be a nice addition to Kansas City's depth at running back this season.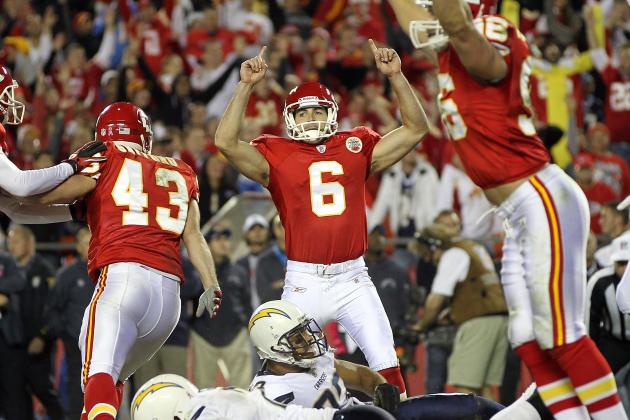 Jamie Squire/Getty Images

2009: RB Javarris Williams
Javarris Williams played a little bit in 2009 while backing up Larry Johnson and Charles, gaining six yards on six attempts. That is the only time Williams played for the Chiefs.
2009: TE Jake O'Connell
Jake O'Connell has survived and done well as a seventh-round pick. 2010 was a big year for O'Connell as a blocker when he prevented defenders from reaching Thomas Jones and Charles in order to help them finish first in the league as a team in rushing.
Out of the six tight ends currently with the Chiefs, O'Connell has a good chance to earn himself a spot on the team.
2009: K Ryan Succop
Ryan Succop was the last player selected in the 2009 NFL draft. While nicknamed "Mr. Irrelevant," Succop has been very relevant for the Chiefs in the past three years.
2011: FB Shane Bannon
Coming out of Yale, the Chiefs drafted Shane Bannon, but that was before the signing of Le'Ron McClain. Now that McClain is no longer in Kansas City, Bannon has another chance to make the team as a fullback after being on the practice squad for the entire 2011 season.
2012: DL Jerome Long
Jerome Long is one of 11 defensive linemen on the team. He knows he will have to work hard to earn himself a spot on the Chiefs' 53-man roster or the team's practice squad.

2012: WR Junior Hemingway
Due to the heavy load of 12 receivers on the current roster in OTAs, Junior Hemingway might start off on the team's practice squad. Until then, we may not know much about Hemingway.
Seventh Round Overview
Players selected in the final round of the draft usually do not tend to have long careers, by no one's surprise. Oddly enough, Kansas City's best seventh-round pick was the final player selected in 2009, Succop. Usually, going after a special teams player in the final or late rounds of a draft is a wise move. For the Chiefs, taking Succop was the right choice. Bannon might also get his chance to start with the fullback position wide open in Kansas City.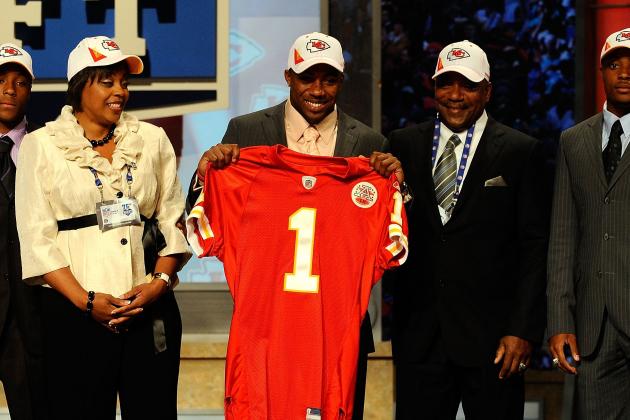 Jeff Zelevansky/Getty Images

1. S Eric Berry
Although he barely played in 2011, Berry made a big impact in 2010 and quickly was regarded as one of the best safeties in the league today.
If he manages to stay on the field in 2012, he could earn himself Pro Bowl and All-Pro honors as he tries to bounce back.
2. OLB Justin Houston
Houston stepped up in the second half of last season with 5.5 sacks, finishing second on the team. If Houston continues to help Hali provide a dangerous pass rush, Kansas City's defense could be one of the best in 2012.
3. S Kendrick Lewis
For a fifth-round pick, Lewis has done a lot for Kansas City at the safety position. Now that he has two years under his belt, he hopes that his third season will be his best.
He will have Berry back and the Chiefs pass rush is set to do big things to help out all of the defensive backs.
4. G Jon Asamoah
Asamoah has not made a name for himself in the league, but not many offensive linemen do since they don't accumulate notable statistics.
Asamoah's best statistic is giving up only three sacks and committing only four penalties in 2011 in his first full season starting at guard.
5. K Ryan Succop
Succop found a rhythm of helping Kansas City in 2012 when their offense was not at its best. After not being able to take the ball to the end zone for a touchdown, Succop was successful, connecting on 21 consecutive field goals.
The Chiefs hope their established kicker can carry this over after signing a five-year contract extension.
6. RB/WR/KR/PR Dexter McCluster
McCluster has a lot of potential and the Chiefs will need him to shine this season. McCluster has shown off his abilities a couple of times.
If McCluster can be consistent as a returner and come through in the passing game, he will help make the 2010 draft class look great.
7. TE Tony Moeaki
Like Berry, Moeaki did a couple of things in 2010 to help contribute to Kansas City's AFC West title run.
It's hard to remain optimistic about Moeaki's health, but if he stays on the field, he can be a dangerous tight end and give Cassel another weapon in the passing game.
8. WR Jonathan Baldwin
He may have a lot to prove still, but the decision to select Baldwin was a good one by the Chiefs in 2011.
The Chiefs are set up to have a good offense this season and Baldwin can play a big role in making that happen.
9. CB/KR/PR Javier Arenas
Arenas has had a couple of flashes on all three phases of the game. He has had some good punt returns, not letting defenders take him down easily. As a nickel cornerback, he improved in 2011 with two interceptions and two sacks.
As for offense, he has entered the game as a Wildcat quarterback and scored one touchdown on the ground in 2011.
10. DE Allen Bailey
Being drafted in the third round, Bailey contributed in the shocking victory against the Green Bay Packers.
Bailey took advantage of some of the absent offensive tackles and sacked Aaron Rodgers in the fourth quarter. The sack was a nine-yard loss on a third-down play. Bailey also helped occupy the substitutes at offensive tackle to allow Hali to get to Rodgers.