San Francisco 49ers Wide Receiver A.J. Jenkins: By the Numbers
May 3, 2012

Jonathan Daniel/Getty Images
Not many fans had A.J. Jenkins on the radar when the San Francisco 49ers made their first-round selection last Thursday.
In fact, he wasn't even included in my wide receiver preview article heading up to the annual event in New York City.
Of course, this doesn't mean that Trent Baalke and Co. made a horrible decision by selecting the former Illinois standout. It is more about a lack of knowledge in regards to his game and what he brings to the table.
Without attempting to fool anyone about my perceived knowledge of Jenkins, this article is going to crunch his collegiate numbers, specifically the 2011 season, for us all to get a better gauge of what he might be able to do as a rookie and moving forward.
Basic 2011 Numbers: 90 receptions, 1,276 yards, 14.2 average and eight touchdowns
Jenkins led the Big Ten in receptions, while finishing second to only fellow 2012 draftee Marvin McNutt in yards. His 14.2 average was right in the middle of the pack among the leading receivers in the conference last year.
Taking a Further Look and Drawing Comparison

Illinois compiled a total of 2,392 passing yards in 2011, which was among the worst in the conference. Jenkins represented 1,276 of those yards (53.4 percent). By comparison, Justin Blackmon represented just over 28 percent of Oklahoma State's receiving yards.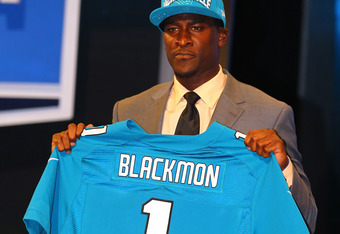 Al Bello/Getty Images
Total receptions (completions) is where it gets even more interesting. Jenkins' 90 receptions last season represented nearly 40 percent of Illinois total catches compared to Blackmon, who hauled in about 29 percent of Oklahoma State's passes.
Even more shocking is the fact that Jenkins represented over 28 percent of Illinois' total offensive output during the 2011 season, compared to 22 percent for Blackmon at Oklahoma State. This while Illinois threw the ball just 40 percent of the time compared to 58 percent for Oklahoma State..
What Does This Tell Us?
Illinois quarterback Nathan Scheelhaase was far from even a mediocre quarterback last season. He averaged 11.4 yard per completion and just 7.3 yards per attempt. Those numbers increased dramatically when the marginal signal-caller threw in Jenkins' direction (14.2 and 10.7 respectively). In short, Jenkins acted as Illinois' sole deep threat. 
Consistency was also an issue for the quarterback and the rest of Illinois' passing attack during the 2011 season. The second-leading receiver on the team behind Jenkins was Spencer Harris, who caught just 26 passes.
Defenses schemed to stop Jenkins, but were unable to for the most part. He recorded five 100-yard games, three against Big Ten opponents. In those games Jenkins represented an astounding 69 percent of their receiving yards.
This means that teams pushed coverage, often multiple defensive backs, towards A.J. Jenkins and were unable to stop him a majority of the time.
While some of the other top receivers in the draft had either an elite quarterback or some help on the outside, Jenkins was pretty much a one-man show. Teams were swarming coverage his way and the talented young receiver usually came away on top.
Conclusion
I am not too sure what to make of these statistics. One thing is for sure, they did help me further assess a player that I had not scouted too much during the entire draft process.
Jenkins is a hard prospect to gauge because of horrendous quarterback play at Illinois and the fact that they utilized a run-first scheme. He seems to have everything that you look for in a solid starting wide receiver in the NFL.
While the first round might have been a reach, there are also indications that a number of teams had the 2011 Big Ten receptions leader much higher than the mainstream media did.
Jenkins is going to be nowhere near the main target of opposing defenses heading into the NFL. Instead, they are going to focus a great deal on Vernon Davis, Mario Manningham, Randy Moss and Michael Crabtree.
Having the ability to face man coverage against nickel corners between the hashes might further magnify Jenkins ability to make plays on a consistent basis. I am pretty sure that Trent Baalke and Co. took everything that I noted in this article into account when making the decision to select Jenkins last Thursday.
Time will tell whether or not the risk will pay off.