Fantasy NASCAR Picks for the Aaron's 499 at Talladega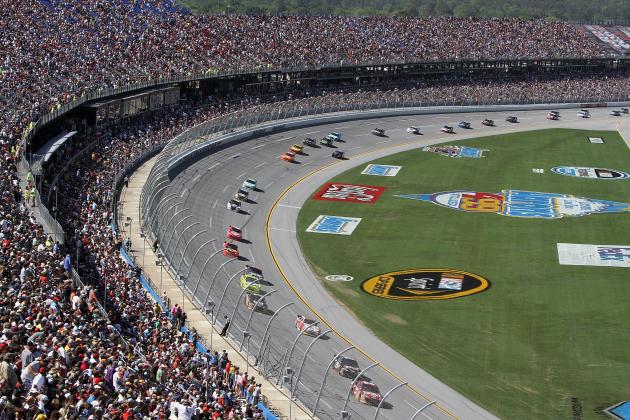 Jerry Markland/Getty Images

The NASCAR Sprint Cup Series will travel to Talladega Superspeedway this week for the Aaron's 499.
Most of the races are easy to handicap, but races at Talladega and Daytona are open to any driver in the field. Usually, fantasy NASCAR players would have as much luck throwing darts at a board to see which driver is going to win the race as they would analyzing a bunch of stats for the race.
My luck at the restrictor-plate racetracks has been better than most experts. My team scored 292 points at Daytona, and I plan to score near 300 points this week at Talladega.
I started Denny Hamlin, Mark Martin, Martin Truex, Jr. and Aric Almirola in the Yahoo Fantasy Auto Racing game. The lineup was good enough for 262 points (2,642 total points for the season) and kept my team in the top one percent of Yahoo Fantasy Auto Racing players (Ranked No. 498 overall out of 205,000).
I should have listened to my instincts and started Dale Earnhardt, Jr. and Kyle Busch at Richmond. I did not trust Busch because of his poor finishes in 2012, and I decided to save Earnhardt for the larger tracks. Big mistake!
Here are my picks for the Yahoo Fantasy Auto Racing game….
Begin Slideshow

»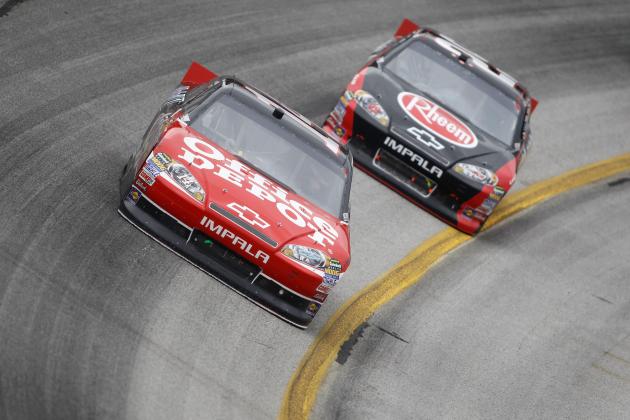 Todd Warshaw/Getty Images

My advice for races on the Superspeedways has always been to save your best drivers for the smaller racetracks. The races at Talladega and Daytona are determined by the driver lucky enough to be in the right place at the right time. Drivers cannot drive their way to the front of the field. They must rely on help from other drivers.
There are so many talented drivers in Group A that I would not worry about burning an allocation on a driver at Talladega. My philosophy is not the same for Group B or C.
This week, Yahoo Fantasy Auto Racing teams will be able to watch two practices on Friday before their teams must be selected on Saturday morning. Although practice times do not mean much at Talladega, it will still be good to take a look at the cars before selecting your team.
I will provide my picks in this article, but do not forget to head over to my Fantasy NASCAR Tips page on Facebook for all of the updated information. I will have my final selections for my team on Friday night. You can also see 11 other experts' picks for the race.
Here are my selections for the Yahoo Group A:
Kevin Harvick
Kevin Harvick is about as good as it gets on superspeedways.
In his 22 career starts at Talladega, Harvick has one win, six top-five finishes, 10 top-10 finishes and one pole. In the last four races at Talladega, Harvick finished four of the races in the top five.
Harvick is known as "The Closer" because he often races in the back of the field to avoid the big wrecks. As the laps elapse, Harvick makes his way to the front. At the end of the race, many fans ask, "Where did he come from?"
Anything can happen at Talladega, but Harvick is the safest pick in the field to finish strong on Sunday.
Tony Stewart is another driver who is very good at Talladega. In his career, he has finished half of the races he started at Talladega in the top 10.
Some drivers just know how to maneuver through the field and be in the front when the race ends. Stewart is one of those drivers.
Stewart usually does not qualify well at Talladega, but a driver's starting position does not mean much at this track. Stewart had the best car last week and has been hot for most of the 2012 season. I would not be surprised to see Stewart in victory lane for the third time on Sunday.
Other good picks: Kyle Busch, Jimmie Johnson, Jeff Gordon and Carl Edwards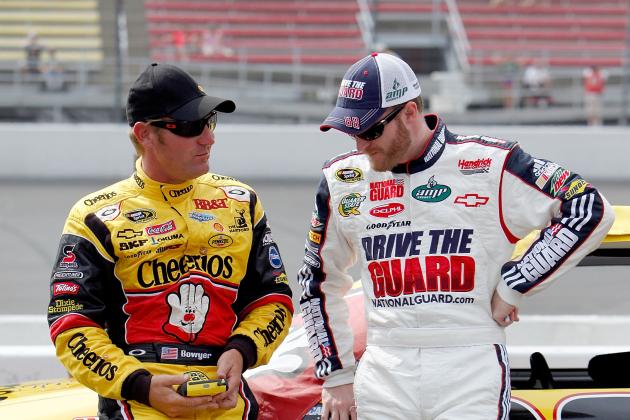 Jeff Zelevansky/Getty Images

Group B has many talented drivers. I would not suggest using Greg Biffle, Ryan Newman or Martin Truex, Jr. for your team this week. Each driver may have a good race on Sunday, but the risk outweighs the reward. There are much better racetracks to use those drivers on.
My philosophy for Group B is to pick some drivers who have had success at Talladega, but have not had a lot of success this year. There are many drivers who fall into that category. Usually, you can find a sleeper or two for your team after the two practice sessions on Friday.
Here are my selections for Yahoo Group B:
Dale Earnhardt, Jr.
Dale Earnhardt, Jr. is the best driver in the field at Talladega. I am starting to sound like a broken record, but I will say it again, "This could be the week Earnhardt goes to victory lane."
I thought last week would be the week Earnhardt would break his 138-race winless drought. He almost did when he finished the race in second place.
Talladega is one of Earnhardt's best racetracks. Many people thought his dad could see the air flow over the cars at Talladega. I think Junior has the same gift.
Earnhardt has five wins, nine top-five finishes and 12 top-10 finishes at Talladega. His average running position of 14.9 is the second-best of any driver in the field. Earnhardt has run 1,618 laps in the top-15 in his career, which is the second best of any driver.
Clint Bowyer
The second best choice for Group B is Clint Bowyer. Bowyer has quietly become one of the best restrictor-plate racers in the sport.
In the last four races at Talladega, Bowyer has two wins, a second-place finish and a seventh-place finish. No driver has been better than Bowyer in the last two years at Talladega.
Bowyer would be my pick to win the race if NASCAR would not have eliminated the dual-pack style of racing. The dual-pack racing that took place in 2011 was dominated by Bowyer and Harvick. Bowyer will still be good in a big pack. I look for him to hookup with Martin Truex, Jr. at the front of the pack on Sunday.
Joey Logano
I plan to use Earnhardt and Bowyer for my team, but I will also watch Joey Logano in Friday's practices. I would love to see Logano have a strong practice and qualify well so that I could save a start with Earnhardt or Bowyer.
Since I do not plan on using him much this year, this might be the perfect week to slip Logano into your lineup.
Talladega is one of Logano's best racetracks. In his six career starts at Talladega, Logano has two top-five finishes, four top-10 finishes and a series-best 14.3 average running position in the race. His average green flag speed of 192.222 mph is the second best average of any driver in the field.
Logano is a good choice for any fantasy team wanting to save a start with one of the more popular drivers.
Kurt Busch
The story with Kurt Busch is that he is one of the best drivers in the sport on the restrictor-plate racetracks. The problem is that his success has come when he was driving for much stronger teams. Now Busch is driving for a team without a sponsor and the resources he had at Penske Racing and Roush Fenway Racing.
Since the restrictor-plate will limit the amount of horsepower for each car, I think Busch has a better chance of performing well this week than he does at the smaller racetracks.
Busch has never won on a restrictor-plate racetrack, but he does have six top-five finishes and 13 top-10 finishes at Talladega. In his career, Busch has run a series-high 1,621 laps in the top-15.
I look for Busch to team up with Regan Smith and work their way to the front on Sunday.
Other good picks: Juan Pablo Montoya, Jamie McMurray, Martin Truex, Jr. and A.J. Allmendinger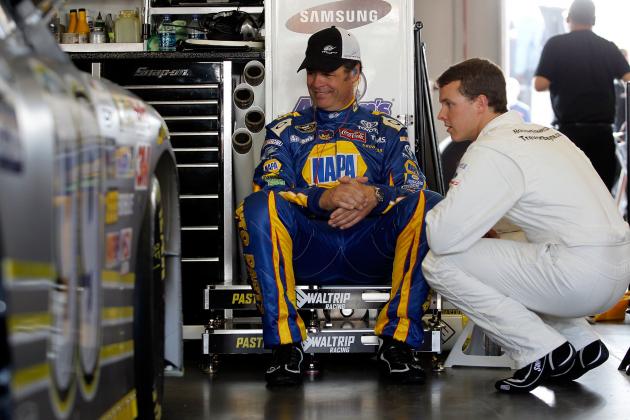 Tom Pennington/Getty Images

There are multiple drivers to choose from in Group C. Since any driver in the field has a legitimate chance of finishing in the top-10 on Sunday, many Group C drivers will come into play. I chose two drivers who will not be racing the entire season for my team this week.
Here are my selections for Group C:
Trevor Bayne
Trevor Bayne will once again be driving the No. 21 Wood Brothers car. The Ford horsepower that Bayne will have will be enough to allow him to qualify up front for the race.
Bayne has only raced two times in the NASCAR Sprint Cup Series at Talladega. In his first race, he crashed on lap 89 and finished the race in the No. 40 position. In his second race, he finished on the lead lap in the No. 15 position.
Bayne should be able to finish in the top-15 again on Sunday.
Michael Waltrip
Michael Waltrip used to be the king of restrictor-plate racing. That was a long time ago. It may be different this year. Each driver (Mark Martin and Brian Vickers) that has climbed into the No. 55 Aaron's Dream Machine has had success in 2012. We will see if Waltrip can keep the success going on Sunday.
Other good picks: Casey Mears, David Gilliland, David Ragan and Bobby Labonte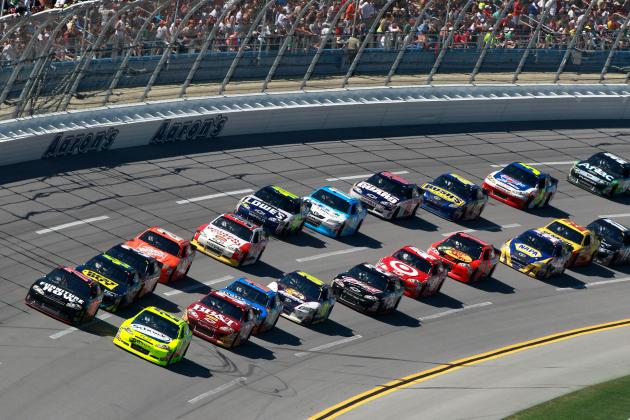 Jerry Markland/Getty Images

I gave up on the Fantasy Live game on nascar.com.
The game was advertised to have live scoring, so I thought I would give it a try this year. The live scoring never works, and as of Monday night, the scores from Saturday's race have yet to be posted. I will still post my team for Fantasy Live in this section to try and help each of you that are playing the Fantasy Live game.
Instead of dedicating this page to Fantasy Live, I will now post helpful stats and information about the track to help you pick your teams.
Talladega Facts
Last Sprint Cup race: Oct. 23, 2011 won by Clint Bowyer
Won from the pole: 13 times, last by Jeff Gordon in 2007
Won from top-five starting position: 51 times (60 percent)
Won from top-10 starting position: 62 times (73 percent)
Won from 21st or worse starting position: seven times (eight percent)
Wins by active manufactures in last 10 years: Chevy (five), Ford (two), Toyota (two), Dodge (one)
Best average finish and driver rating by active driver in last three races at Talladega

Clint Bowyer 2.75

110.9 driver rating

Kevin Harvick 10.0

86.1 driver rating

Martin Truex Jr. 10.25

79.3 driver rating

Denny Hamlin 11.0

79.4 driver rating

David Reutimann 11.25

84.8 driver rating

Carl Edwards 11.25

65.5 driver rating

Greg Biffle 14.25

72.8 driver rating

Juan Pablo Montoya 14.75

78.5 driver rating

Jeff Gordon 15.0

71.5 driver rating

Paul Menard 15.5

83.3 driver rating
* Driver ratings include: Finish, average running position, average speed and number of fastest laps
My Fantasy Live team this week is: Kevin Harvick, Tony Stewart, Kyle Busch, Clint Bowyer and Michael Waltrip
Good luck this week!
If you need any further advice with your team, look for me on Twitter @HuskerMagic.
If you like Fantasy NASCAR, LIKE my Fantasy NASCAR Page on Facebook: