Charlie Manuel's 10 Worst Managing Decisions of the Season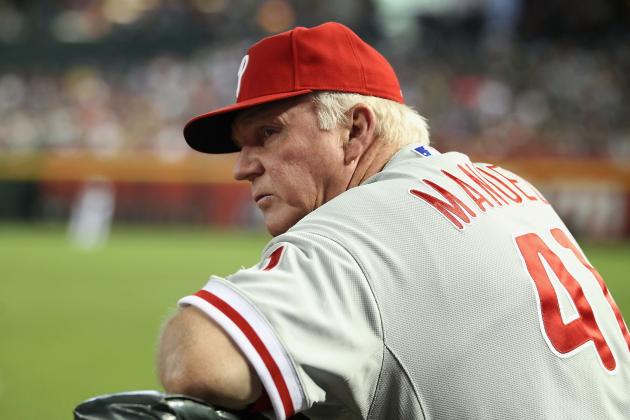 Christian Petersen/Getty Images

Charlie Manuel is a guy that players love to play for. He has a good feel for the pulse of his locker room, and that was on full display when he led the 2008 Phillies to a World Series title.
Not all of Manuel's in-game decisions, though, deserve the same level of praise as the rapport he has managed to develop with his players.
Charlie makes more than his fair share of questionable pinch-hitting substitutions, pitching changes and lineup choices. Here are his 10 worst decisions of the season so far.
*Special shoutout to the blog Charlie's Manuel, which evaluates Charlie's decisions each game and was very helpful in my research for this article.
Begin Slideshow

»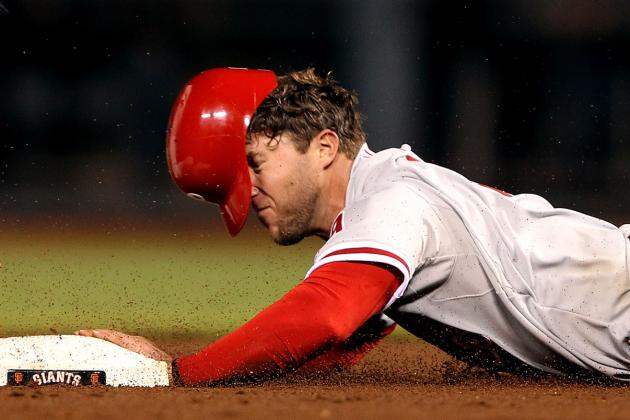 Ezra Shaw/Getty Images

In their second game of the season, the Phillies were in a close game with the Pirates. With the Phillies trying to go ahead in the top of the ninth, Laynce Nix came up to bat after Hunter Pence had drawn a walk.
Laynce Nix is probably only on the Phillies, and in the Major Leagues, due to his decent power against right-handed pitching, which is why it made no sense to have him bunt Pence over with the lower part of the order coming up. Plus, at that point, Nix only had four sac bunts in his entire career.
Unsurprisingly, Nix popped out when attempting to bunt, and the Phillies did not score in the inning.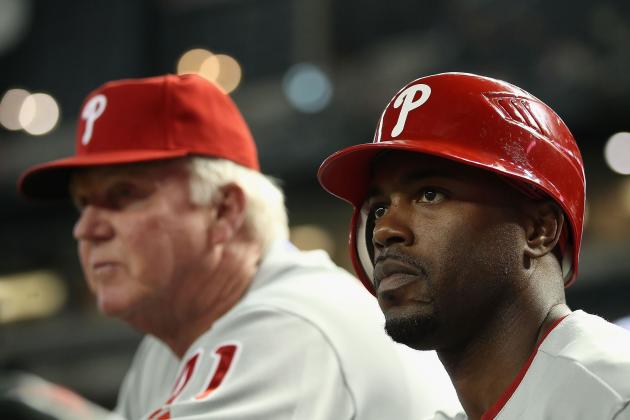 Christian Petersen/Getty Images

In another instance of a poor decision to sac bunt, Jimmy Rollins was asked to lay down a bunt in the first inning of the same game against the Pirates.
After the first two batters of the game reached base, Jimmy Rollins (the Phillies three-hole hitter) sacrificed the runners over. Having your three-hole hitter sacrifice batters over in the first inning makes no sense. That is supposed to be the best hitter in your lineup, and the guy you want to hit with runners on base. Plus, there was already a runner in scoring position, and it's not like the Phillies needed to push across a late-inning run to claw back; this was the first inning.
On top of that, J-Roll was batting as a lefty against a right-handed pitcher. Hunter Pence, who batted next, is right-handed.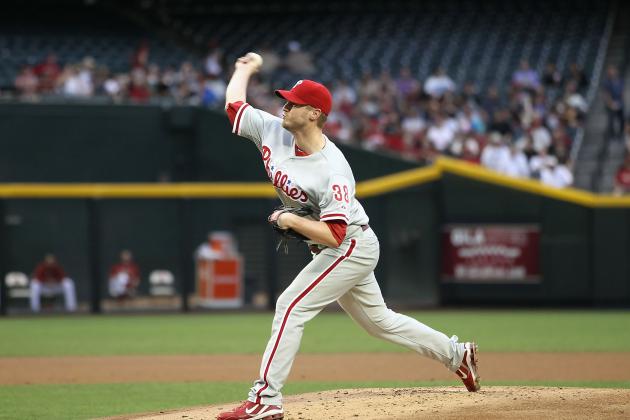 Christian Petersen/Getty Images

In a one-run game against the Pirates on April 8, Charlie Manuel turned to his most trusty setup man to get him through the inning: Kyle Kendrick.
Wait, what?
Kyle Kendrick just simply isn't that good. He's a guy who can be plugged in to a fifth starter spot and do a decent job, but he's not a set-up man. That situation is why the Phillies have players like Chad Qualls or Antonio Bastardo. Even using Jonathan Papelbon in that situation might have made more sense, but instead, he was just paid a ridiculous amount of money to warm up and not even get into the game.
Unsurprisingly, Kendrick blew the lead, and the Phillies went on to lose the game.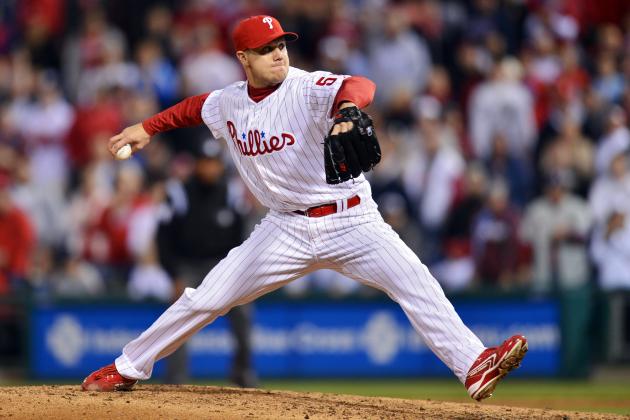 Drew Hallowell/Getty Images

In the Phillies home opener, Jonathan Papelbon pitched the ninth inning in a three-run game; however, it was the Marlins who were up by three.
Jonathan Papelbon is making an absurd amount of money. In order to earn that money, he should be pitching in as many high-leverage, high-importance situations as possible. This was a Mike Stutes or David Herndon situation, not a Jonathan Papelbon situation.
And to put him in just to get some work in this situation just highlights how poorly Charlie uses his bullpen. Papelbon could have been used in actual close games against the Pirates the past two days, but was passed over for superior late-inning relievers such as Kyle Kendrick and Joe Blanton.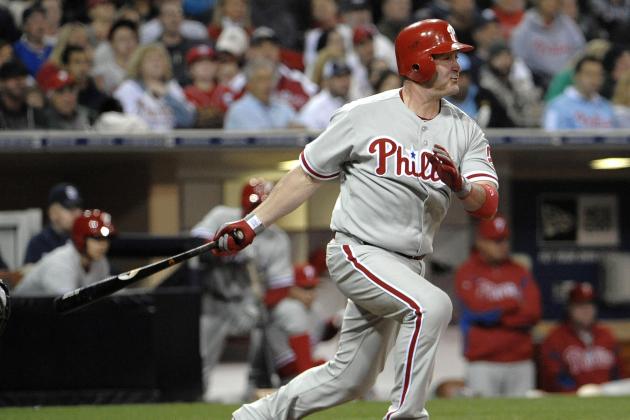 Denis Poroy/Getty Images

Brian Schneider is a bad hitter in general, but he's atrocious against lefties. He batted .125 against left handed pitching last season and .056 against southpaws in 2010.
Granted, he may be who Vance Worley is comfortable pitching to. But when you have Schneider, Galvis and Worley as your 7-8-9 hitters against a lefty, you're almost conceding three outs every time they hit.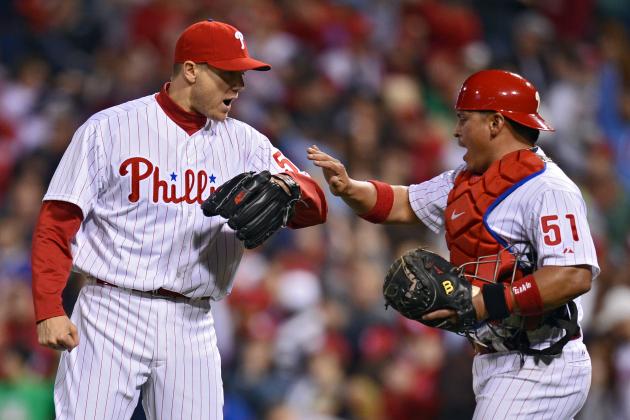 Drew Hallowell/Getty Images

Once again, Jonathan Papelbon is being paid millions and millions of dollars to nail down close games, not to be wasted during garbage time.
Papelbon threw 26 pitches in the ninth inning when the Phillies were already winning, 8-2. It's understandable to give a guy work when he hasn't pitched in awhile, and off days are coming up, but neither condition was in play. Papelbon had just pitched three days ago, and the Phillies were about to embark on a West Coast trip, where they would play 10 games in 10 days.
There is absolutely no sense in wasting Papelbon in that situation, especially when it might then cause him to be unavailable when needed on the ensuing road trip.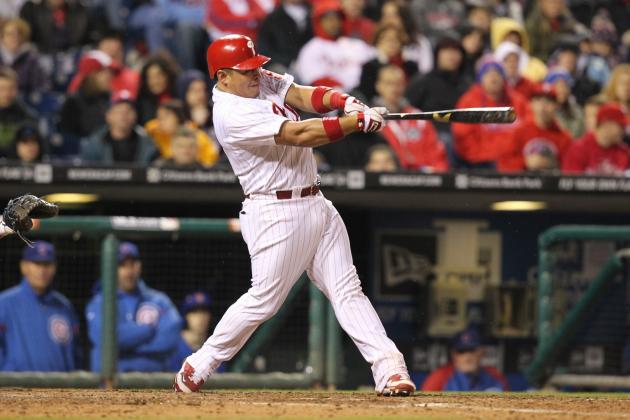 Hunter Martin/Getty Images

Considering how dismal the Phillies offense has been in 2012, there is absolutely no reason Carlos Ruiz should be batting seventh or eighth every night.
One of the few bright spots in the lineup, Carlos is hitting .313 with three home runs and four doubles. Among players who have consistently hit ahead of Ruiz this season are John Mayberry (.204 average) and Placido Polanco (.250 average, .292 slugging, really old).
Carlos is one of the few players on the Phillies who has actually been hitting well and who can get on base at a decent clip. Frankly, he shouldn't hit lower than sixth in this lineup and might be a better fit hitting second or fifth.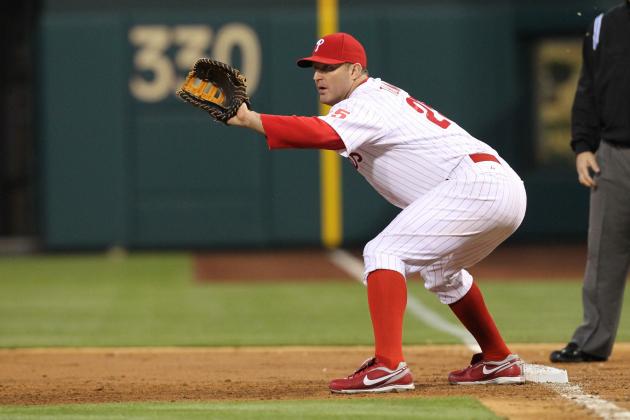 Hunter Martin/Getty Images

You may remember this game. Cliff Lee pitched something like 10 scoreless innings, got zero runs from his offense and lost.
There was a brief glimmer of hope in the top of the 11th inning, though. Carlos Ruiz doubled and was promptly sacrificed over to third base. Charlie Manuel chose to send in Jim Thome to pinch hit against right-handed reliever Sergio Romo, a decision which made sense.
However, when Romo was immediately taken out for lefty Javier Lopez, Manuel proceeded to stick with Thome.
It made absolutely no sense.
Too loyal to make the smart move, Manuel let Thome (who has hit .253, .241, .209, .233 and .196 against lefties in his past five seasons) hit against a reliever who has pitched much better against lefties than righties in his career, while he had John Mayberry, Jr. on the bench (who hit .306 against lefties last year).
Only needing a sacrifice fly to bring the run in, Thome struck out. That's what you get when you leave a 40-year-old player who has struggled against lefties throughout his career in against a lefty specialist.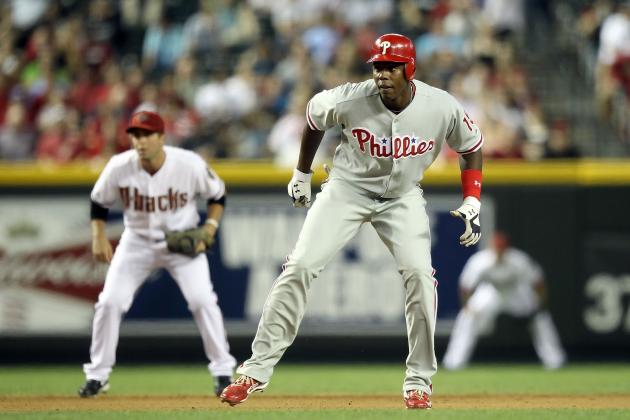 Christian Petersen/Getty Images

In the very next at-bat of the same game, still with a chance to take the lead, Manuel made another pinch-hitting blunder.
After failing to use Mayberry when he should have, Manuel then put John in to hit for Juan Pierre. The only problem was that Bruce Bochy promptly put a right-handed reliever in to face Mayberry; a move that pretty much everyone knew was coming.
So the choice was either Mayberry (.226 career average against right-handed pitching) against a right-handed pitcher, or Pierre (.305 career average against left-handed pitching) against a left-handed pitcher.
Naturally, Charlie Manuel picked the worst available option.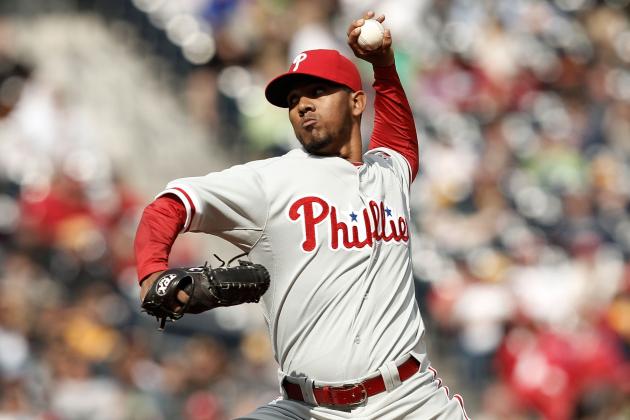 Jared Wickerham/Getty Images

After two pinch-hitting blunders by Manuel in the top of the 11th, the Phillies still had a chance to hold the Giants in the bottom of the inning.
Antonio Bastardo was called upon to keep the game going and proceeded to allow two runners to get on base.
Here was Charlie's chance to actually use Jonathan Papelbon in a situation that made sense. If you're gonna use your closer (who was just made the highest-paid relief pitcher of all-time), when you are down three runs and up six runs, surely you'd use him when you're trying to keep a tie game going in extra innings. Especially a tie game you want to win to get to .500 and don't want to lose for your starter who just pitched 10 scoreless innings.
Nope. Papelbon watched as Bastardo allowed the Giants to win the game. Instead of using his 50 million dollar closer in a highly-emotional, highly-contested game, Manuel let a guy who has had five or six good months in his major league career blow the game.