Detroit Lions Draft: Martin Mayhew Sticks to His Board, For Better or Worse
May 1, 2012

Brett Deering/Getty Images
The Detroit Lions once again utilized their best-player-available philosophy, and the grades for Martin Mayhew's efforts continue to roll in. But instead of blasting the selections with limited information, it would be better to reserve judgment, for now.
The Lions went into the 2012 NFL draft with seven selections and came out of the annual draftapalooza with eight potential additions to the roster.
There are varying criteria for what classifies as a "successful draft," but keeping all of their picks and adding an additional selection as they worked the phones was one of my personal appeals, so I have little to critique.
But the countless individual player grades that are coming in with below-average results have me scratching my head.
Most can agree the first-round selection of offensive tackle Riley Reiff was an unanticipated gift as the second-rated offensive lineman in the draft somehow fell to the Lions at 23. With an aging offensive line, it was the perfect value pick for a glaring need.
Some will argue David DeCastro, whom the Pittsburgh Steelers selected with the very next pick, was the better choice, but I'll have to disagree.
If Detroit continues to trend upward, or at least win more than they lose, the probability of getting a top-tier left tackle via the draft is minimal. Finding superior offensive guard talent at the end of Round 1 or into the second is much more feasible going forward and is why Reiff was the correct choice.
Either way, the Lions would have improved their offensive line and everyone should agree on that point; but it's the second-round selection where the pitchforks and torches came out for Mayhew.
When Barry Sanders announced Ryan Broyle's name, an immediate sense of befuddlement descended upon the Lions faithful.
A potential Thursday night selection if not for an ACL injury in November, Broyles had a tremendous NCAA career as a slot receiver as well as a punt returner.
The Lions took the injury discount and grabbed the slight wideout at the back end of the second round and now have a polished route-runner with great quicks and hands covered with Gorilla glue, and yet many still question the pick.
In 2008, with Donald Driver, Greg Jennings and James Jones on the roster, the Green Bay Packers used their second-round pick (36th overall) on WR Jordy Nelson.
How many cheeseheads were screaming at the television when Nelson's name was called?
An apparent luxury pick was the leading receiver of Super Bowl XLV with nine grabs for 140 yards and a touchdown.  The success of the unwanted selection continued in 2011 as Nelson led the Pack with 1,263 yards receiving and 15 scores.
Oh, and Nelson had a major knee injury in college as well.
Kudos to Mayhew for staying true to his board and taking a player who fits the system and could become indispensable when Nate Burleson hangs up his cleats.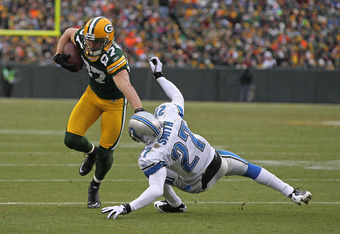 Jonathan Daniel/Getty Images
We all have something we lean on to execute our methodology and at times, it can become part of our persona.
Linus has his blanket, Pauly D has his Quikrete lettuce and Martin Mayhew has his draft board.
Mayhew's board probably didn't look like yours and may have produced some selections you question, but it also revealed selections to laud.
The Oklahoma tandem of Ronnell and Travis Lewis has stimulated little turmoil. Travis was a productive player in college and a solid value pick. Ronnell is a tweener having played linebacker in college, but he has pass-rushing skills that fit the DE spot in Gunther Cunningham's defense.
I like the flexibility he brings. The Lions' 4-3 defense became very predictable last year and having a player who can give the Lions' front seven a new wrinkle should pay dividends in the future. Plus, getting a player who goes by "The Hammer" should immediately help the special teams.
The Lions also used their draft weekend maneuvers to land three cornerbacks over the weekend, which is exactly what I suggested in previous articles.
Although none are blue-chip talents, Dwight Bentley, Chris Greenwood and Jonte Green all possess great speed and have measurables that could be molded into NFL talent.
Jim Schwartz was with Tennessee when they found Cortland Finnegan late in the draft and Cunningham was part of the brain trust in Kansas City when they unearthed Brandon Carr deep in the draft. Accordingly, both trust their ability to find defensive backs later in the draft and only time will tell if they got one right again.
Another pick that left fans slumping in their chairs was linebacker Tahir Whitehead. On the surface, he appears to be a lackluster selection, but the natural leader was a captain at Temple and has earned everything he has worked for, coming from the unwelcoming streets of Newark, N.J., and he's the type of glue guy I've discussed previously.
Without watching all the tape, talking to multiple collegiate coaches and speaking to the players themselves, giving a failing grade to a draft pick only days after the draft is without merit.
Are we experts in financial instruments because we watch Jim Cramer's Mad Money and have Wall Street on DVD?
Granted, it's fun to take a few bucks and invest on a hunch or preference, but ultimately your financial future is best served by professional wealth management.
In the same manner, prognosticating the draft can be equally entertaining. I indulged in the exercise several times before the draft, but I realize I have only a fraction of the information gathered by the Lions' scouting department and there are variables I ultimately am unaware of.
Why do you think Mel Kiper Jr. gives a draft grade of "C" or better to 29 of the 32 teams? In my opinion, it's because he has no idea how these players will pan out.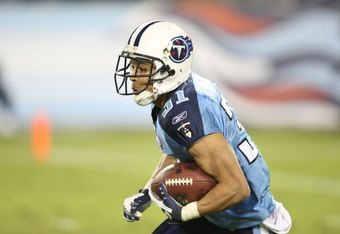 Streeter Lecka/Getty Images
No individual pick should receive a grade of less than "C" immediately following the draft. Each pick can be deemed no worse than average without integrating them into the organization and never participating in one NFL practice.
If you want to reprimand Mayhew, the focus should be on his previous drafts.
Derrick Williams is a proven bust and the Lions confirmed this by releasing him last year. Jason Fox has yet to play a down in the NFL, yet he was presented to us as the heir apparent to Jeff Backus.
Additionally, the selections of Jahvid Best and Mikel Leshoure have produced limited results while losing three draft choices in the process.
I would like to think that one of those picks could have been used for another offensive lineman, who, with a year or two of seasoning, might have been ready to step into the starting lineup and contribute.
Questioning the selections of past drafts is rational. We have NFL results to establish the worth of the selections, but handing out failing grades to Martin Mayhew and his staff without ever seeing the chosen in a Detroit Lions uniform is over-reactionary.
Be critical of the past draft snafus, but it would be best to forgo hapless valuation of this year's draft class until a later date, perhaps 2014.