Bold Predictions for Game 3 of Knicks vs. Heat Playoff Matchup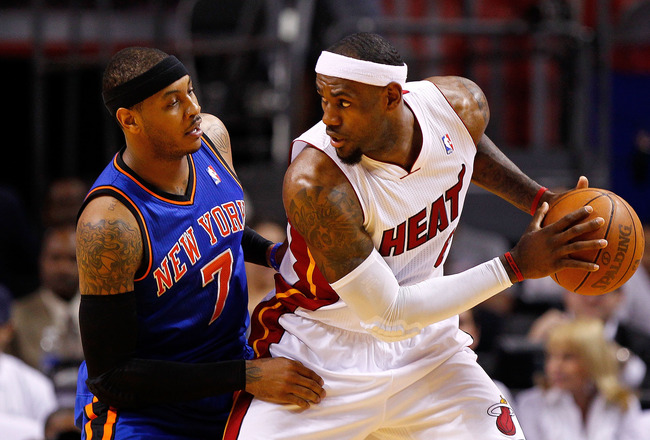 Mike Ehrmann/Getty Images
Let's be bold folks.
Let's go out on a limb, and look at four scenarios that, while certainly unexpected, have the support and stats to come to fruition in Game 3 of the Knicks vs. Heat first-round matchup.
Game 3 is more pivotal than it's being credited. The first game at The Garden, this one matters the most if the Knicks plan on not only winning the series, but actually being competitive in it.
With so many changing circumstances from Game 2 to now, it seems likely we will be in for at least a few surprises.
Knicks Make 10 or More Perimeter Shots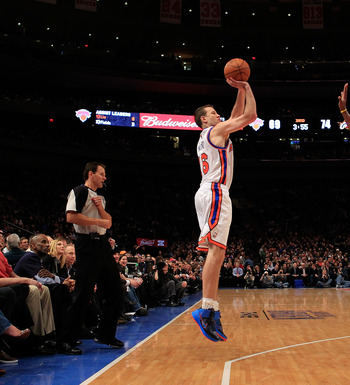 Chris Trotman/Getty Images
This only seems bold because the Heat's playoff defense has been great at shutting down the Knicks.
However, that doesn't change how great the Knicks' perimeter offense is, and there are a few advantages at play here to help jump-start it.
Miami typically has issues with perimeter defense. It's the big disadvantage to their defensive strategy. The team likes to trap players with the ball in a double-team that usually results in a bad shot or a turnover. It works great up until the trapped ball-handler passes out to a perimeter shooter who then converts the easy three.
It didn't happen in Game 1 because the Heat defense smothered New York into submission.
In Game 2, the Knicks' offense was rewired to give the ball to Carmelo Anthony early in the shot clock (avoiding an early double-team on the point guard) and essentially turned him into a point forward. For that, the Heat manned him one-on-one, allowing him to be the Knicks' primary bread winner with heavily-contested shots, while they countered with five sources of offense on the other end.
Game 2 was a forced adjustment, but Game 3 gives New York an extra day to prepare and make real adjustments. With the talent already there, an extra day to prepare and raised eyebrows over Melo's 26 shots to the rest of the starters' 30, the plan for Game 3 has to center around getting the rest of the team more involved if there is any chance for New York to win.
Chris Bosh Leads All Scorers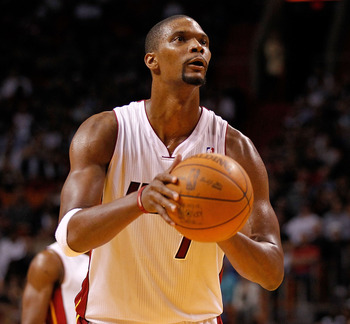 Mike Ehrmann/Getty Images
Game 1 went to LeBron James. Game 2 went to Dwyane Wade. Now, it's time for Chris Bosh to do some heavy lifting.
With Amar'e Stoudemire likely out for the series, there is a great opportunity for Bosh to get some advantageous matchups and open looks. If you take into consideration Bosh's 21 points on 7-of-12 shooting in Game 2, momentum should carry over nicely to help him along.
James and Wade are very good at keeping other players heavily involved in the offense and are often times dishing the rock to Bosh. It's not uncommon to see Bosh get the ball, pump fake and pass it up. However, between the momentum from Game 2 and a strategic advantage with Stoudemire in street clothes, Bosh should get the ball in his hands and have the confidence to do something with it.
This isn't exactly unfamiliar territory for Bosh, who led all scorers in the Knicks vs. Heat game back on February 23rd.
The Knicks Make More Free Throws Than the Heat Attempt
Chris Trotman/Getty Images
Even I have to admit this is pushing it. The Heat have had no problems getting calls at Madison Square Garden this year and, despite everything, the Knicks are still a jump-shooting team.
However, this is playoff basketball. Whether right, wrong or indifferent, Knicks fans are going to remember that and unleash their displeasure over any whistle they even perceive to be questionable.
That type of hostility and intimidation can loom over a ref and, whether intentional or not, it will sway the game. That's home-court advantage at its finest, and few crowds do it better than the mass at MSG.
This does hinge on the Knicks' aggressiveness, though. They will need to do more than attempt contested jumpers like they did back in Miami. J.R. Smith, Landry Fields and Steve Novak need to bait their defenders, Tyson Chandler needs to battle inside for contact and Carmelo Anthony needs to stop settling for jumpers.
If they play a bit more aggressive while the home crowd rattles the zebras, it's not impossible for the Knicks to pick up a majority of the game's free points.
The Streak of 12 Consecutive Playoff Losses Comes to an End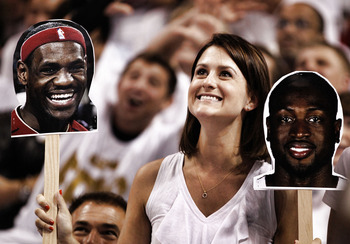 Marc Serota/Getty Images
Yes, this implies the Knicks win Game 3. But really, it isn't all that ridiculous.
Miami's biggest weakness over the last two seasons has been the constant tendency to fall into complacency. When they gain the advantage, the Heat, for whatever reason, grow relaxed. Certain games will make you scratch your head because the team on the court doesn't always match the same one pumping out highlight reels against tougher foes.
In last year's playoffs, every series had one of these games. Against the 76ers, it was the second away game after earning a 3-0 series lead. Against the Celtics, it was the first away game after earning a 2-0 lead. Against the Bulls, it was the first game of the series, which also happened to be an away game.
This has all the makings to be one of those games. The Heat are up two games on the Knicks, they are about to go on the road in a very hostile environment and, with all of the public attention Stoudemire's injury is getting, the Knicks appear to be at their lowest point.
This is about the time the Heat click the safety back on, lose their killer instinct and play in a way where they expect to win rather than trying to earn it.
The Big Three have brought a fun, entertaining atmosphere to Miami, but sometimes that lack of seriousness makes itself too evident on the court. It zaps their aggressiveness dry, and if the Knicks get ahead of them early, look for the Heat to doom themselves with poor shot selection.
Keep Reading