Knicks vs. Heat: Highlights, Twitter Reaction and Analysis for Game 2
May 1, 2012

Mike Ehrmann/Getty Images
It wasn't quite on the same level as their Game 1 blowout, but the Miami Heat once again easily handled the New York Knicks at AmericanAirlines Arena in Game 2 of their Eastern Conference playoff series, winning 104-94.
Carmelo Anthony fueled the Knicks with a great game, as he scored 30 points and pulled down nine rebounds. However, they just couldn't contain the Heat defensively. Miami shot better than 52 percent from the field.
Here's a look back at what this game was all about.
UPDATE: Amar'e Stoudemire reportedly injured himself after the game when he punched a fire extinguisher in frustration on his way to the locker room.
Tweets of the Night
Sports blogger extraordinaire Gus Ramsey did not approve of Carmelo Anthony's defense in Game 2:
Carmelo Anthony is to getting back on defense what Angelina Jolie is to eating. It happens, but not nearly enough

— Gus Ramsey (@GusRamsey) May 1, 2012
Condescending Wonka wasn't crazy about Steve Novak's defense:
Oh, Steve Novak is in the game? It must really be time for the Knicks to bear down on defense.

— Condescending Wonka (@SportWonka) May 1, 2012
Bleacher Report NBA lead writer Ethan Strauss pondered whether or not blatant flopping might be a good thing for LeBron:
What if better flopping enables LeBron to win a ring? Can't remember anybody giving that advice

— Ethan Strauss (@SherwoodStrauss) May 1, 2012
Good point, but I doubt people are going to stop complaining anyway. Because, you know, blame it on LeBron.
ESPN pitched in some slightly more obvious LeBron analysis:
FACT: It takes more than slap fouls to slow down LeBron James.

— ESPN (@espn) May 1, 2012
To which I say: O RLY?
Leave it to a New England guy to give the Knicks a proper ripping. Here's this from golf star Keegan Bradley:
Watching this heat v knicks series is such a waste of time.The Knicks are terrible!#celtics

— Keegan Bradley (@Keegan_Bradley) May 1, 2012
He's not wrong, you know.
Must-See Highlight
Check out LeBron throw down on a fast break just before the half:
For every epic win, an epic fail. Here's Dwyane Wade whiffing on a wide-open dunk:
Grades for Key Knicks Players
Carmelo Anthony: B+
'Melo didn't play great defensively in Game 2, but he deserves points for scoring a game-high 30 points on 12-of-26 shooting. He also pitched in a team-high nine rebounds.
He can't do it all himself, but he's trying.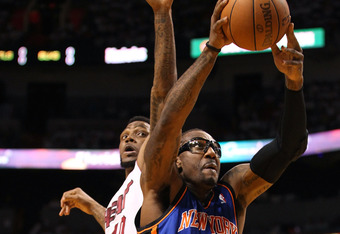 Marc Serota/Getty Images
Amar'e Stoudemire: C+
Amar'e Stoudemire was on the floor for 41 minutes in Game 2, yet he could only manage 18 points and seven rebounds. He hasn't been an impact player this season, and that tendency is alive and well in the postseason.
Grades for Key Heat Players
LeBron James: B+
LeBron didn't have an excellent game. At least, not by his usual standards. He scored 19 points on 8-of-18 shooting, adding nine assists and seven rebounds. Naturally, he also played very good defense.
Not a great LeBron game, but a pretty good one.
Dwyane Wade: B+
D-Wade led the Heat with 25 points, shooting 11-of-18 from the floor. He also added four rebounds, four assists, a pair of steals and a block.
I would give him a better grade, but that missed dunk, dude...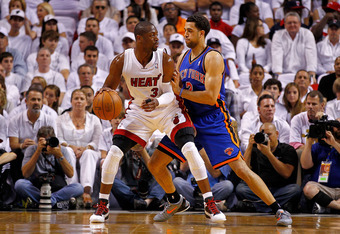 Mike Ehrmann/Getty Images
Game MVP: Dwyane Wade
LeBron had a very good game, but the game MVP has to go to D-Wade. He was far more active in Game 2 than he was in Game 1, and the Knicks basically didn't have an answer for him. Wade was all over the place.
What's Next
Game 3 is slated for Thursday in New York at Madison Square Garden. The game will tip off at 7:00 p.m. ET.
The Heat won in their only trip to New York this season back on April 15.