Brock Lesnar Attacks Triple H, Breaks His Arm: Is Match Between Them Imminent?
May 1, 2012

Monday Night Raw Starring Brock Lesnar began as a joyous event for John Laurinaitis and Lesnar. That would not last long, however.
What Happened?
Lesnar showed up in the ring and boasted, "The world got to witness first hand Brock Lesnar bringing the pain." Although Lesnar lost, it seemed like a celebration for him at the beginning of Raw on Monday night. 
The party ended when Triple H appeared and told Laurinaitis that he did not have the authority to grant Lesnar any of the things that he demanded one week prior.
Triple H began to get to Lesnar when he told him, "If you want to take a limo back, on your dime, go for it...Your days of holding up the WWE are through."
Triple H told Lesnar that he wanted him in the WWE and that the WWE Universe wanted him in the WWE, "They want to see you in a rematch with John Cena, to see you face CM Punk, Randy Orton, Shaemus."
Triple H reminded Lesnar however, that "Nobody is bigger than the WWE." 
Laurinaitis refused to leave Triple H alone and kept pleading with him to allow Lesnar's needs to be met. Triple H told Laurinaitis to shut up and when he didn't comply, he turned to get in his face.
As he turned to Laurinaitis, Lesnar attacked Triple H from behind. Triple H was being assaulted by Lesnar but was able to fight back and get a few shots in on Lesnar. Lesnar would not allow it and got him to the ground and put him in a kimura.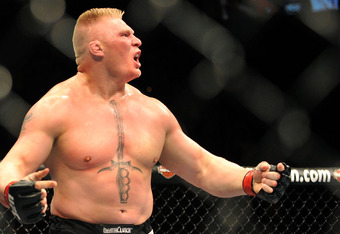 Jon Kopaloff/Getty Images
Lesnar applied torque and would not let it go until Kofi Kingston, R-Truth, The Big Show and Sheamus came to his aid, forcing Lesnar to scurry from the ring.
What It Means?
Lesnar is now on thin ice in the WWE but he is successively doing what he does best: bullying anyone and everyone that comes in his path.
It was reported during Raw that Triple H's arm was broken from Lesnar's assault.
It will be interesting to see when Triple H recovers from his injury and when he does, if he will be on a collision course to face Lesnar.
These two men are capable of putting on a classic fight and the WWE has to be excited to have the groundwork set for a feud between the two men.
Triple H will likely not allow this to end without a battle.