Philadelphia Phillies: Batting Juan Pierre 2nd Shows How Bleak Lineup Has Been
April 30, 2012

Hunter Martin/Getty Images
The inability of the Philadelphia Phillies to score runs has been one of the prevalent storylines of the 2012 season thus far. 
Just how bad have the Phillies been?
Heading into Monday night, Charlie Manuel's team has scored 70 runs. Even the San Diego Padres have scored more runs, playing their home games in cavernous Petco Park.
Only the Pittsburgh Pirates have scored fewer times, and their 49 runs make the Phillies look like an offensive juggernaut. If the Phillies were in the American League, they would be second to last in runs scored, behind the Oakland Athletics.
The lineup has been so bad that Manuel penciled Juan Pierre into the No. 2 spot on Sunday. Pierre signed a minor league deal with the Phillies in the offseason and beat out Scott Podsednik for the fifth outfielder spot. He wasn't added to the major league roster until the end of spring training. 
Did we mention Pierre hasn't batted as a No. 2 hitter since 2009? The Philadelphia Daily News' David Murphy pointed that out on Sunday. 
Pierre actually hasn't done so badly in that spot, however. He has nearly 5,500 fewer plate appearances batting second than at the top of the order. But his .293/.340/.349 slash line is similar to his numbers as a leadoff hitter. 
If anything, batting Pierre second might prevent him from trying to steal bases, something he's become increasingly bad at, judging by the number of times he's been caught stealing. (He was caught 17 times last season, which led the majors. And he's been gunned down in two out of five attempts this year.) 
Manuel tends to rotate different hitters in that No. 2 spot, but batting Pierre there is quite a step down from the likes of Placido Polanco, Chase Utley and Shane Victorino. 
Utley, of course, is unavailable. And because the Phillies need someone to bat in the middle of the order with Utley and Ryan Howard out, Victorino is needed far more there.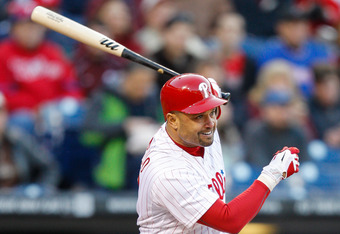 Brian Garfinkel/Getty Images
Polanco has been the quintessential No. 2 hitter over his career—and he's batting there Tuesday night against the Chicago Cubs—but he's struggled with injuries and questions about decreased bat speed.
His numbers have seen a steady decline since 2009, but a .239/.292/.269 slash line is far below what Polanco usually produces. 
Ultimately, this might be more about moving Jimmy Rollins back to the leadoff position, though. Batting him in the third spot was a disaster, so Manuel put him where he's been most accustomed, hoping it provides a jolt to his flagging production. 
That left Pierre to hit someplace else. With the numbers he's gotten from the others he's tried in the No. 2 spot, Manuel unfortunately may have no better option than to put Pierre there. 
Follow @iancass on Twitter