College Football 2013: Where Are the Top 10 QBs Headed?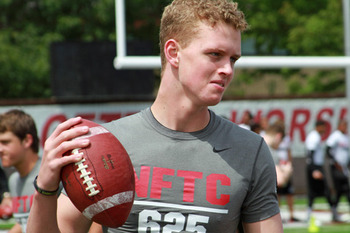 Photo By 247Sports.com
I figured I'd kill two birds with one stone here by tinkering with and updating my quarterback board while also telling you where each top-10 QB is going.
I've added and subtracted some signal-callers since the last time I did a top 10 overall QB list, so don't get confused with the dual-threat list I did last week.
Here is where the top 10 QB prospects for 2013 are headed.
10. Brice Ramsey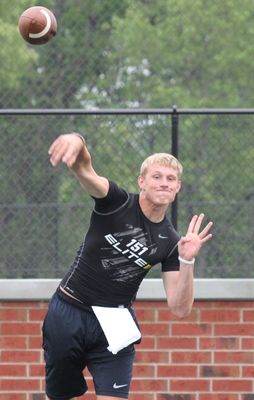 Photo By 247Sports.com
Ramsey is a 6'3", 195-pounder that has all the arm strength to make all the throws.
He'll get streaky with his accuracy and just light it up. He has a great deal of potential and is getting more and more polished.
Ramsey is headed to Georgia.
9. Chris Johnson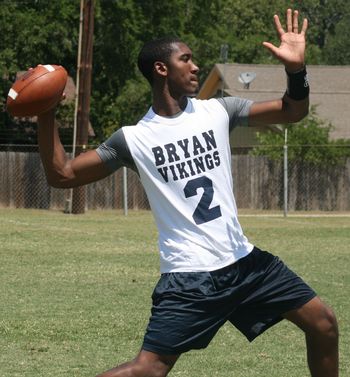 Photo By 247Sports.com
Johnson is a 6'4", 210-pound signal-caller from Texas. He is one of the top dual-threat types in this class and arguably has the most potential of any QB in the nation.
Johnson flashes good arm strength with some touch and lets his athleticism do the talking. He'll dazzle as a runner and escapes the rush with ease.
Johnson is committed to Baylor.
8. Kohl Stewart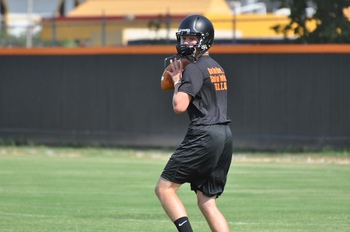 Photo By 247Sports.com
At 6'2", 195 pounds, Stewart gets by with having solid footwork, times and syncs up his play with his receivers and has great anticipation.
Stewart has great on-field instincts, adequate arm strength and good ball placement. He clearly has great field vision and deceptive athleticism.
Stewart is headed to Texas A&M.
7. Kevin Olsen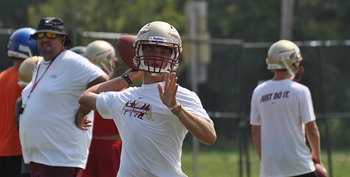 Photo By 247Sports.com
A New Jersey native, Olsen is the son of a coach and has a great knack for the game. He's very smart, instinctive and sees the whole field.
Olsen, at 6'3", 190 pounds, shows good moxie, above-average arm strength, accuracy, anticipation and touch. He's a solid athlete and can get outside the pocket to get out of traffic.
Olsen's top four are Auburn, Miami, South Carolina and Wisconsin.
6. Cooper Bateman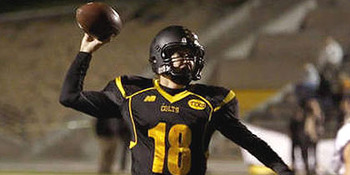 Photo By Scout.com
Bateman is a 6'3" QB from Utah who weighs nearly 200 pounds. Out of anyone on this list, he clearly has the strongest arm.
The football explodes out of Bateman's hand, as he can attack a defense from anywhere on the field to any level. He can place it well with some accuracy and also has some running ability.
Alabama, LSU, Auburn, Florida, Washington and UCLA are just a few to name.
5. Ryan Burns
Photo By 247Sports.com
Burns is a Virginia native that stands 6'5", 220 pounds. He's a classic pocket passer but also has quick feet to escape the rush in the pocket.
Burns will work through his progressions, survey the whole field and then use a strong arm, good accuracy, judgment and natural passing skills to deliver a strike to his target.
He's headed to Stanford, where I expect him to develop into a starter early in his career.
4. Christian Hackenberg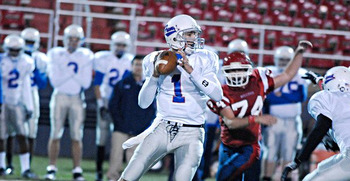 Photo By 247Sports.com
Hailing from Virginia, Hackenberg has some good football ahead of him.
He's a 6'4", 215-pounder with good arm strength who can play in the pocket and has good passing skills. His ceiling is high, and he fits in well in a pro-style attack.
Hackenberg is committed to Penn State.
3. Shane Morris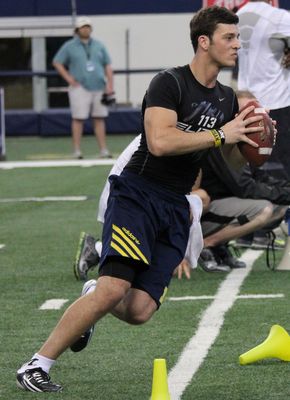 Photo By 247Sports.com
Morris is a sweet lefty from Michigan that stands in the 6'3", 190-pound range. He's pretty athletic for a QB and has good setup quickness.
Morris shows a gun for an arm and can get it out with quickness, and his accuracy is improving. He's already a rock star around Michigan and is the future starting QB for Big Blue.
He's headed to Michigan.
2. Tyrone Swoopes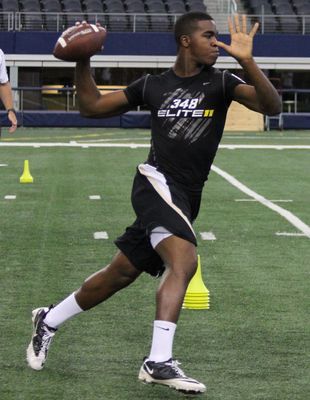 Photo By 247Sports.com
Swoopes is a 6'5", 220-pounder from Texas. He's the top dual-threat QB on the board for 2013 and is an elite athlete.
A playmaker, Swoopes' passing production is a bit behind his running production, but he has all the tools to become an equally dangerous field general. With a strong arm, quick feet and a willingness to learn and be coached, the sky is the limit for Swoopes.
He's committed to Texas.
1. Max Browne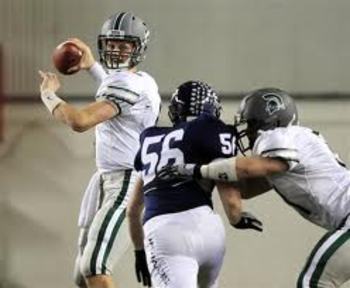 Photo By Seattle Times
Browne is a Washington native and is the top QB prospect in the nation for 2013.
At 6'5", 210 pounds, he has excellent mechanics, a quick delivery and great arm strength, touch, accuracy, field vision, anticipation and production.
He won't wow you as a runner, but Browne reminds me a good deal of Sam Bradford.
He's committed to USC.
Keep Reading