NBA Playoffs 2012: What a 6th Title Would Mean for Kobe Bryant's Legacy
April 30, 2012

Jeff Gross/Getty Images
Kobe Bryant is selfish. He wants to win as many world championships as possible and really doesn't seem to care how he does it.
And if the Kobe haters and Kobe critics think that's a bad thing, well then let me have a Kobe Bryant on my team any day of the week. This is just misdirected envy.
Bryant has already sealed his place in the annals of NBA history as one of the greatest to ever play the game.
But this is Kobe Bryant we're talking about here, and that's just not enough. He wants more—he wants a piece of MJ's  legendary regal status as the ONE.
Kobe wants a sixth championship ring (or more). All the other accolades can just wait their turn.
After passing former Lakers teammate Shaquille O'Neal in March for fifth place on the NBA's all time scoring list (over 29,000 points and counting), Bryant said he was honored.  "I've been very, very fortunate to have such a good career," Kobe said to ESPN.com's Dave McMenamin.
After the game, which the Lakers lost to Philadelphia, Bryant said what was really on his mind: "I just want No. 6, man. I'm not asking for too much, man. Just give me a sixth ring, damn it."
Bryant has already written a brilliant legacy over 16 seasons. The sure-to-be first ballot unanimous Hall of Fame inductee has won five world championships, scored 29,484 points, had 14 All-Star appearances and a well deserved long-standing reputation as the game's best closer.
Bryant's stunning point total is exceeded only by Wilt Chamberlain, Michael Jordan, Karl Malone and Kareem Abdul-Jabbar, who finished his 20-year career with 38,387.
If you watched the Lakers dismantle Denver 103-88 yesterday in their first playoff game, what you would have noticed was Playoff-Ready Bryant in action. Yes, he led all scorers with 31 points on 10-of-24 shooting, but it was the way those points came about and Kobe's willingness to trust his teammates to carry just as much of the load.
Andrew Bynum played with a measured intensity that he should bottle and take a sip from before each and every post season game.  He was the true star of the great defensive performance, blocking a Lakers record 10 shots on his way to a triple double that included 10 points and 13 rebounds.
Kobe, The Legacy, played second fiddle and played it with gusto. "It makes us a championship-caliber team," he told the L.A. Times after the game, referring to Bynum's record setting performance, the first Lakers triple-double in a playoff game since Magic Johnson did it in 1991.
Bryant had an opportunity to win a scoring title in the regular season—he needed just 38 points last week in the team's last game at Sacramento.  Bryant "The Legacy" knew better—he sat down in a meaningless game, getting the rest he would need for the more important second season. Kevin Durant scored 32 in his last game and won the scoring title by .10 of a point.
It meant nothing to the Black Mamba.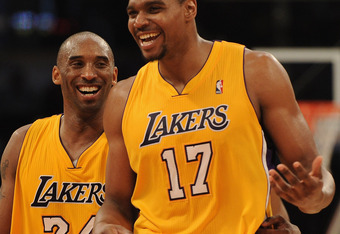 Harry How/Getty Images
What did matter so much more was how his teammates performed in Game 1 against the Nuggets, and how now it seemed as if the Kobe Influence was as important to the Lakers as his points.
"Kobe has empowered his teammates, and it's fun to watch," coach Mike Brown told Bill Plaschke.
"Kobe is always saying we have to rely on everyone on the floor," said backup center Jordan Hill, who had 10 points and 10 rebounds Sunday.
 "Kobe is always saying things like, 'If something is there, you've got to take it,'" said Steve Blake, who confidently nailed three three-pointers which gave L.A. second first half momentum.
There will always be Kobe detractors—those who say he shoots too much and is selfish only because he wants to surpass Jordan as the greatest shooting guard ever.
What's funny about that is MJ was the same as Bryant—he was selfish in that he wanted to win. He also knew he couldn't do it by himself, that he needed a great supporting cast to eventually win six world titles. Kobe is the same.
Will winning six championships cement Bryant's legacy? The simple answer is yes. 
The more nuanced response is, he's already a legend—and his career is far from over.