Celtics vs. Hawks: Highlights, Twitter Reaction and Analysis for Game 1
April 29, 2012

Grant Halverson/Getty Images
The Atlanta Hawks came out fast and made the Celtics look old for most of the game. It looked as if the time off that Celtics coach Doc Rivers gave his veterans caused them to look rusty.
Ultimately, that rust cost them the game.
The Celtics can at least say they hung in there, despite playing terribly in the first half.
The Hawks held on for an 83-74 victory, but the Celtics may have to play Game 2 without Rajon Rondo. He disputed a foul call with under a minute left, bumped the official and was immediately ejected.
This could be a huge double-whammy for the Celtics.
Twitter Reaction
ESPN's John Hollinger gave us this safe assumption after Kevin Garnett shot 1-of-9 from the field in the first half:
Prediction: If Kirk Hinrich continues to outplay Kevin Garnett the Hawks will win the series.

— John Hollinger (@johnhollinger) April 29, 2012
KG looked winded the whole game and never seemed to get into the flow.
Comcast Sportsnet's A. Sherrod Blakely identified that the Celtics attack was nothing more than Rondo in transition:
#CelticsTalk:The only thing working for the #Celtics now is the Rondo, who has 10 pts.

— A. Sherrod Blakely (@SherrodbCSN) April 29, 2012
Without Ray Allen on the floor, Rondo was the only Celtics player that stepped up.
CBS Sports' Matt Moore chimed in on Joe Johnson's routine disappearing act in the second half:
Johnson is not prepared for the pressure Boston's putting on him.

— Hardwood Paroxysm (@HPbasketball) April 30, 2012
Luckily for him, his teammates picked up the slack, and the Celtics looked flat the whole game.
Robert Littal of Black Sports Online offered a very interesting take on why:
Celtics hit up Magic City last night? Every shot is short, seems a little winded..

— Robert Littal (@BlkSportsOnline) April 30, 2012
I suppose that could be it—though I'm sure that visit has to be against team rules, right?
ESPN's John Hollinger hits us with the final tweet. This encompasses the Celtics' night. They played hard and buckled down on defense in the second and third quarters, but gained little:
Celtics held Atlanta to 34 points over last two quarters...and cut the lead by one.

— John Hollinger (@johnhollinger) April 30, 2012
The Celtics must hope to regain their legs for the remainder of this series. They played with pride in the fourth, but it wasn't enough.
Highlights
Watch Marvin Williams throw down the nice alley-oop slam in transition:
It was a spectacular play, but Williams didn't do much else in the game. This was his only bucket of the night.
Check out the slick dribble and dish from Rondo to Avery Bradley:
Rondo played his heart out, but he couldn't quite get his team over the hump.
Rondo really loses his cool here as he bumps official Mark Davis on this disputed foul call:
This may end up being the biggest play of this series.
Grades For Key Hawks Players
Josh Smith: B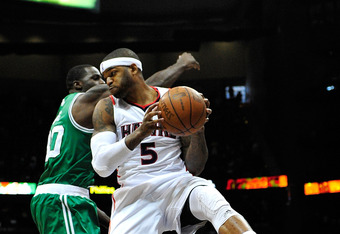 Grant Halverson/Getty Images
Smith showed that no Celtics big man had a prayer to guard him. But, in vintage Smith fashion, he continued to shoot jump shots.
He had a clear advantage off the dribble, but settled for too many outside shots.
He still finished with 22 points and 18 rebounds.
Joe Johnson: D
This would have been an F, but he did play solid defense on Paul Pierce. Johnson had only 11 points on 3-of-15 shooting; that must improve.
Grades For Key Celtics Players
Rajon Rondo: A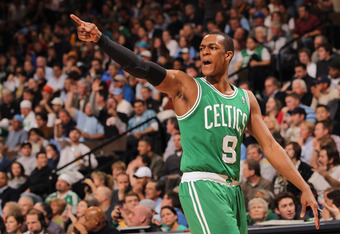 Doug Pensinger/Getty Images
Rondo played outstanding. He knocked down the jump shot and shut down Jeff Teague, for the most part, in the second half.
Still, the Celtics will not win with him taking 18 shots. He had a double-double, with 20 points and 11 assists.
Too bad he may be looking at a suspension for making contact with an official at the end of the game.
Kevin Garnett: C
KG started off terrible in this game. He did pick it up, but his rough start really hurt the team. He gutted out a double-double, with 20 points and 12 rebounds.
Game MVP: Josh Smith
Smith was big-time, even with his questionable shot selection. The fade-away jump shot he made against in-your-chest defense from KG with just under four minutes left was the biggest shot of the game.
What's Next
Things were looking pretty good for the Celtics in Game 2 before Rondo was ejected for bumping the official. He could be suspended for the upcoming game in the series.
That may very well ruin their chance to steal home-court advantage in the first two games of this series.
The Hawks need to execute better, but they are in control, for now.