NBA Playoffs 2012 Predictions: Players Who Will Prove Their Postseason Worth
April 29, 2012

Marc Serota/Getty Images
NBA playoff teams will rely on stars and role players to take their teams to the next level. Some players will not handle these heavy expectations, while others will seize this valuable opportunity. 
These players either have not proved themselves in previous playoff experience, or will show their teams they can take on larger roles in the face of adversity.
Jameer Nelson, PG, Orlando
Nelson had 17 points and nine assists in Orlando's Game 1 upset over the Pacers on Saturday. Nelson shouldered a larger load with Dwight Howard out of the lineup, and will continue to do so throughout this series.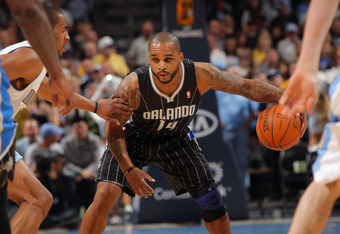 Doug Pensinger/Getty Images
The Pacers present a difficult matchup for Nelson. Their team defense is exceptionally quick, especially with point guards Darren Collison and George Hill. Nelson turned the ball over three times in Game 1 and avoided their pressure for the most part. 
The Magic need Nelson to be the catalyst for their offense. His ability to make the extra pass and penetrate the Pacer defense will determine the flow of the Magic attack. 
Orlando may not win this series, but it will not be because Nelson failed to show up. He is an underrated point guard ready to produce without the Magic's biggest star. 
Serge Ibaka, PF, Oklahoma City
Ibaka had 22 points, six rebounds and five blocks in the Thunder's thrilling Game 1 victory over Dallas. Most teams do not have an answer for Ibaka's athleticism down low, and he will showcase that as long as the Thunder are around. 
Ibaka averaged 9.1 points during the regular season. He is not a devastating offensive player, but the potential is there. He runs the floor like a gazelle and has a developing low-post repertoire. 
Defensively, Ibaka is beyond intimidating. He averaged nearly four blocks per contest and picked up from there in Game 1. He patrols the front of the rim with stunning ferocity, making every every big man think twice before entering his territory.
Ibaka's raw athleticism is a tough matchup for even the most skilled forwards. He is just scratching the surface of his potential, and he looks primed to break out in this year's postseason.
LeBron James, SG, Miami
James is the NBA's preeminent superstar, but his postseason track record is lackluster.
James has been the butt of jokes because of his flawed closing ability. That will change this time around. 
He had 32 points, four rebounds, three assists and four steals in Miami's Game 1 blowout victory over the Knicks. He affected the game in every possible way and appears primed for an epic postseason.
LeBron's reputation hangs on every postseason performance. He must deliver this year. 
Expect LeBron to continue producing like he did in Game 1. He has the ability to change games like no other player in the NBA because of his unique skill set. He is a threat to score from anywhere, lead the break or find an open teammate with his stellar vision. 
It is time for LeBron to put his money where his mouth is, and this time he will. 
Rudy Gay, SF, Memphis
Gay was injured during Memphis' unlikely playoff run in 2011. Now he is healthy and ready to contribute to this year's playoff run.
Gay averaged 19 points and 6.4 rebounds per game this season. He is a dynamic slasher with takeover ability on the wing.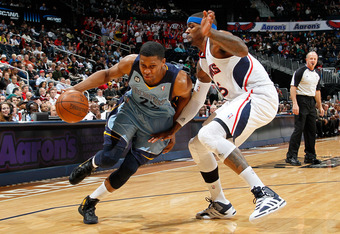 Kevin C. Cox/Getty Images
The Grizzlies need Gay to be their go-to guy in this year's postseason. They play team-first basketball, but they will need a reliable scorer in tough times. 
Gay matches up well with fellow UConn alum Caron Butler. He can use his quickness to exploit Butler's suspect defense in the half court. 
Memphis was the ultimate underdog in last year's postseason field. They will not catch anyone by surprise this time around. 
Gay's absence from last year's run makes him the closest thing to an unknown factor. Memphis will see how good they can be with their best player steering the ship.