San Francisco Giants Manager Bruce Bochy Doing More Harm Than Good with Platoons
April 29, 2012

Christian Petersen/Getty Images
San Francisco Giants Manager Bruce Bochy has four different platoons going on right now.  When the Giants face a left-handed starter, Brett Pill, Hector Sanchez, Joaquin Arias and Ryan Theriot enter the starting lineup with Buster Posey moving from catcher to first base, Melky Cabrera moving from left field to right and Brandon Belt, Nate Schierholtz, Brandon Crawford and Manny Burriss hitting the bench.
Got all that?
The biggest problem with Bochy's constant lineup juggling is that it prevents the Giants' offense from developing any kind of offensive rhythm.
There is strong evidence that pinch-hitters lose a lot of their value because coming off the bench rusty is such a difficult task.
I have not seen the same evidence for part-time players, but the concept is very similar.  It is hard enough to hit major league pitching, but it gets even harder when you are doing it on just a part-time basis.
Also, in the cases of Belt, Schierholtz and Burriss, Bochy is removing three hitters that actually have better career numbers against left-handed pitching. 
In 55 career plate appearances against lefties, Belt has a .928 OPS, compared to .666 against opposite-handed pitching.
In 234 career plate appearances against lefties Schierholtz has a .766 OPS, and only .728 against righties.
Burriss has a .614 career OPS against lefties, versus .582 against righties.
A lot of those splits could just be small sample size noise, and that is exactly my point.  Bochy is using small sample sizes, batter vs. pitcher data and strict adherence to lefty-righty platoons in making out his lineups.
So when Brandon Belt has an excellent game like he did last night, hitting the game-winning, two-run double, he still doesn't get a chance to build on that momentum the next day if the Giants are facing a lefty.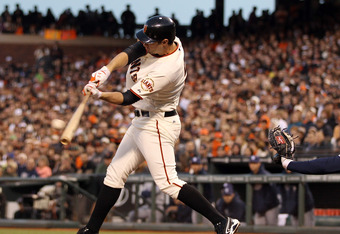 Ezra Shaw/Getty Images
In the case of Belt, platooning him is an even more egregious error.  Schierholtz, Burriss and Crawford do not have the same minor league track record and offensive potential as Belt, so given their limitations, platooning them is not the end of the world.
However, Belt has the potential to be a key offensive contributor in the middle of the lineup.  Platooning him and then benching him after a few bad games will only ensure that he never reaches that potential.
Does Belt have holes in his swing?  Absolutely, even I can see that.
Do some of his at-bats look awful? Yes.
However, do you know who else has holes in their swings?  Every other major league hitter in the history of baseball.
Do you know who else has looked awful during some of their first 223 career at-bats?  Every other major league hitter in the history of baseball.
The Giants need to stop allowing the perfect to be the enemy of the perfectly adequate with Belt. 
He is on pace to receive only 278 at-bats this year, which is unacceptable in my view. The Giants need to play him everyday regardless of the handedness of the pitcher, live with the occasional slumps and hope that he reaches his full potential as soon as possible.
Baseball history is littered with failed hitting prospects who never lived up to their minor league track records.  The only way we will ever find out what history has in store for Belt is if Bochy comes to his senses and actually plays him everyday.