Cristiano Ronaldo: 10 Goals from His Already-Impressive Career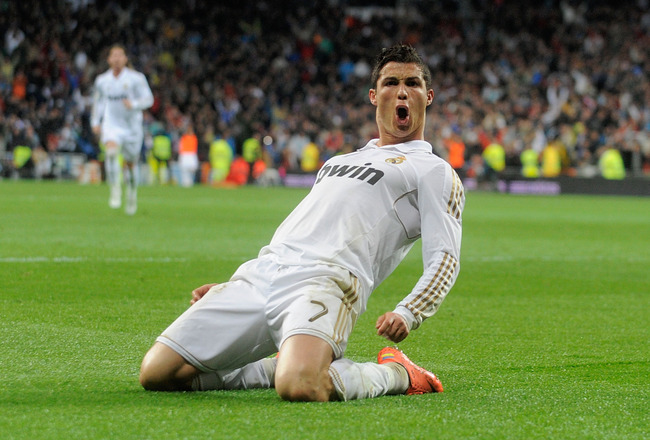 Denis Doyle/Getty Images
In all the talk of missed penalties and Champions League failures, Cristiano Ronaldo still stands as one of the greatest footballers in the world—if not of all time.
Regardless of whether or not the 27-year-old Real Madrid superstar is better than Lionel Messi, Ronaldo stands as one of the greatest attackers in the game.
Period.
With still several more years to come of footballing mastery, we are at times in awe of what the Portuguese star can do on that football pitch.
So let's take a moment to do just that—be in awe of Cristiano Ronaldo.
Here are the top-10 goals from a career that, scary as it seems, is nowhere near finished.
10. Portugal vs. North Korea
This list could well be 30 or 40 goals, but kicking off our list is a deft finish against North Korea.
There's got to be a bad pun about using your head somewhere in there as well.
9. Manchester United vs. Portsmouth
In the first of many spectacular free kicks, Ronaldo blasts his way past David James, who can simply do nothing but watch the ball fly in to the back of the net.
8. Real Madrid vs. Sevilla
In Real Madrid's 6-2 romp over Sevilla was this spectacular finish from Ronaldo.
Starting to wonder if he can actually score a goal from inside the box.
7. Real Madrid vs. L.A. Galaxy
Well, this would be the one goal from inside the box.
Ronaldo's skills and quick feet are well and truly on display as he bamboozles the L.A. Galaxy defense not once, not twice, but three times.
And then he smashes it in to the back of the net with no angle at all.
Just for fun.
6. Manchester United vs. Europe XI
Another incredible free kick from Ronaldo.
The ball moves one way, then the other way.
And the only way the keeper was going was to the back of the net to go find the ball.
5. Portugal vs. Denmark
Due to the fact that Portugal were trying to salvage a draw late, some of the credit that this goal deserves simply isn't given.
Top corner—keeper didn't stand a chance.
4. Real Madrid vs. Levante
It's almost like he has a little button he can press.
Okay, now we're going to score...
3. Real Madrid vs. Villareal
The pace. The accuracy. The pointless effort from the keeper.
All make for another great Cristiano Ronaldo free kick.
2. Manchester United vs. FC Porto
Lost in the incredible finish and even more incredible commentary is the fact that this was in fact the game-winning goal for Manchester United against FC Porto.
Just another 35-yard goal from the Portuguese superstar.
1. Manchester United vs. Arsenal
Coming in at No. 1 was this spectacular free kick against Arsenal in the semifinal of the UEFA Champions League.
Got to love the commentary though—too far out for Ronaldo to think about it?
Yeah. Maybe not.
Read more articles by Dan here — or Follow @dantalintyre
Keep Reading

Real Madrid: Like this team?