Los Angeles Galaxy vs. FC Dallas: 6 Things We Learned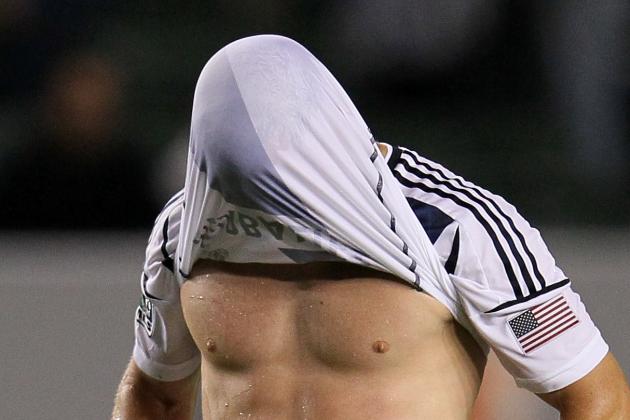 Stephen Dunn/Getty Images

Bruce Arena's Los Angeles Galaxy, for what it's worth, can consider themselves a very lucky team.

A disappointing performance offensively was counterbalanced by stoppage-time heroics from the unlikeliest of sources: Pat Noonan, who opened his scoring account and salvaged a 1-1 draw for the Galaxy against Schellas Hyndman's FC Dallas at the Home Depot Center in Carson, Calif.

Here are six things we learned from this match. And they are big ones.
Begin Slideshow

»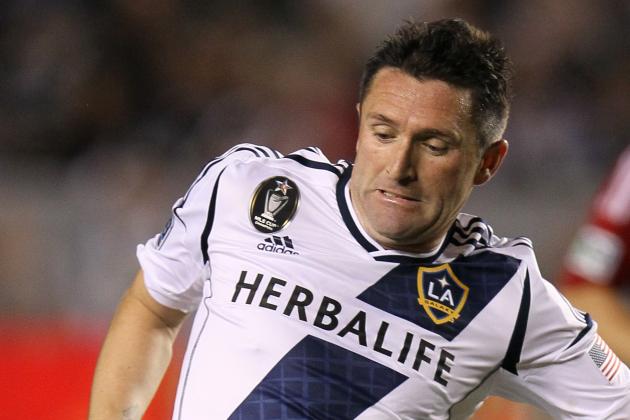 Stephen Dunn/Getty Images

I can't believe that Bruce Arena can't kick his gambling habits. Bruce, listen to me. Your penalty taker is the captain. It has always been the captain. Why Arena let Robbie Keane take the penalty instead of Landon Donovan is beyond me.

But that failed conversion in the 49th minute essentially lost the match for an LA side that couldn't score in a brothel if they tried.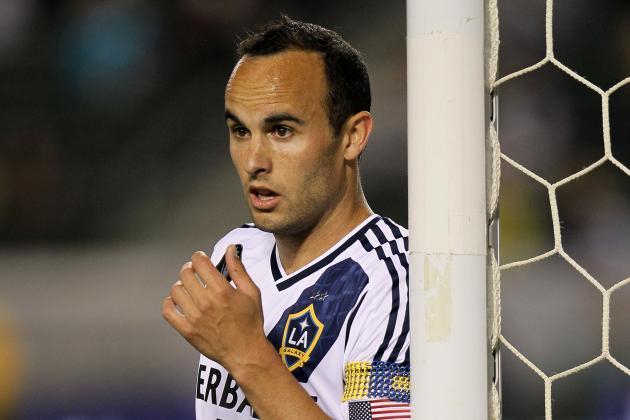 Stephen Dunn/Getty Images

Perhaps the LA Galaxy could use someone in the mold of Chelsea's Fernando Torres to finish off chances in which the player beats a keeper 1v1 and has acres of space to slot home a goal.

Landon Donovan could have gone on the score sheet anyway had he been allowed to convert the 49th minute attempt, like he has always done.
But he could have opened up the scoring in the 11th minute, when he had a moment to essentially replicate Torres' heroics against Victor Valdes and FC Barcelona just a few nights ago at the Camp Nou.

This was just a night Donovan wanted to forget.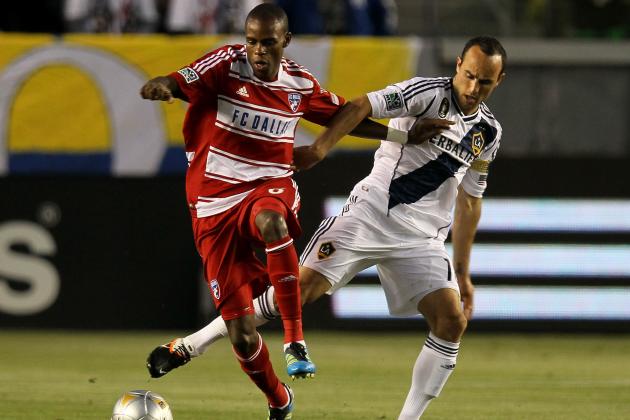 Stephen Dunn/Getty Images

This is starting to become old hat for FC Dallas. Get the lead, only to lose it late. It happened against Real Salt Lake, and it unfortunately happened again.

The Hoops were two minutes away from pulling off a victory they never should have attained. Instead, a certain Seattle Sounders/New England Revolution outcast named Pat Noonan broke DFW hearts.

If Dallas are to make inroads later in the season, you have to hang on to leads, especially in stoppage time. They were very unlucky not to get all three points.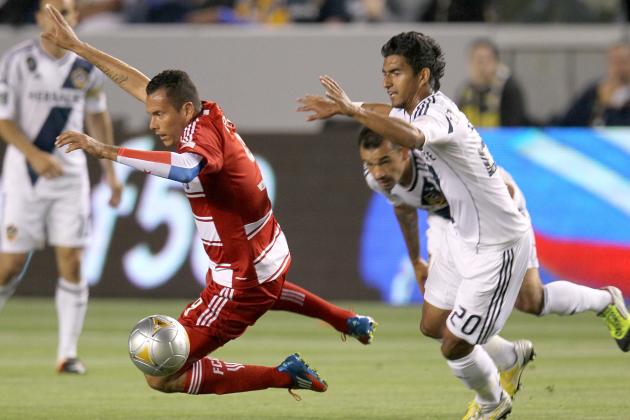 Stephen Dunn/Getty Images

I predicted a wide open game, with plenty of goals abound, and what did the 23,249 in attendance get? A miserable night of finishing.

A missed penalty here, a sitter off the post there, and FC Dallas in all honesty should have taken the lead 34 seconds into the contest. Actually, they had two chances on goal in as many minutes.

Los Angeles had 10 shots off target, while Dallas had seven. Even more damning, the Galaxy only had a despicable three attempts on frame.

With the poor finishing and goalkeeping antics abound, it's a mind-blowing surprise that this match didn't end in a scoreless draw.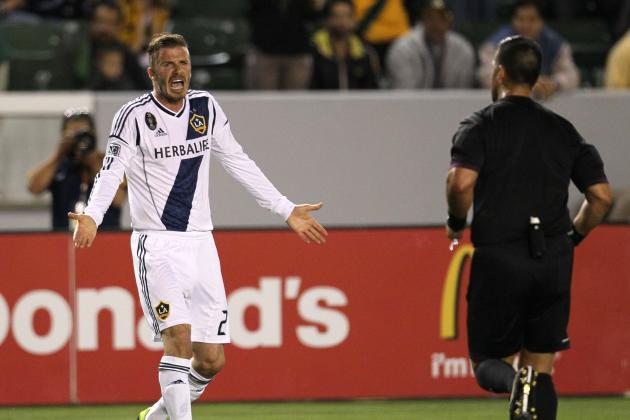 Stephen Dunn/Getty Images

David Beckham had another poor game, and if I am Stuart Pearce, I am canceling my flight to Seattle and getting my money back. If I am Pearce, and I am going to make my roster based on merit; I am leaving Beckham off the team.

More on this in my rating of Beckham's performance later this week.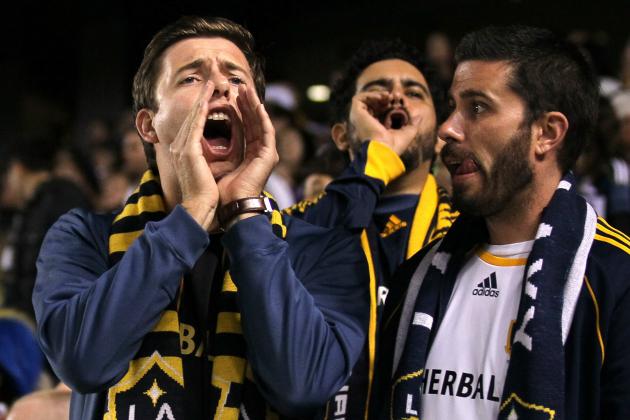 Stephen Dunn/Getty Images

The Dallas game was a match the Galaxy were capable of winning. But when you cannot finish your chances and play a brand of football that is contrary to what the manager draws up, it plays right into the next opponent's hands.

The Seattle Sounders, who have had a history of bad luck against the Galaxy in league play, might have a chance to rectify things this Wednesday at CenturyLink Field. Stay tuned to my 10 Bold Predictions of that game for all the details.